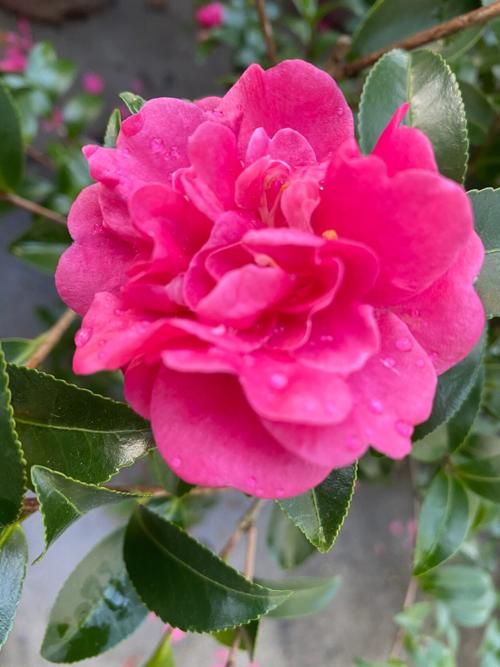 Growing up in hot and steamy South Louisiana, it was a rite-of-passage, at least among the well-to-do, to master the challenging art of growing camellias.
My interest in camellias was somewhat delayed due to the family structure I grew up in. My family clan, mostly hard-working blue-collar folks from the low-rent district, viewed camellias as the plant darlings of rich folks who lived in grand Southern mansions along prestigious Lake Shore Drive and who hired members of my poor clan to pamper their lush St. Augustine lawns and prized camellia collections.
To be brutally frank, no one in my family cared two cents about camellias. We placed far more value on a thriving patch of okra, collards and turnip greens than on fancy imported botanical gems from Southeast Asia.
That all changed when I received my degree in horticulture and began consulting for an elderly Cajun lady who — you guessed it — lived in one of the finest mansions along Lake Shore Drive. The silver-haired princess, while charming and intelligent, was severely challenged horticulturally. Sadly, the dear lady didn't know an oak tree from a kumquat. Nevertheless, she absolutely obsessed over her large camellia collection that lined a spacious courtyard garden that included a life-size statue of Robert E. Lee and other historical Southern icons.
On my first day at work, the grand lady cornered me in the garden and made it perfectly clear that my job was to coax more and better flowers from her camellias, flowers that might earn blue ribbons at the upcoming camellia show. I was taken aback by her marching orders. Her camellias were hardly the picture of good health.
Nevertheless, I assured her that I would do my best and immediately began a restoration plan for the struggling camellias that included a heavy dose of acidic fertilizer, dead wooding, dormant oil spray to control a terrible infestation of scale insects and more than a few "help me Lord" prayers. Slowly, the old, weak shrubs began to respond with greener foliage and more flowers. But the process was proceeding way too slowly. It was clear that the scrawny flowers were never going to win blue ribbons for the lady of the house.
While stressing over the camellias' slow rate of improvement, it occurred to me that in college I had experimented with a then-relatively new plant growth hormone known as gibberellic acid. When applied directly to floral buds of camellias, growth and development were greatly enhanced, resulting in significantly larger flowers.
For several months prior to the camellia show, I regularly applied the growth hormone. The process was relatively simple. Vegetative buds on camellias are long and narrow; floral buds are flat and rounded. I carefully twisted and removed vegetative buds growing next to floral buds. This left a tiny cup-like depression at the base of the floral buds. I then placed a single drop of gibberellic acid into the tiny cups. The response was amazing! Suddenly, winning blue ribbons at the state camellia show seemed within reach.
Indeed, the grand lady of Lake Shore Drive won several blue ribbons. She was ecstatic, of course. And she graciously rewarded me with a small raise, not nearly enough, however, to prevent me from ending my fledgling garden consulting business and heading off to graduate school. I prefer to think we both came out winners.
Growing camellias is no longer restricted to the Deep South. Plant breeders have developed a slew of new cold-hardy hybrid camellias that easily survive Tulsa-area winters. I'm especially fond of the fall-blooming Southern Living Plant Collection "October Magic" series. They come in a wide range of vivid flower colors, and they usually are in full bloom in time for the Thanksgiving and Christmas holidays. Check them out at a local garden center.
Barry Fugatt is director of horticulture at the Tulsa Garden Center and Linnaeus Teaching Garden in Woodward Park. He may be reached at: bfugatt@tulsagardencenter.org
---
Sprout new ideas
With our home & garden newsletter!