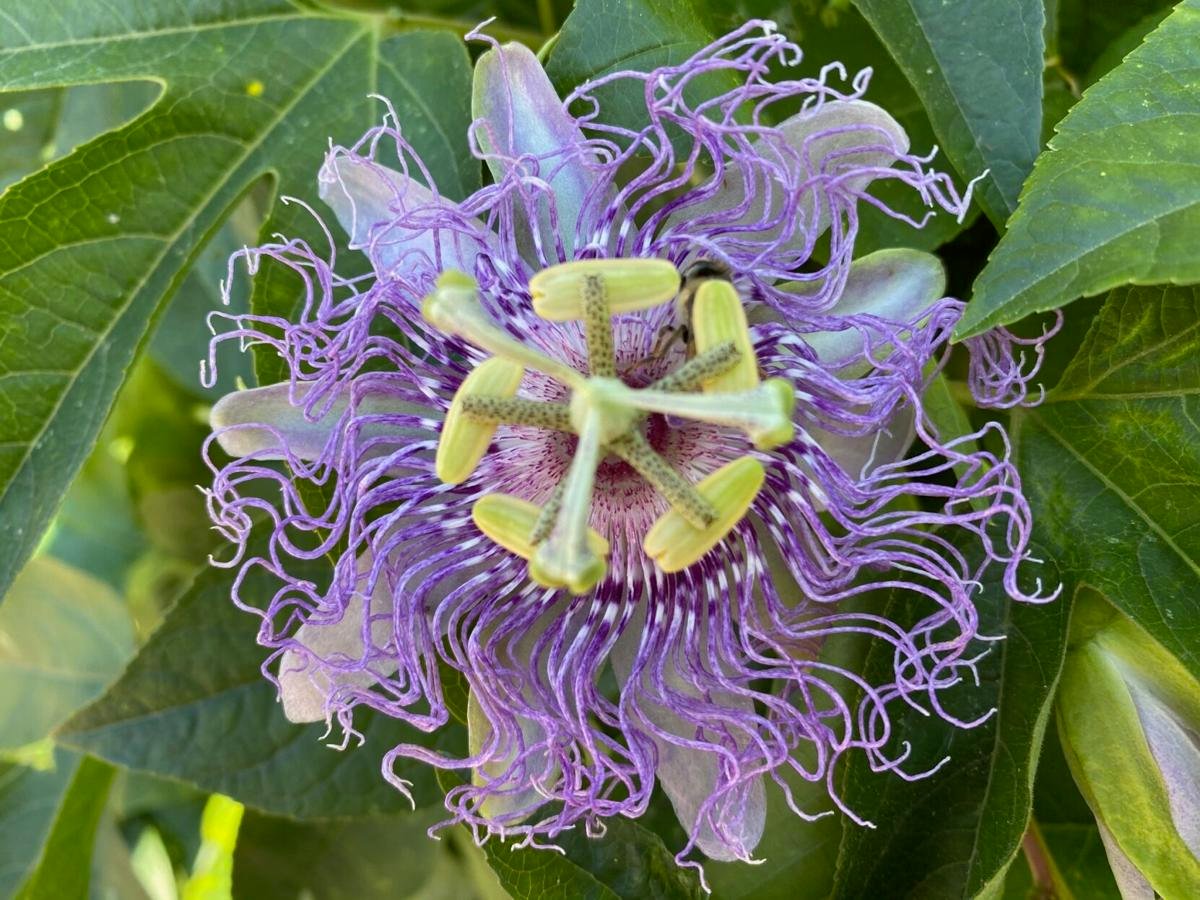 I'm often asked to express my opinion regarding the most beautiful flower in the world. It's an impossible request, of course. Heck, I've been known to get all teary-eyed over a bright yellow dandelion blossom. Imagine how stirred my emotions become while gazing at a fully formed rose or a magnificent Bird-of-Paradise flower.
If, however, I was forced to come up with a short list of the world's most beautiful flowers, I'm certain Passion Flower (Passiflora incarnata) would be on the list. Gardeners have, since the founding of this country, been passionate about Passion Flowers, a native flowering vine found throughout the southern United States and Mexico. This "Queen" of native vining species also goes by the common name Maypop, a name derived from the popping sound made when one steps on its oval fruit.
Passion Flower has a colorful history. While wandering through Mexico in the early 1600s, a Catholic friar, one Emmanuele Villegas, appears to have been the first recorded European to spot Passion Flower in bloom. Devout in his love of God and nature, Villegas sent drawings of the blossoms to the Roman theologian Giacoma Bosio, who called it, "The most extraordinary representation of the Cross Triumphant ever discovered in field or forest. The flower contains within itself not only the Savior's cross, but also the symbols of His passion." Google Passion Flower for an in-depth look at the flower's intricate morphology said to symbolize the Passion of Christ. It truly is remarkable!
Passion Flower continues to stir the passions of gardeners to this day. Just this week, I received an email and photo from an excited gardener. The email read in part, "Please identify this most gorgeous flower I found unexpectedly growing in my perennial garden. I've never seen anything like it."
It was an easy identification. I'm not aware of anything in nature that looks quite like a magnificent Passion Flower.
There are well more than 300 Passion Flower species in nature, with Passiflora incarnata being the most common in this part of the country. There are, however, a great many hybrid crosses (cultivars) found in the retail nursery trade. They come in a variety of flower colors, including yellow, red and, my favorite, deep purple. Many have a heady fragrance and are highly favored by some butterflies and pollinator insects.
Flowering occurs mid-summer through fall. Sadly, individual flowers last only a day or two. But the flower's short life span is more than compensated for by its exotic colors and fine textures. Also, Passion Flower is not a massive bloomer. It produces only a few flowers at a time. Sometimes, however, "less is more," and that is certainly the case with Passion Flower.
While fall-planted Passion Flowers generally survive our Tulsa-area winters, I prefer to hold off planting until spring. Local garden centers, and Bustani Plant Farm in Stillwater, should have a nice selection at that time.
Passion Flower species and cultivars tend to bloom on new growth. That's a good thing. It means that the plant's vigorous vining growth habit may be controlled by fall and/or spring pruning without sacrificing flowers for that season. Train Passion Flower to grow along a fence or trellis for best results.
---
Barry Fugatt is director of horticulture at the Tulsa Garden Center and Linnaeus Teaching Garden in Woodward Park. He may be reached by email: bfugatt@tulsagardencenter.org
Sprout new ideas
With our home & garden newsletter!