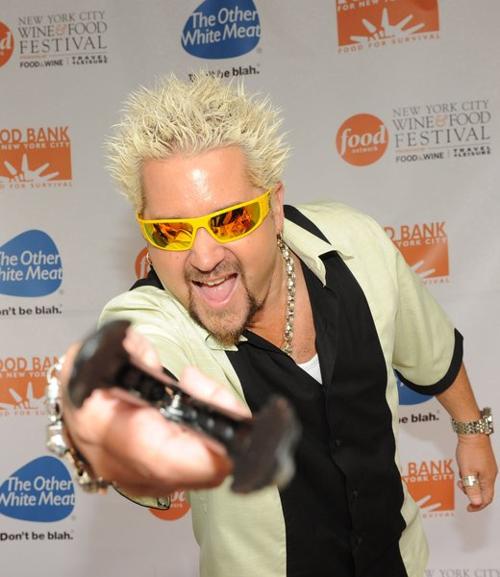 He's sunglasses worn backward, black armband, blonde-tipped spiky hair and a red convertible. He's Guy Fieri, and he's coming to Tulsa.
Celebrity chef Guy Fieri will make a stop at the Joint inside the Hard Rock Hotel and Casino Tulsa on June 2. Tickets go on sale April 21. Go to tulsaworld.com/hardrockcasino or call 918-384-7625. Tickets start at $60.
Fieri's publicist said the Guy Fieri Food Tour will be a high-energy, live cooking show.
Fieri is the break-out star of the Food Network who came on the scene with his first show "Guy's Big Bite" and then rose to national attention with his primetime show "Diners, Drive-Ins and Dives."
Last year, Fieri made his network TV debut as host of the NBC game show "Minute to Win It."
According to a statement from Fieri's publicist, the Guy Fieri Food Tour will have the "nonstop adrenaline of a rock concert." It will also include behind-the-scenes stories from the road, cooking tips from Fieri's upcoming cookbook and interactive food stations.
An on-stage bartender, a "mixologist," named DJ Cobra will also be part of the act.
Tickets will only be available to those 21 and older.
---
GUY FIERI
When: June 2Where: The Joint inside the Hard Rock Hotel and CasinoTickets: On sale April 21, tulsaworld.com/hardrockcasino or 918-384-7625; start at $60
---
Natalie Mikles 918-581-8486
Original Print Headline: Fieri Food Tour stops in Tulsa