"This is the warmest day our piglets have seen," says Ranae Dietzel over the noise of happy grunting. Ranae and her husband Kevin own Lost Lake Farm, a small dairy farm located about an hour north of Des Moines, Iowa. Although they're most known for their cheese, the couple also raise pork.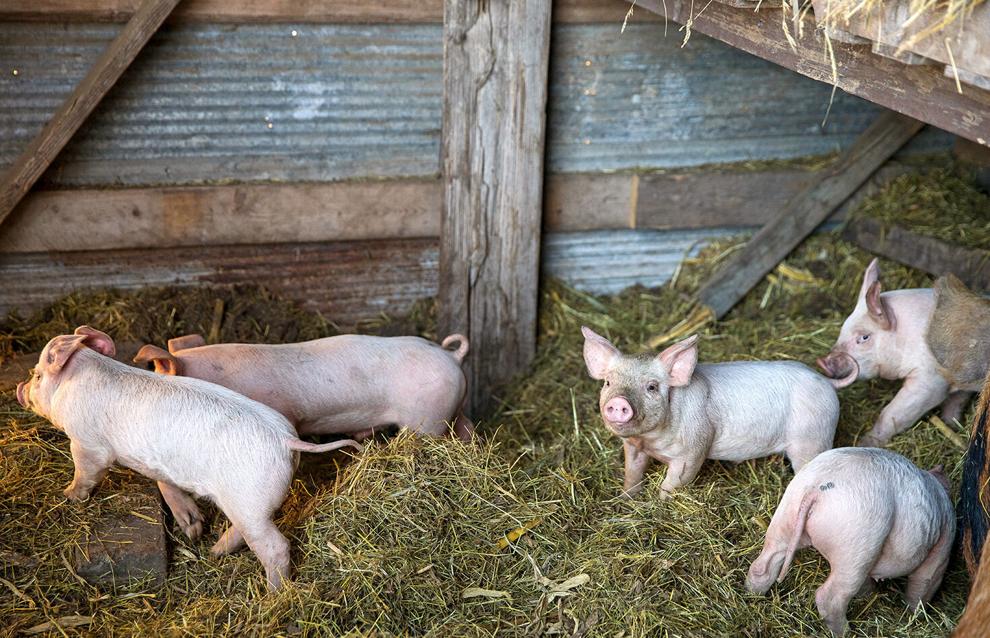 A litter of 17 piglets was born just last month during the throes of historic wind chills. They are currently rolling in and out of a large food bowl and rooting around in their hay-lined stall. Sows, Dolly and Polly, who joined the farm two years ago, linger nearby. And the farm's single boar, Borton, is shyly out of sight. With a new litter arriving every five or six months, the farm sees roughly 35 pigs per year.
Once the snow melts, the pigs will wander around the farm—getting muddy and foraging for acorns along the tree line at the farm's edge. Year-round they enjoy a diet boosted by grains soaked overnight in an unexpected ingredient: whey.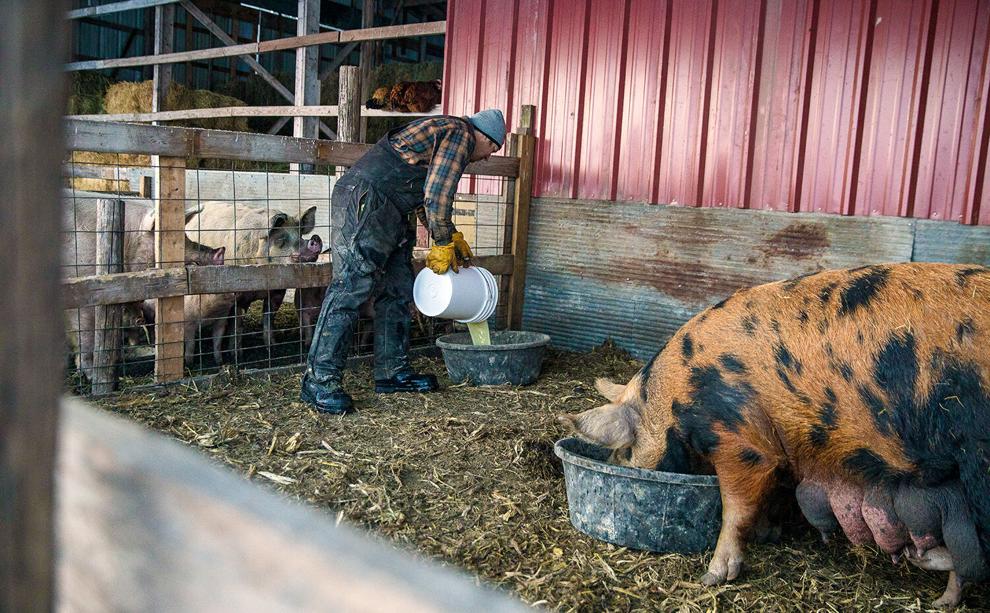 ---
More than just cheese
The whey from Lost Lake Farm's cheese production doesn't go to waste. Instead of letting it run down the drain, the farm collects the nutrient-dense liquid and mixes it with oats for Dolly, Polly, Borton and their brood.
The advantages here are multiple. As Ranae explains, pigs' stomachs are much like humans,' and straight oats are hard to digest. To help make the grains easier for the pigs to eat, the oats are soaked in whey for 12 hours, usually overnight. The high levels of fat, protein and aminos make a tasty and nutritious treat for Lost Lake Farm's pigs.
The Dietzels kicked off their pork sales about two years ago and are currently the only whey-fed pork producer in Iowa. Recycled whey lends a distinctive cheesy flavor and marbled texture to the farm's pork, and buyers recognize the meat they're purchasing is top-quality, free from steroids and growth hormones—and uniquely delicious.
"Our main focus other than whey-feeding with the hogs is happy, healthy animals that have access to sunlight, fresh air and dirt or bedding to root through," says Kevin. The couple sell whole or half hogs, and customers submit custom-cut orders to local Iowa meat lockers, then meet the butcher later to pick up their pork.
---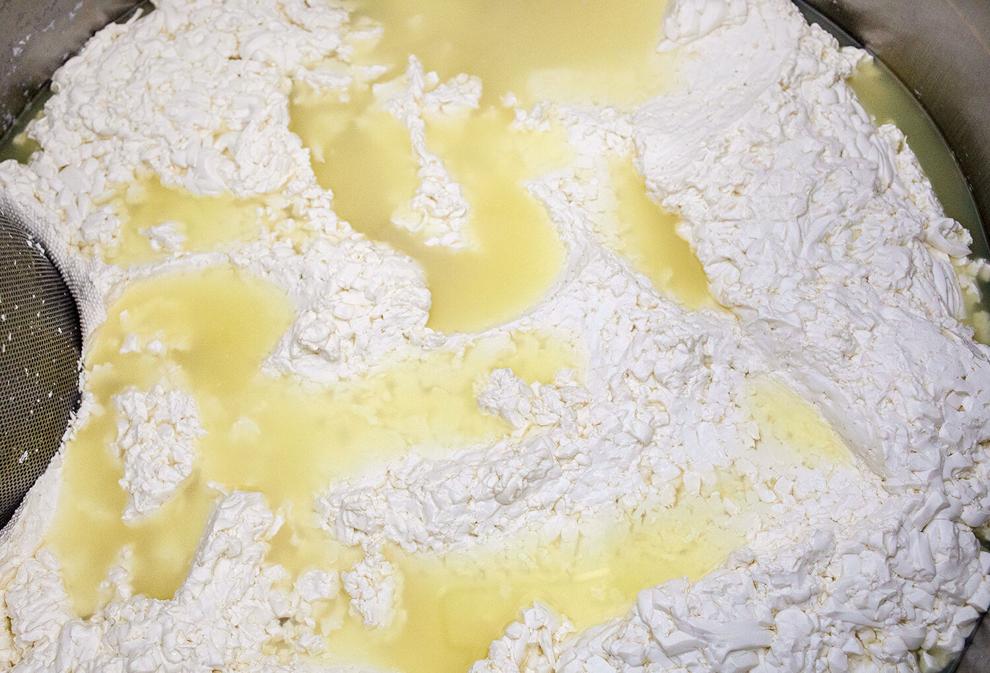 But, what is whey?
As milk coagulates, forms curd and is drained in the cheese-making process, it leaves behind a cloudy, slightly yellow liquid called "whey."
There are two kinds of whey: sour (or acid) and sweet. The type of whey collected as a byproduct of Lost Lake Farm's cheese-making falls under the sweet category. (Sour or acid whey is what remains when cottage cheese or strained yogurt are made.)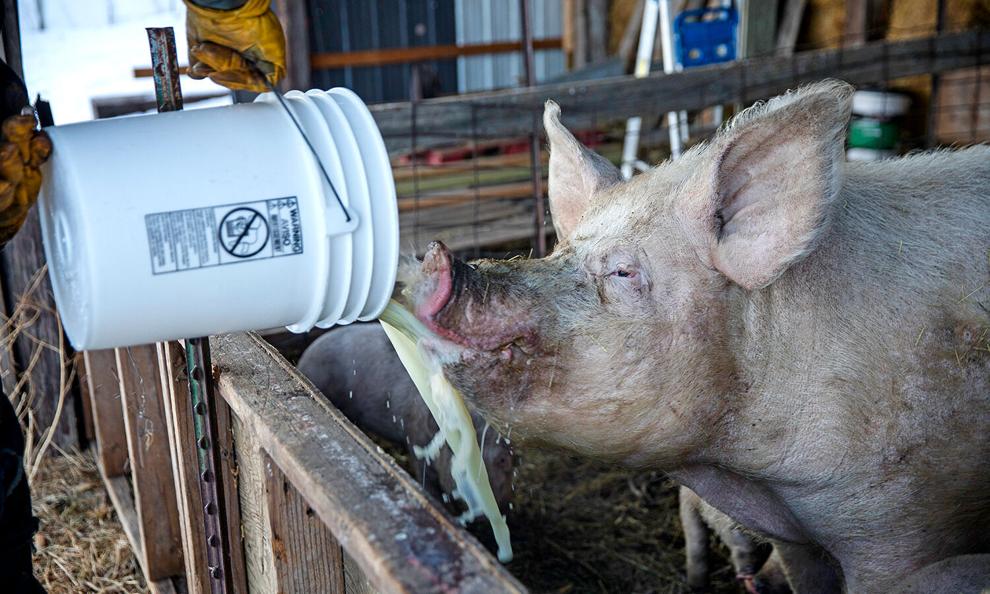 ---
Whey is good for you, too. 
Whey isn't just healthy for pigs—it's good for humans as well. Sweet whey today is sold in its liquid or dehydrated form for a variety of uses in food additives, protein powders and supplements. Nutrition counts vary, but according to the USDA, you can expect to get roughly 64 calories in one cup of liquid whey, plus approximately 2 grams protein and 1 gram fat. This liquid gold also contains all nine essential amino acids; B, C and E vitamins; calcium, iron, magnesium, selenium and more. 
Whey is also used to make cheese like ricotta, as well as butter and cream. Chances are the ingredient list for the bread or crackers currently in your pantry, the salad dressing in your fridge and the multivitamin you took this morning also contain this health-boosting ingredient.