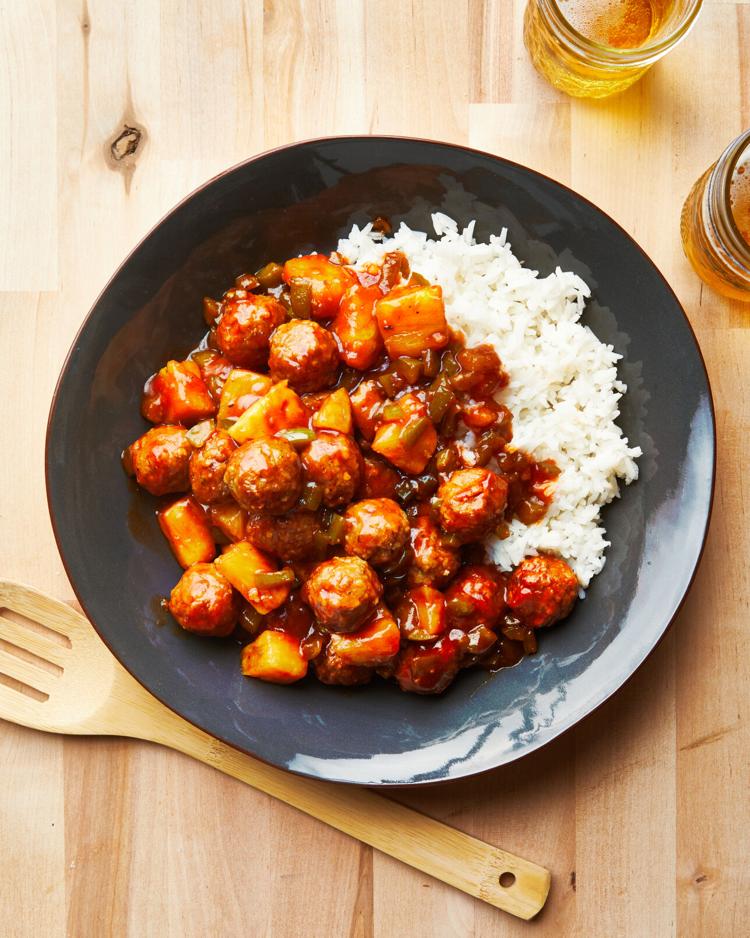 These sweet and tangy Instant Pot meatballs have become a weekly household staple. Inspired by retro grape jelly and chili sauce-smothered meatballs and pineapple barbecue chicken foil packets that I've been making on repeat, they're exactly the kind of thing to keep stocked in the freezer for last-minute dinners and easy appetizers.
Frozen meatballs are one of the best grocery store shortcuts to keep on hand. Here, we're looking beyond the jar of marinara sauce and pairing them with sweet and smoky barbecue sauce, bell pepper and pineapple. You'll combine everything in advance and freeze it so that on the night you want to eat, you just simply reach into the freezer and transfer the ingredients to the Instant Pot — no thawing required! Serve over cooked rice or keep warm in the Instant Pot and serve with toothpicks as an appetizer.
This recipe is part of a collection of freezer-to-Instant Pot meals. Each one is designed to be prepared in advance, frozen and popped into the Instant Pot when you're ready for dinner — no thawing required. And they're made with just a few fresh ingredients! Go ahead, freeze this recipe and the others — your future self will thank you.
Instant Pot Freezer Meal: Sweet and Tangy Meatballs
1 medium green bell pepper
2 cups fresh or frozen diced pineapple (about 8 ounces or 1/2 fresh pineapple)
1 (12- to 14-ounce) bag frozen meatballs
1 1/2 cups barbecue sauce
1/2 cup water
Cooked rice, for serving
1. Fit a gallon-sized freezer zip-top bag inside the insert of an Instant Pot or electric pressure cooker. Cut 1 medium green bell pepper into 1/2-inch pieces. If using fresh, cut 1/2 pineapple into 1/2-inch pieces (about 2 cups or 8 ounces). Add the pineapple and green bell pepper to the bag. Add 1 bag frozen meatballs and 1 1/2 cups barbecue sauce.
2. Seal the bag, pressing out as much air as possible. Freeze (with the bag still in the insert) until solid, at least 6 hours or overnight. Remove the bag from the insert and keep frozen up to three months.
3. To cook, place 1/2 cup water and the frozen ingredients in the Instant Pot. Lock the lid on and make sure the pressure valve is closed. Set to cook under HIGH pressure for 10 minutes. It will take 12 to 15 minutes to come up to pressure. When the cook time is up, let the pressure naturally release for 10 minutes. Quick release any remaining pressure. Serve the meatballs over cooked rice.
Recipe notes: You can fit the freezer bag over an 8-inch round cake pan or other container similarly shaped to the Instant Pot insert instead. Refrigerate leftovers in an airtight container up to four days.
Satisfy your cravings
With our weekly newsletter packed with the latest in everything food.