Yancey Red Corn didn't hesitate with a response. Asked to rate his Cannes Film Festival experiences on a 1-to-10 scale, he immediately said, "It was a 10."
Cannes is where Martin Scorsese's shot-in-Oklahoma film "Killers of the Flower Moon" made its May 20 world premiere. The film, based on David Grann's best-selling book, delves into the true story of the serial murders of the oil-rich Osage in 1920s Oklahoma.
Red Corn, a Norman resident, landed a part in the film as a former Osage chief. He was invited to be part of the "Killers of the Flower Moon" delegation at Cannes, where he attended festival-related events, walked the red carpet and saw the film.
Red Corn was seated near Scorsese when the film and its star-laden cast received a nine-minute standing ovation. Among people Red Corn saw applauding: Cate Blanchett, Salma Hayek and John C. Reilly.
"They were staring right at me," Red Corn said. "And I was just going, 'Wow.' They were clapping for us. It was very surreal."
It was also very personal.
Red Corn's great-grandfather was fatally poisoned during the era when the Osage were dying mysteriously. Red Corn's father wrote a 2002 book ("A Pipe for February") that told about the Osage Reign of Terror from the Osage perspective. Scorsese gave the book a shout-out during a Cannes news conference.
The film is being hailed as a triumph, but it was, at times, hard for Red Corn to watch. He said he cried two or three times.
"Reading David Grann's book was really hard, because you knew those people," Red Corn said. "You know those families. My dad knew all of of them. Some of the people that survived told us the stories. We all knew. My family knew. My grandfather knew. They tried to get people to investigate my great-grandfather's death, and nobody would. It was just the system. Everything was against them."
Red Corn said his sister, Moira, came to Cannes as his guest. He said she was overcome with emotion.
"Having her there and watching it, I can see how that is going to be with a lot of Osages," he said, indicating his sister was almost inconsolable.
Scorsese "didn't really pull any punches" in bringing the Osage Reign of Terror to the big screen, according to Red Corn, who said he can't say enough about Lily Gladstone's performance as Mollie Burkhart. She plays the Indigenous wife of Leonardo DiCaprio's Ernest Burkhart.
Red Corn credited Scorsese and his staff for doing proper research and for employing the Osage behind and in front of cameras. In Red Corn's case, he went from decade-ago theater actor to having a speaking role in a film by an Academy Award-winning director.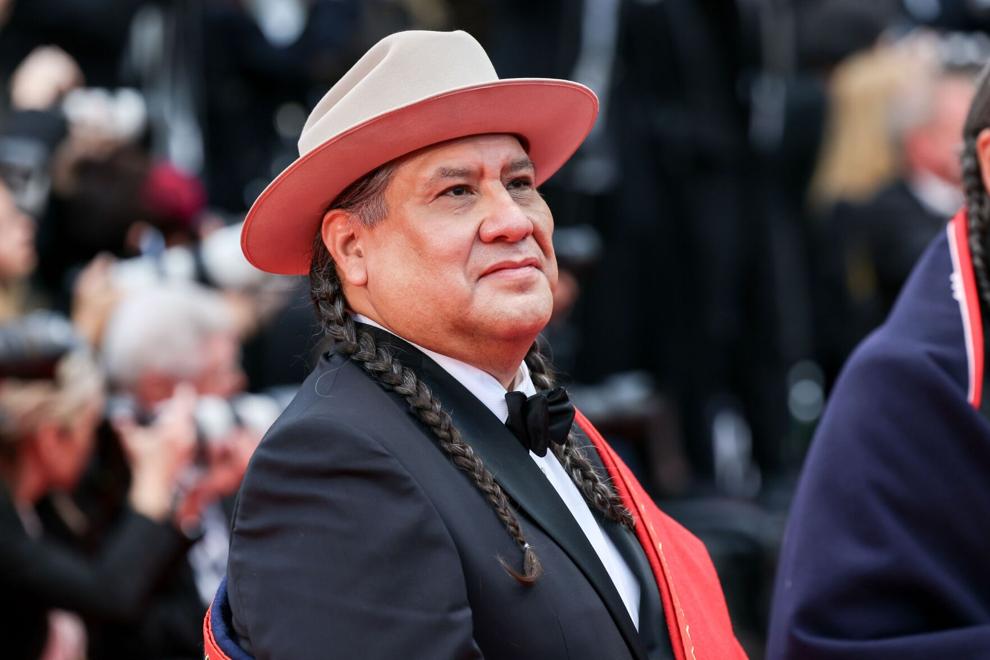 Red Corn played Chief Bromden in an OKC Theatre Company production of "One Flew Over the Cuckoo's Nest" in 2012. It's the role Oklahoma actor Will Sampson gained acclaim for in an Academy Award-winning 1975 film of the same name.
Red Corn auditioned for the play thinking he wouldn't have much dialogue and — surprise! — learned his character is more verbose in the stage version. A rookie who didn't know what "stage left" meant, he said he spent a hard four months memorizing his part because he knew there would be no room for error when performing live.
The no-safety-net theatrical experience proved handy when the "Killers of the Flower Moon" opportunity arose. Red Corn said he "hit" the first take of his first scene because he was used to no do-overs.
There were times when Scorsese urged Red Corn to say whatever was on his mind instead of sticking to the script, but Red Corn wasn't sure what he wanted to say. What did he do? He pretended like he was his great-grandfather or great-uncle or he fell back on something he recalled from his father's book. An ad-lib speech got him a "beautiful" remark from Scorsese and a fist bump from DiCaprio.
Funny thing about that: Immediately afterward, Red Corn couldn't recall what he had said to earn the compliment or the fist bump. "I hate to be cliche, but it was like my dad was there and my great-grandfather and my great-uncle, they were all there. And my grandfather, too."
Red Corn was coerced by a friend into auditioning for "Killers of the Flower Moon." He figured he would, at best, be a background extra. A casting call in Tulsa led to additional readings.
COVID arrived and there was no news, according to Red Corn, unless him growing his hair out during the pandemic qualifies as news.
In late 2020, Red Corn got a message asking if he would be available to work from March through September of 2021. Even after Red Corn was informed he had secured the role of Chief Bonnicastle, he was still under the impression he might be a background person. Then scenes from the script were sent to him. He wanted to be a pro and have his lines memorized, so he recited his lines while looking in the mirror or when taking walks outside.
Said Red Corn: "People would be like 'Who's that crazy Indian guy walking in the street with the half-shaven face and the long hair? That guy's crazy. He's talking about tribal stuff like he's from the 18th century.'"
Actors never know if their scenes will be destined for the cutting room floor. When Red Corn received a Cannes invitation, he took it as a positive sign that he would appear in the film. He said it was "really weird" seeing himself on the big screen. Is that what I really sound like?
Red Corn said he has heard actors are kind of insecure about watching themselves because they wish they had done things differently.
"But I also knew Marty is one of the greatest directors, and he and his editor, Thelma Schoonmaker, they weren't going to put anything up there that they didn't believe was good," Red Corn said. "I'm not going to question their ability to make and tell the story and, boy, did they tell a story."
Red Corn said Apple ("Killers of the Flower Moon" is from Apple Original Films) did everything first class in regard to his Cannes-related travel and activities. Red Corn, who visited with DiCaprio and Jesse Plemons on set in Oklahoma, didn't get an opportunity to spend time with Robert De Niro during the making of the film. Red Corn sought out De Niro at an eve-of-premiere dinner and found De Niro to be gracious.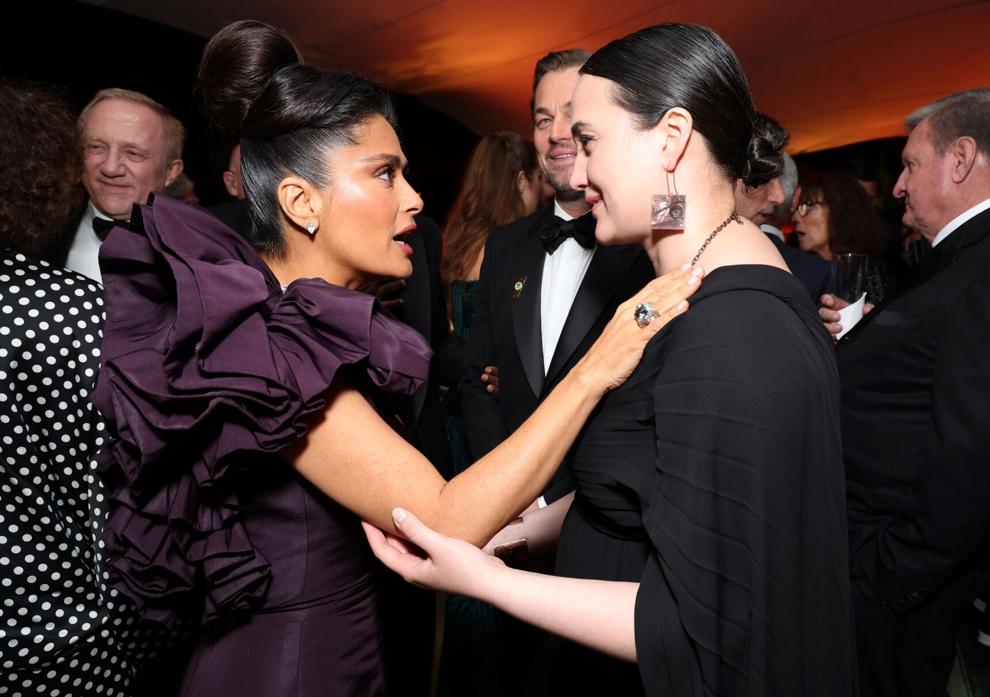 Red Corn said his cousin, Talee Redcorn, also is in the film and made the trip to Cannes. Everyone seated at their table during a Friday night dinner had braids, so they dubbed themselves "The Braided Bunch."
Red Corn said he and Talee are like brothers. Their fathers would have been overjoyed to know they were in a movie like "Killers of the Flower Moon."
"We carried them with us while we were walking down the red carpet," said Red Corn, who wore a Stetson hat (it's a family tradition) and accessorized with a tribal blanket.
Added Red Corn: "Talee and I grew up in Pawhuska on what was called the Pawhuska Osage Indian Village, and here he and I are, riding in a limo to the red carpet together and getting out and walking together, and people are taking photos of us. I mean, what are the odds? It's just unfathomable to us. We were thinking it's just two old Osage guys who lived on the rez, and here we are."
Red Corn was asked what he wanted to say — spoiler-free, of course — about the film he saw at Cannes. He reiterated that "Killers of the Flower Moon" was emotional, and he again complimented Scorsese for doing necessary research.
"But he showed Osages as humans," Red Corn said. "Lily Gladstone is going to win the Academy Award. Leo too, and so is Marty. But it was just gripping. It was just a gripping movie."
Red Corn also wanted to say this: "I hope when people watch it, they will recognize other Indigenous people — other people all over the world — are getting killed and (are victims of) genocide by other governments. The movie is about white supremacy. It's about colonialism and how they justify why they're killing the Osages and why they deserve the land and the money. It is about white supremacy, which is making a strong resurgence right now. I hope it lets people look at themselves and know that we need to love one another. I hope it helps a little bit with that in Oklahoma. I hope people can say 'We can learn from history. We don't have to do that again.' But, you know, we always repeat ourselves. I hope we can love one another and treat each other equally and respectfully."
---
The new Tulsa World app offers personalized features. Download it today.