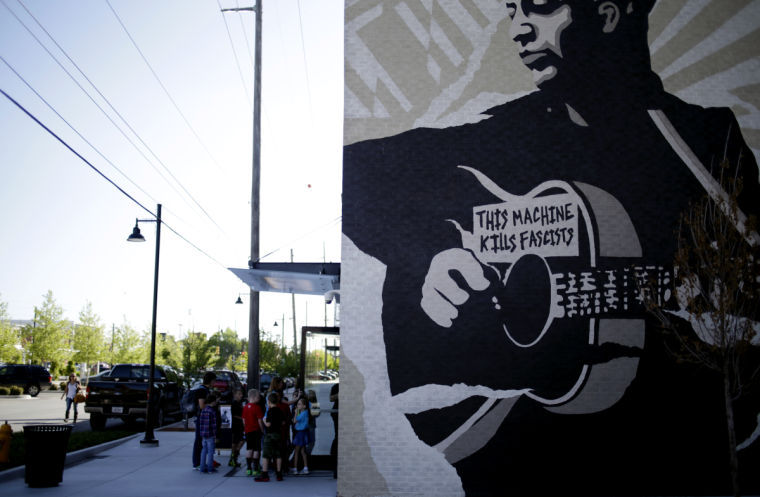 Though the Woody Guthrie Center celebrates its one-year anniversary this week, the dream started years before.
Nora Guthrie, daughter of the famed singer, songwriter, artist, poet, activist and storyteller from Okemah, remembers walking around the Brady Arts District when the area itself was a shadow of what it is today, trying to figure out what to do with the blank canvas it provided.
"This whole journey from that first walk — which I'll never, ever forget — to seeing the product of all of that work and all of that dreaming and planning, and seeing it for me, seeing every step of the way and to a great degree guiding every step of the way, that's why it's so much fun for me to talk about it," Nora Guthrie said. "It's not even a Guthrie thing; it's bigger than that for me."
And after its first year, it's bigger than many imagined and is still growing.
Roughly 18,000 people walked through the doors of the Woody Guthrie Center, 102 E. Brady St., during its first year, and roughly 18,584 walked out hopefully knowing more about the Oklahoma native who used his music, words and art to try to impact the lives of those around him, to tell the stories of the working man and his experiences from the Dust Bowl of Oklahoma to the migrant workers of the West.
To thank Tulsa for being a part of that experience, the Woody Guthrie Center, which houses Woody Guthrie's archives and includes a museum focused on his life, is planning a week of events, featuring the opening of a new photo exhibit, a benefit concert, panel discussions and two days of free concerts at the adjacent Guthrie Green. Scheduled performers include Parker Millsap, Jimmy Webb, Samantha Crain, James McMurtry and many more, including another Okemah native, John Fullbright.
Woody Guthrie was born in 1912 in Okemah and, as a young man, began writing his enormous volume of songs and stories. He's perhaps best known for penning "This Land is Your Land."
In his later years, while suffering from Huntington's disease in New York, he served as a leader of the new folk movement, inspiring Bob Dylan and many more before his death in 1967. His influence since has spread to musicians from nearly all genres and backgrounds.
And, for about 30 years, Nora Guthrie kept and curated that large archive of work.
"There's trails that Woody leaves to create this back and forth," his daughter said. "It's basically an entrance into a conversation on a specific topic, whether it's women's rights, whether it's family rights, whether it's through visual arts, through activism, through political activism."
There was always a goal, however, of making Woody Guthrie more accessible, and bringing him back to the Oklahoma hills that were his beginning.
Thanks to the George Kaiser Family Foundation, which purchased the archives in 2011 for $3 million with the idea of bringing them to Tulsa, the center started to take shape, also under the direction of the Grammy Museum in Los Angeles.
The 12,000-square-foot center opened April 27, 2013, in renovated warehouse space that also houses several art museums and the offices of the Tulsa Symphony — all opened in the last two years.
Nora Guthrie said that for the museum part of the center, the goal was to have everyone leave knowing at least a little more about her father and his influence.
"It has to have that much integrity to it so everyone, whether it's a third-grader who never heard of Woody Guthrie before, it has to appeal to them on that level, but it also has to appeal to the one person who thinks they know everything about Woody Guthrie, I'm going to give them stuff they don't know," Nora Guthrie said. "In that sense it's very ambitious. You can go back again and again and again and again and still discover."
Deana McCloud, executive director of the center, said she sees that every day — generations of people leaving the museum excited with the story of Woody Guthrie.
"That's why we continually say when people ask us, 'What's your demographic?' Anybody that enjoys creativity," McCloud said. "Anybody that wants to learn more about using their voices to give power to those who feel powerless."
McCloud said center officials were thrilled with the first year of operation, but what was most rewarding was the education. The center had just over 1,500 students from the Tulsa area pass through its doors in the last year, and about 1,000 are scheduled to tour in May.
The blank canvas that Nora Guthrie saw while walking through the Brady Arts District five years ago is starting to fill up, with a vibrant downtown Tulsa helping push it forward. As the center continues to grow, officials hope that it continues to reach more people and that more of them take up the torch that Woody Guthrie lit decades ago.
"We want to see the next Bruce Springsteens and the next Woody Guthries and the next Pete Seegers take up that same message about, 'We need to take care of each other; I'm going to use my art or whatever talent I have to make sure the world is a better place,' " McCloud said.
"We don't want to make this a stagnant place. We want this to grow."
See a list of events planned for the birthday celebration in Tuesday's Tulsa World Scene section.