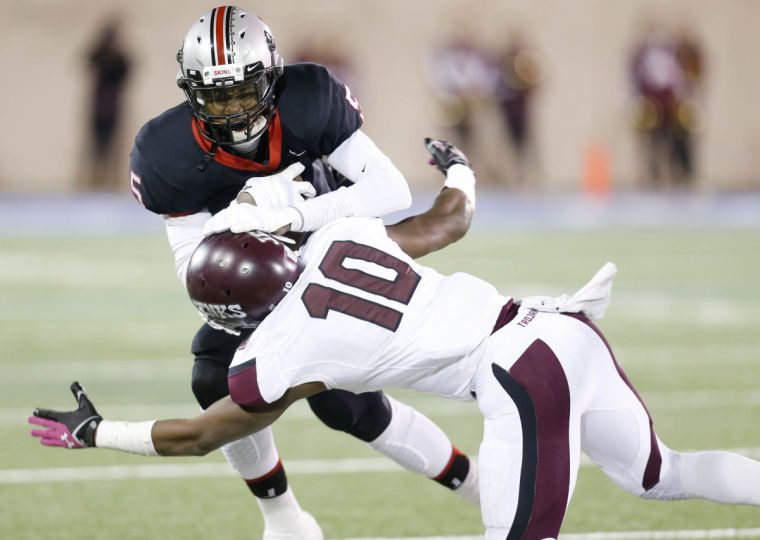 It's time to cast your vote on who you think was the best player this season in high school football.
You have until 3 p.m. Friday to vote. The winner will be recognized with the World's All-Metro football team, scheduled to be published on Saturday, Dec. 28. The All-State team is set for Dec. 29.
Here are the eight candidates:
Coleby Evans, Union: Senior linebacker had 181 tackles, three sacks and two fumble recoveries for the 6A runner-up Redskins. As a short-yardage back, he produced TDs on six of his 10 carries.
Lawrence Evitt, Wagoner: Senior running back had 238 carries for 2,641 yards and scored 32 TDs to lead the Bulldogs to the 4A semifinals and a 12-1 record.
Dylan Harding, Jenks: Senior receiver-safety had 21 catches for 563 yards and seven touchdowns for the 6A champion Trojans, including the winning TD with 25 seconds left to defeat Union in Week 2. On defense, had 43 tackles and scored on an interception.
Zane McElroy, Collinsville: Senior quarterback came back in Week 6 from an injury to lead the 5A Cardinals to their first semifinal appearance since 1993. Accounted for 1,990 yards and 24 TDs in eight games. Passed for 1,269 yards and rushed for 771 yards.
Jeffery Mead, Union: Senior wideout had 65 catches for 1,098 yards and 14 TDs for the 6A runner-up Redskins.
Slade Nordic, Bartlesville: The versatile senior was the District 6A-1 most valuable player. Scored TDs as a rusher, receiver, defensive back, punt returner and kick returner. Led 6A with 79 catches for 1,376 yards and 14 TDs. Also rushed for 200 yards on 18 carries. Had 52 tackles and three interceptions.
Steven Parker, Jenks: Senior receiver-defensive back had 34 catches for 622 yards and eight TDs for the 6A champion Trojans. Had 205 all-purpose yards and a TD in the state title game. On defense, had 44 tackles and four interceptions.
Gage Stallworth, Cushing: Senior running back had 265 carries for 2,183 yards and 40 TDs. Caught 12 passes for 166 yards and two TDs. Completed 3-of-5 passes for 105 yards and a TD. Averaged 32.6 yards on 27 punts. Averaged 35 yards on two kickoff returns and 17.8 on five punts returns.