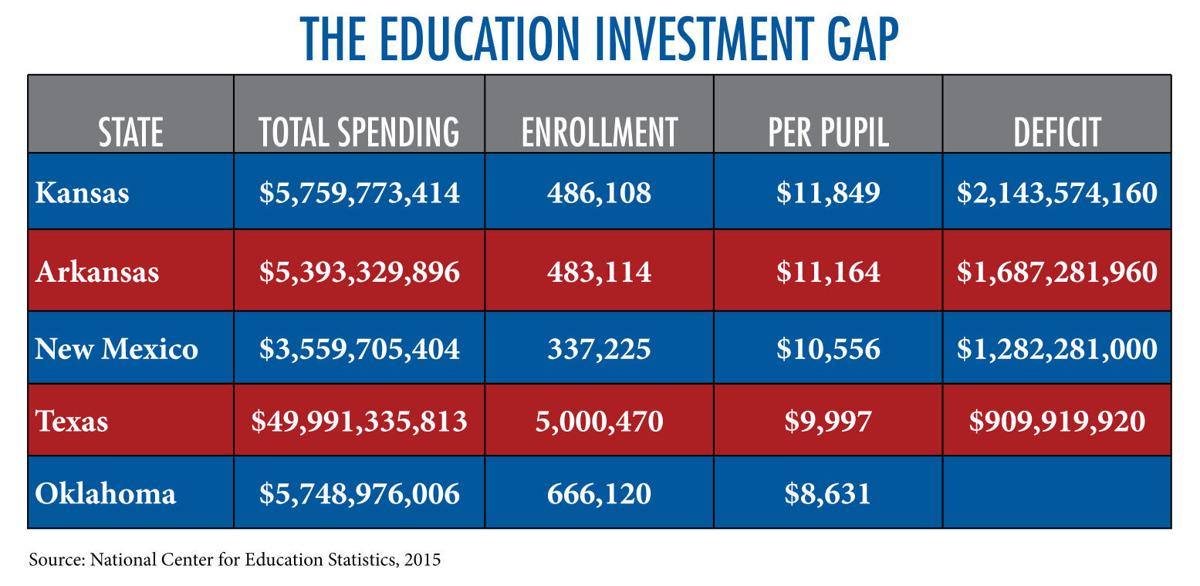 Education spending is a hot topic ahead of the new legislative session and midyear adjustments, which are expected to result in cuts for local schools.
Moore Public Schools just released a slickly edited YouTube video titled "Breaking the Silence," which has already been viewed 158,000 times. Over the course of 12 minutes, 15 teachers and administrators take turns sharing their struggles in and out of the classroom, as well as their concerns for the state of public education in Oklahoma.
Officials said the idea stemmed from the results of a September survey that Moore Superintendent Robert Romines circulated among certified staff in the suburban district on Oklahoma City's southside.
Romines told the Tulsa World he got the idea to make the video after being overwhelmed by the comments he received from 900 survey respondents.
"I wanted their voices to be heard," Romines said. "There wasn't any finger-pointing, just a statement of the facts, and we tried to back it up with solutions. We want to keep that passion they have for the profession alive or the teacher shortage is only going to get worse."
"An overwhelming number of teachers and administrators responded to questions that dealt with teacher concerns and frustrations at the district and state level. Both wonderful and worrisome narratives were shared about what it means to be a teacher in Oklahoma, and many of those accounts reflect the national mood as well," the introduction to the video states. "Moore Schools felt our stories needed to be heard ... Whether you're an educator or not, please help us so that meaningful change can take place at the state and even national level. Help end our teacher shortage crisis and reestablish a deserved respect for the education community."
This week, the leader of the Oklahoma State School Boards Association also released a new comparison showing how much less Oklahoma spends per-pupil than neighboring states.
It states Oklahoma would have to spend an additional $900 million to match the next-highest per-student expenditures, which are in Texas. The Sooner State came out even worse in the OSSBA's comparison with New Mexico, Arkansas and Kansas.
To match Kansas' investment on a per-student basis, Oklahoma would have to commit an additional $2 billion a year.
"Oklahomans desperately want to win. We want to win companies so they'll bring good jobs that benefit our families and communities. We want to win at tourism and showcase all our state has to offer. We want our cities to win so they can be amazing places to live, work and play. We win those competitions with investment. We offer money and other incentives. Ever wonder why the investment strategy that generates so much enthusiasm when it comes to economic development is shunned when public schools are the investment vehicle?," said Shawn Hime, executive director of OSSBA, a statewide association that trains and represents locally elected school board members.
"Oklahoma schools receive about one-third of state appropriations, but percentages don't tell the whole story. Every state in our region spends more per student ... If other states can invest more in their children, why can't Oklahoma?"
With dramatic revenue shortfalls projected for the foreseeable future, all state agencies in Oklahoma had been directed to present "flat budgets" for fiscal year 2017.
Still, State Superintendent Joy Hofmeister included in her 2016-17 budget request an additional $47.7 million to support anticipated student enrollment growth, plus $30.3 million for increases in teacher health insurance costs, which are mandated by the Legislature.
The state Board of Education also approved an addendum request for $60 million that would cover $1,000 across-the-board pay increases for teachers, part of Hofmeister's plan to increase teacher pay by $5,000 over the next five years in an effort to make Oklahoma more competitive with surrounding states in the teacher labor market.
Hofmeister is expected to present that Oklahoma State Department of Education's budget request Tuesday before the state Senate.
"I was requested to come (by the Senate). We were surprised. I don't know that this request has ever been made in December. Normally it is in January or February," Hofmeister said.
She characterizes her new budget request as being "flat level" or having "flat spending" compared to the current fiscal year by explaining that the additional dollars would simply cover additional students at the same per-pupil rate as well as rising health-care costs that the Legislature mandated that schools pay for their teachers.
And she said she also wants to show lawmakers how her department has been working diligently to first identify potential savings and new efficiencies that can be enacted quickly.
"Part of what we have done is examine the dollars we do have and ask the question: 'Are we spending the dollars in a way that has value to students and is closing the achievement gap for them?' That is why we formed the red tape task force," Hofmeister said. "It is recognizing the ripple effect of regulation in terms of costs in time and dollars spent to satisfy those requirements. We are not just asking for more money."
Recommendations from that red tape task force, as well as another group studying ways to address Oklahoma's statewide teacher shortage, are due by Dec. 31.
Hofmeister said she will also make the case for the Legislature to allocate an additional $60 million to begin her plan to raise teacher pay by $5,000 over the next five years.
"We are being mindful of the current budget shortfall by modifying the five-year plan to start with smaller raises," she said. "There may be some who say $1,000 is not enough — I agree, but this is a plan I put forth, and I remain committed to that plan. I am not going to ignore the fact that this is a component in solving the teacher shortage and we must begin that process."