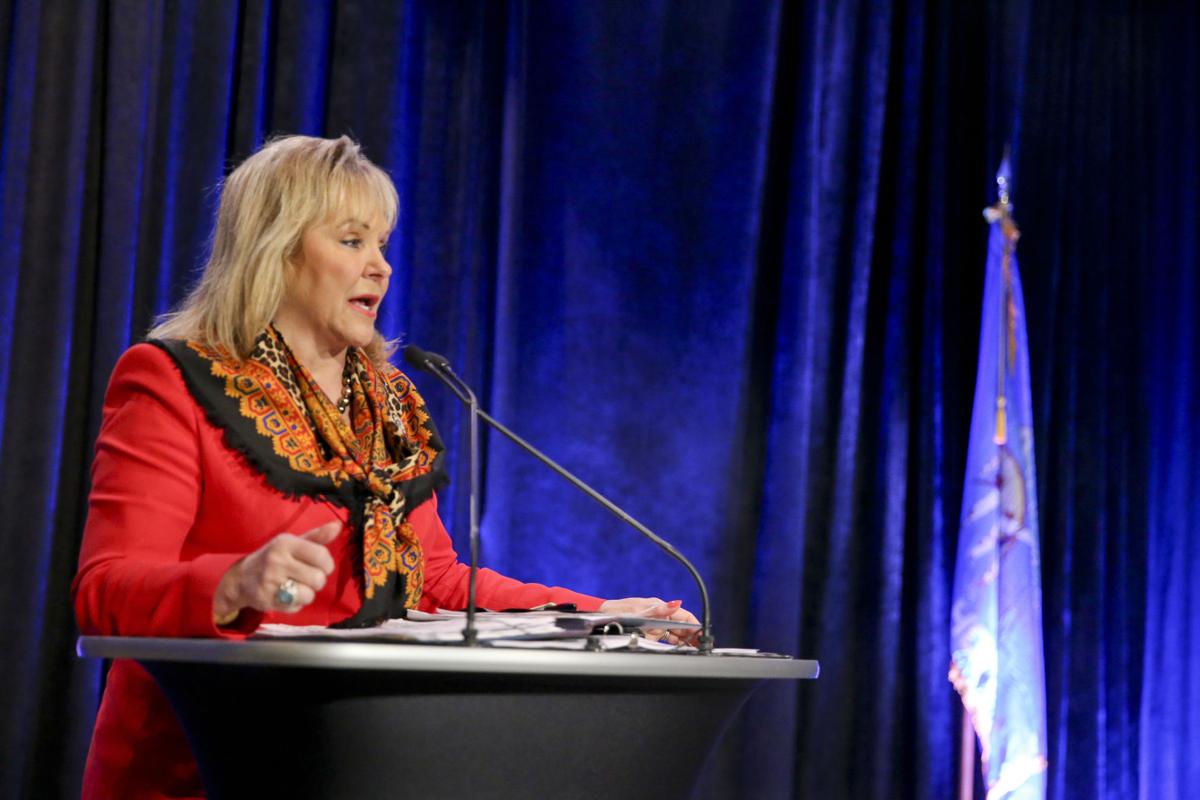 OKLAHOMA CITY — Gov. Mary Fallin last week gave lawmakers a budget proposal that includes tax hikes, new taxes, cuts to agencies and a teacher pay raise.
The plan was presented Wednesday behind closed doors as a compilation of ideas from Republicans and Democrats.
Fallin said the proposal was created after a stalemate on a special session budget plan.
"We believe it was important to generate this document in order to bring clarity to the situation and to put everything on paper for everyone to see," Fallin said.
Lawmakers returned Monday to the Capitol in special session in hopes of filling a $500 million budget hole.
The hole was created when the Oklahoma Supreme Court ruled the Legislature violated the law in passing a $1.50 cigarette tax which was supposed to generate $215 million.
The bulk of the funds went to the Oklahoma Health Care Authority, Department of Human Services and Department of Mental Health and Substance Abuse Services.
Coupled with a loss in federal matching dollars, the figure has grown to $500 million. Officials also expect a budget hole of about that size next fiscal year.
The House recessed early Wednesday with no agreement reached.
House Republicans did not have enough support for to pass the package presented by Fallin and her staff, according to sources.
The plan includes a $1.50 tax on cigarettes. The House Republicans need some support from Democrats to get the super majority required for a tax hike.
House Democrats have said it needs to be coupled with other items, such as an increase in the gross production tax and an income tax hike on high-wage earners.
The proposal includes increasing gross production taxes to 5 percent for new wells and two new income tax brackets.
Those earning $250,000 to $499,999 would be taxes at 5.25 percent while those earning $500,000 and more would be taxed at 5.5 percent. The current tax rate for most Oklahomans is 5 percent.
The income tax hike would affect 26,071 of nearly 1.8 million returns, according to budget documents.
The plan calls for a hike in the motor fuel tax by 6 cents, something that is supported by Senate Republicans who do not need Democratic votes to reach a super majority in the upper chamber. But a tax hike must start in the House.
Gasoline is taxed at 16 cents a gallon, while diesel is taxed at 13 cents a gallon. A 1-cent fee on both is also collected.
The last time gasoline and diesel taxes were increased was 1987.
The proposal calls for ending the wind manufacturer sales-tax exemption.
The plan also includes the use of $83 million in cash, something which House Republican leadership supports but has gotten a cool reception from Fallin's office.
The proposal includes a sales tax on luxury services. Those services include: automotive washing and waxing; overnight trailer parking; long-term auto leases; pet grooming, carpet cleaning; extermination services; short-term aircraft rental; swimming pool cleaning; land and garden services; fur storage; tattoo services; and landscaping services.
Fallin in her last state-of-the-state proposed applying the sales tax to certain services.
Crafters of the legislation also included agency cuts of 1.52 percent, but the proposal calls for holding 16 agencies harmless.
Finally, it calls for a $1,000 teacher pay raise the first year followed by a $2,000 pay raise the second year.
House Republicans have said a teacher pay raise is their priority. Several bills were filed last year calling for raises, but no funding mechanism was passed.
Fallin said the proposal meets three of the five objectives in her special session call.
It fills the $215 million budget hole, she said. It provides a teacher pay raise, she said.
It significantly addresses the long-term structural budget problems the state has seen for years, Fallin said.
"We have also had conversations about cost-saving ideas and developing greater efficiencies," Fallin said.
The budget document refers to House Bill 1065, which could lead to school administrative consolidation or annexation for districts that have fewer than 1,000 students. Consolidated services range from budgeting to human resources.
Several lawmakers have said they could not support increasing taxes without finding additional efficiencies in state government.