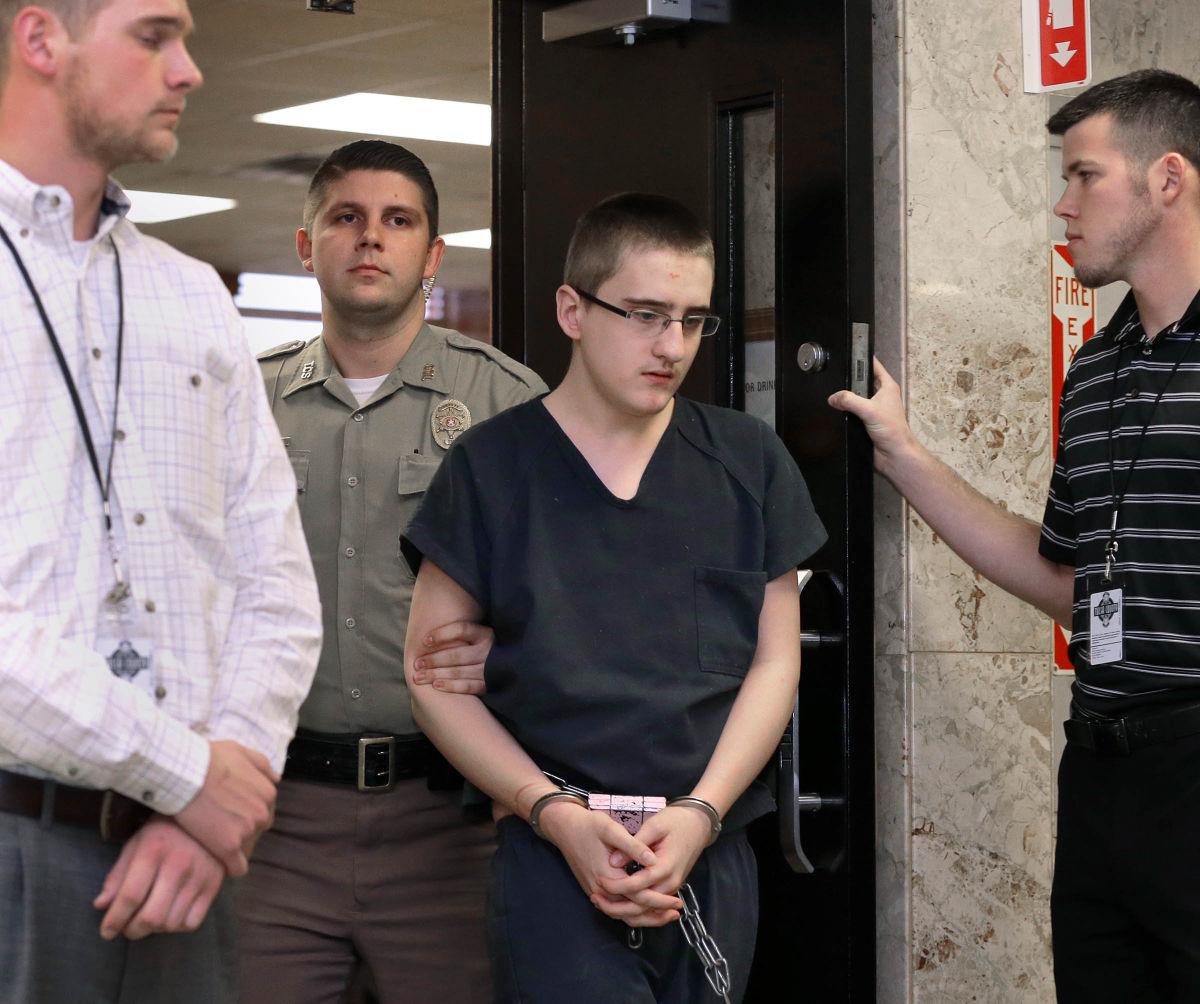 Both sides in Michael Bever's 2015 quintuple murder case are scheduled to meet in court again next month to discuss the exchange of evidence amid implications from his defense that a Broken Arrow police detective may have mishandled a journal maintained by Bever's oldest surviving sibling.
Bever, 19, faces five first-degree murder charges and one count of assault and battery with intent to kill. He and his brother, 21-year-old Robert Bever, are accused of stabbing their parents, David and April Bever; as well as their siblings Daniel, Christopher and Victoria, in the family's Broken Arrow home on July 22, 2015. Another sibling was stabbed multiple times but survived.
In a hearing Friday afternoon, chief public defender Corbin Brewster said he learned from the evidence-gathering process in the case that a detective who worked on the investigation apparently received information from an employee at a local auction business indicating Bever's sister kept a journal that documented physical abuse within the family's residence.
The Bevers' estate had previously authorized the release for auction of a series of items, primarily electronics, that investigators didn't explicitly mark as having evidentiary value.
The auction employee, according to Brewster, notified the detective in 2016 that the items were set for sale in the event police wanted to review them, which he said was when he believed the detective became aware of the notebook and abuse claims.
Brewster told the court that officers inspected a notebook last year that matched the description of the journal provided by the employee and reported it was evident pages were missing because of paper caught inside the spiral. As a result, he said he had "serious concerns" over the possible mishandling or destruction of evidence and asked District Judge Sharon Holmes to set a hearing in which the detective would testify about the issue.
"Them (the jury) hearing evidence of the defendant being physically abused by his father ... it's gonna be material," Brewster said of the claims.
But Holmes said police reports she has seen do not make clear whether any pages had been removed by Bever's sibling or anyone else prior to the acquisition of the notebook during the investigation.
District Attorney Steve Kunzweiler fired back at the defense, saying there is no documentation from law enforcement that the notebook ever had within it any allegations of abuse. He added that the state will comply with laws that require sharing material prosecutors learn about the case, including information that benefits Bever's defense, and strongly denied suggestions that prosecutors or police have withheld evidence.
Holmes told the defense team to contact the detective, who is still with Broken Arrow police but is on leave for an unspecified reason, directly to help determine whether the matter should be explored further in court. Kunzweiler, in his response, said the detective submitted more than one report about what actions she took in the investigation, which the state has already provided.
Holmes additionally said the issue could adequately be addressed during cross-examination at trial.
The oldest surviving sibling, then 13, is expected to testify during Michael Bever's trial, but Holmes said she is weighing the option of having her testimony presented to the jury via closed-circuit monitoring due to the nature of the case. The girl, who has since been under the care of another family, did not testify during her brothers' preliminary hearing in 2016.
However, a detective said on cross-examination from Robert Bever's attorney during the hearing that there were claims of verbal and physical abuse at the hands of the siblings' father. The attorney also revealed at the time that Robert Bever made allegations that his parents beat him and told him he was worthless.
During a separate hearing in 2016, former chief public defender Rob Nigh alluded to abuse occurring in the Bever household that was severe enough to "essentially make you a prisoner in your own home" and "destroy your moral compass." But Kunzweiler countered that the claim wasn't supported at that point by any records in the case and cautioned the public against considering it factual, as he said they hadn't been fully corroborated by the surviving siblings.
The attorneys on Friday additionally discussed the importance of providing each other with reports created by mental health professionals who have evaluated Bever, who was present for Friday's hearing, during visits to the Tulsa Jail.
Kunzweiler provided a glimpse into the contents of the report generated by defense expert Dr. Terese Hall, telling Holmes it states Robert Bever — who is serving five life without parole sentences in the fatal stabbings — had a psychiatric problem that Michael Bever apparently "adopted" at the time of the homicides.
Kunzweiler added that the state's expert, Dr. Shawn Roberson, paid Michael Bever a visit within the past two weeks and still needs time to complete his report about the teen's mental health. He did not elaborate on any conclusions Roberson may have reached, although Holmes in a previous hearing said she determined Bever had his Fifth Amendment right to decline to speak with Roberson about the facts of the case against him.
Brewster has repeatedly contested Roberson's expertise and ethics throughout pretrial hearings, saying he was frustrated that Roberson tried to conduct an evaluation in June 2017 without adequately notifying the defense team. However, Kunzweiler has contended Bever's former defense counsel were set to take the case in a different direction before Brewster, who became chief public defender last fall, took on the matter with different co-counsel than Nigh's.
He also maintained Nigh was aware that Roberson intended to interview Bever at the Tulsa Jail.
Holmes told both sides to provide their respective mental health reports about Bever ideally before Feb. 9, which is Bever's next scheduled court date. He is projected to begin jury trial proceedings April 16.