Editor's Note: The Tulsa World spent a year producing a six-part narrative on what remains perhaps the state's most infamous cold case: the unsolved murders of three girls — Lori Farmer, Denise Milner and Michele Guse — at a Girl Scout camp near Locust Grove 40 years ago. Arrested after an intense manhunt, Gene Leroy Hart, who was charged with the crimes, was ultimately acquitted after a sensational trial. The series examines the details of what happened and the lingering effects on those who survived.  
---
CHAPTER FIVE: TRYING TO FIND GOOD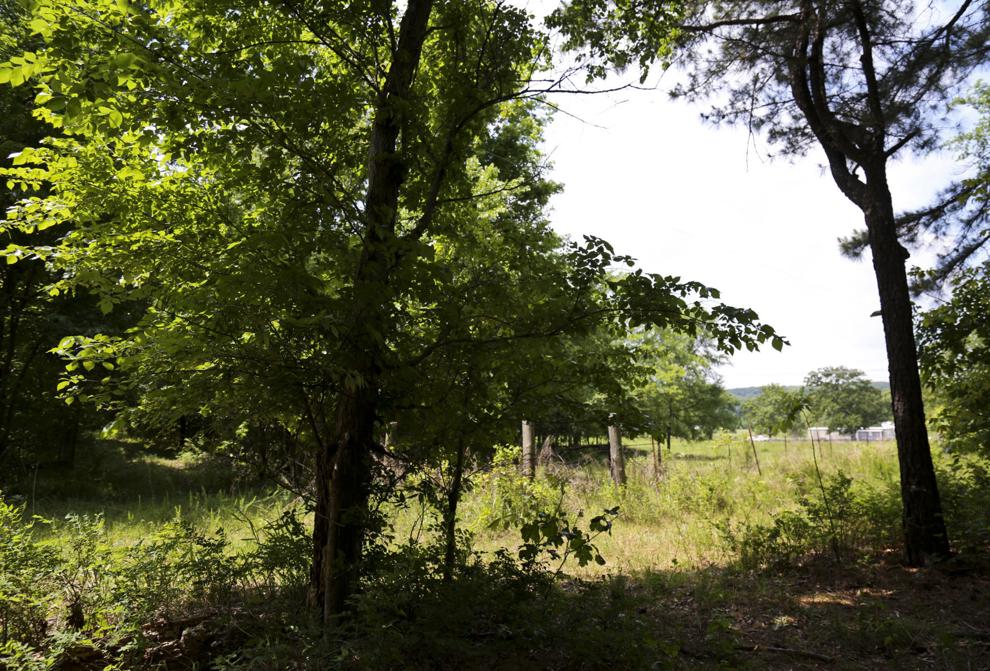 Please water her African violets.
It had been one of Michele Guse's farewell instructions for her family before she left for Girl Scout camp.
They promised her they would.
And that promise would be kept — even after they knew she was not coming back.
Unlike the purple flowers, though — which became a way to keep Michele's memory alive — what Richard Guse discovered growing in his heart in the months afterward was not beautiful.
And, he decided, it needed rooting out.
"I was bitter and angry at the time of my daughter's murder," he told the Tulsa World in a previous interview. "It's an easy thing to do — hate — and that will consume you.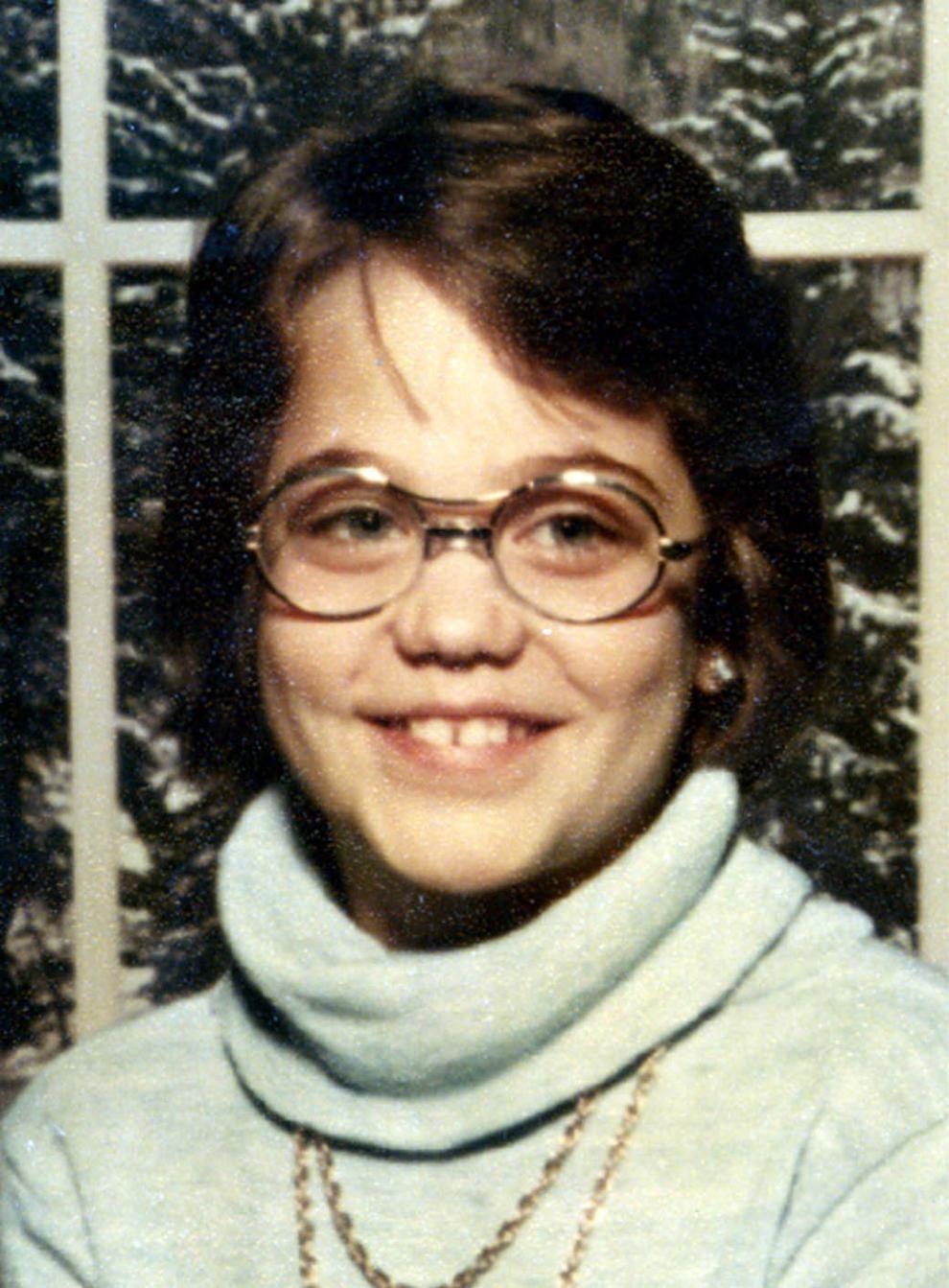 "I decided something has to come from this — from her life."
That something began to take shape in 1980 — three years after the deaths of Denise Milner, Lori Farmer and Michele Guse — as Guse threw himself into victim's rights efforts in Oklahoma. Becoming a leading voice and volunteer, he told Michele's and his family's story again and again, pushing for passage of the Crime Victim-Witness Bill of Rights, a package of laws adopted by the state Legislature.
Praised by the bill's sponsors as their "No. 1 lobbyist," Guse from there was appointed by the governor to the Crime Victims Compensation Board, which was created in that effort.
"This is my commitment to our situation," Guse said in 1994 after 13 years of never missing a board meeting.
"Because of my daughter, maybe the world will be a little better place to be. ... Hopefully, some good is coming out of this."
---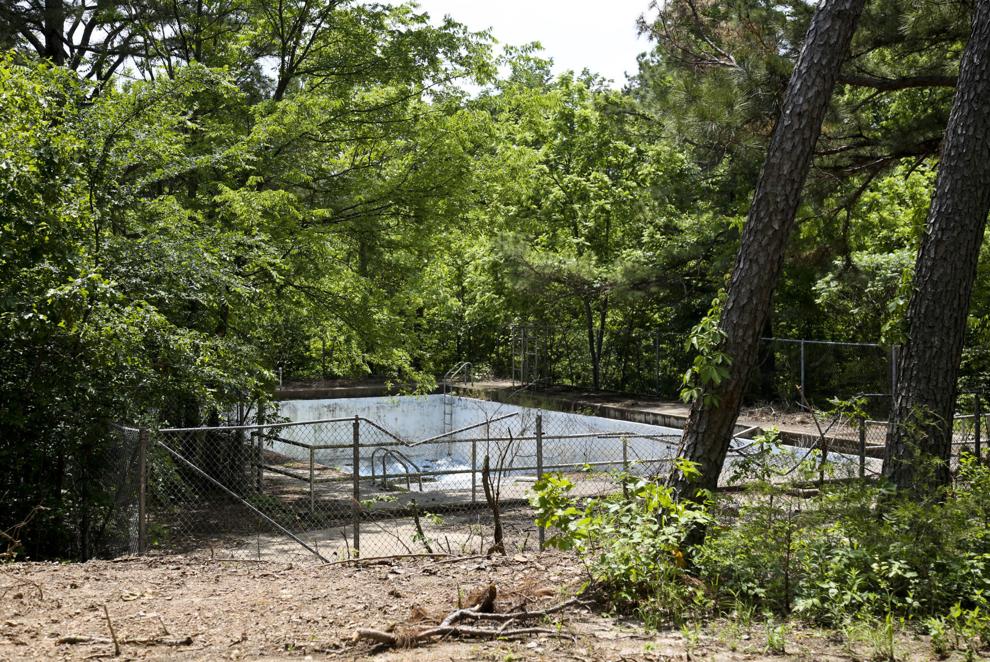 In the immediate aftermath of a tragedy, finding some good in it is a tall order.
With this story, even after 40 years, the picture is still complicated, the memories painful.
Among those connected to the case, that's certainly true for the Girl Scouts.
Lauren Zeligson, spokeswoman for what is now Girl Scouts of Eastern Oklahoma, said the murders "marked a point in our history of unspeakable pain for the families, girls, our council, its supporters and surrounding community. Our hearts continue to go out to the families and Girl Scouts that were lost."
For four years after the crimes, with Camp Scott's closure, Tulsa-area Girl Scouts had no summer camp.
Then, land was acquired in Osage County, and Camp Tallchief was established.
Surrounded by a large fence, Tallchief introduced cabins rather than tents for Scouts to sleep in. Security measures also were heightened.
With other improvements made through the years, including most recently new cabins, Tallchief continues to be "everything we thought it would be and more," Zeligson said. Not only does it reflect that "the safety of our girls is our highest priority ... (but it) offers better opportunities for our girls to engage in outdoor experiences that are the hallmark of our summer camp program."
As the organization tried to find its way forward after the murders, it also had to weather criticism.
The Farmers and Milners filed civil lawsuits against the Magic Council, claiming its negligence was partly responsible for the deaths of their daughters.
In 1985, the case was brought to trial, with the plaintiffs seeking a total judgment of $5 million.
Testimony from former campers and counselors included claims of thefts and strange happenings in the days leading up to camp, and on the night of the crimes, screams heard in the night and sightings of a strange man.
But in the end, the jury ruled in favor of the council. Two years later, the decision was upheld by the state appeals court.
In interviews over the years, Sheri Farmer has remained critical of the organization, particularly for the way she says it closed ranks, treating her as an adversary rather than a grieving parent as she tried to get information.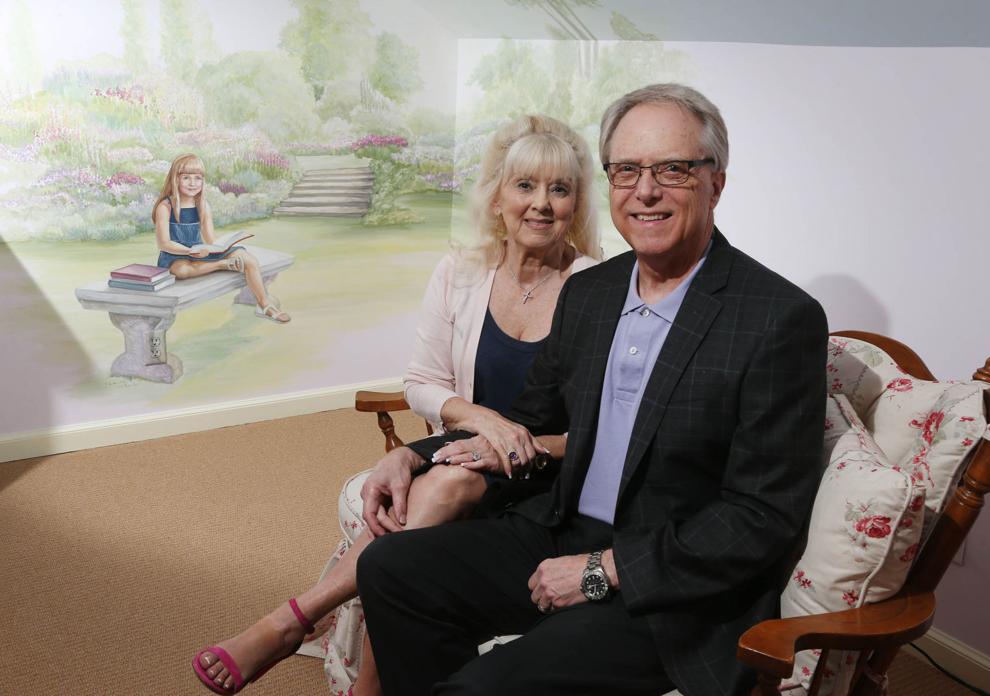 Today, Farmer says her anger has softened. But she adds that she is "still resentful."
In later interviews, the organization conceded that in the interest of the girls it served, it had wanted to protect its image.
Plenty spoke up for the organization, too, however.
One of the campers at Camp Scott in 1977, Amy Sullivan is now a college history professor in St. Paul, Minnesota, and wrote her master's thesis on how the Tulsa council preserved outdoor programs for girls after the murders.
"They saved camping for us," the former Tulsan said. "They saved that experience for girls here."
"My place in this story is as someone who has loved the Girl Scouts, who stayed in the Girl Scouts."
---
For Dick Wilkerson and others on the investigative side, the Girl Scout murders case remains the one that taught them "the good guys don't always win."
"We had 'the Lord on our side.' We were right — and I thought that was all that was needed, " said the former Oklahoma State Bureau of Investigation deputy director.
Stunned at the time by the verdict, years later he came to understand it better, he said, noticing what he believes are parallels with the O.J. Simpson case.
It was a situation where "people could not believe that somebody who they thought they knew could do something like this," Wilkerson said, adding that he now thinks of the Girl Scout case as the "O.J. (case) before O.J."
That factor "created a general atmosphere," in his opinion, that ultimately influenced the jury.
Wilkerson later became a state senator, where the experience was on his mind when he sponsored successful legislation funding a DNA database and upgrading the state's forensic testing capabilities.
But 40 years later, he said he still hurts for the investigators, who he says were unfairly "maligned."
"There was no appreciation for what these officers had sacrificed. The worst thing you can say about a career law enforcement officer is to accuse him of corruption. Or incompetence."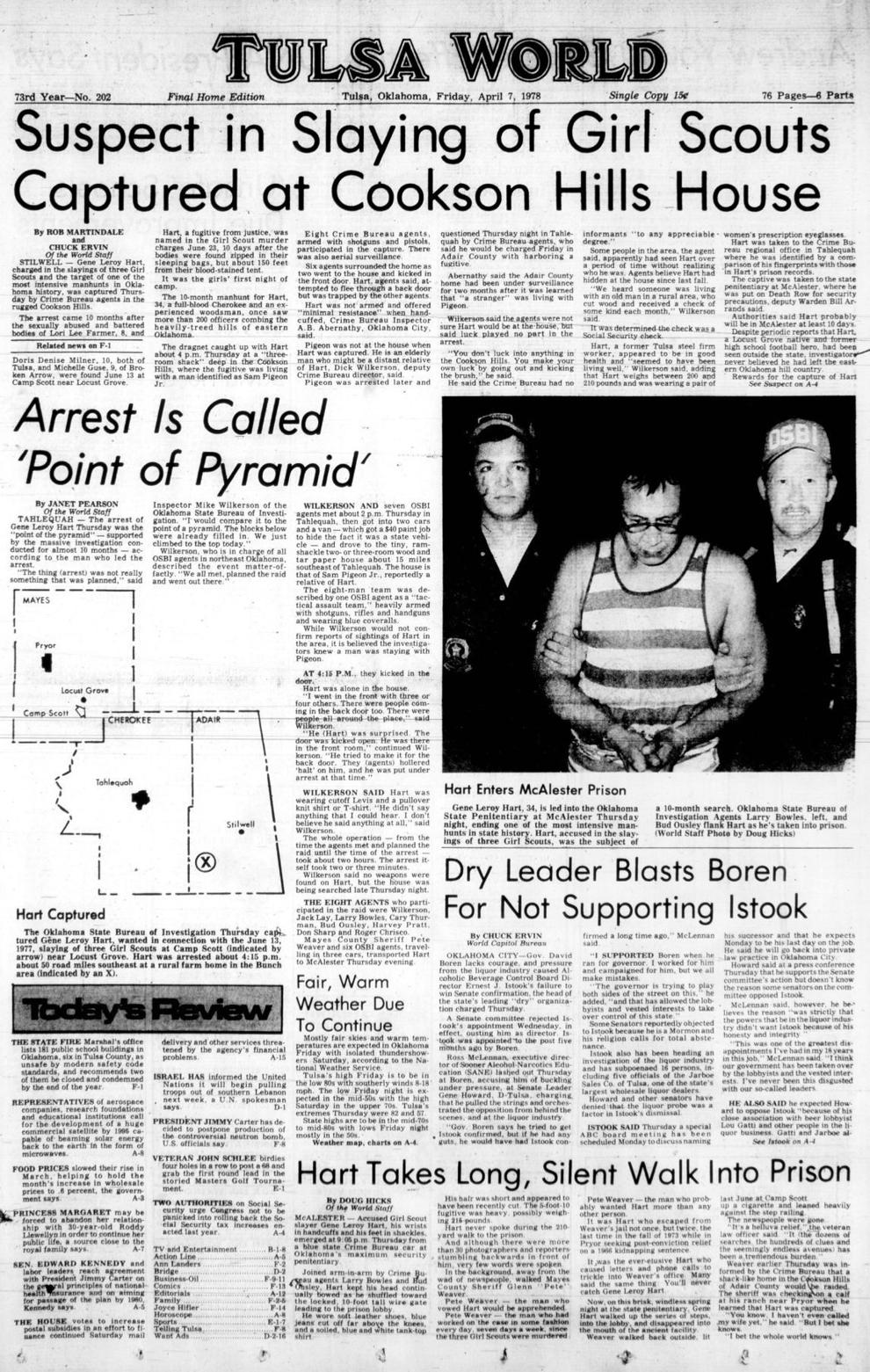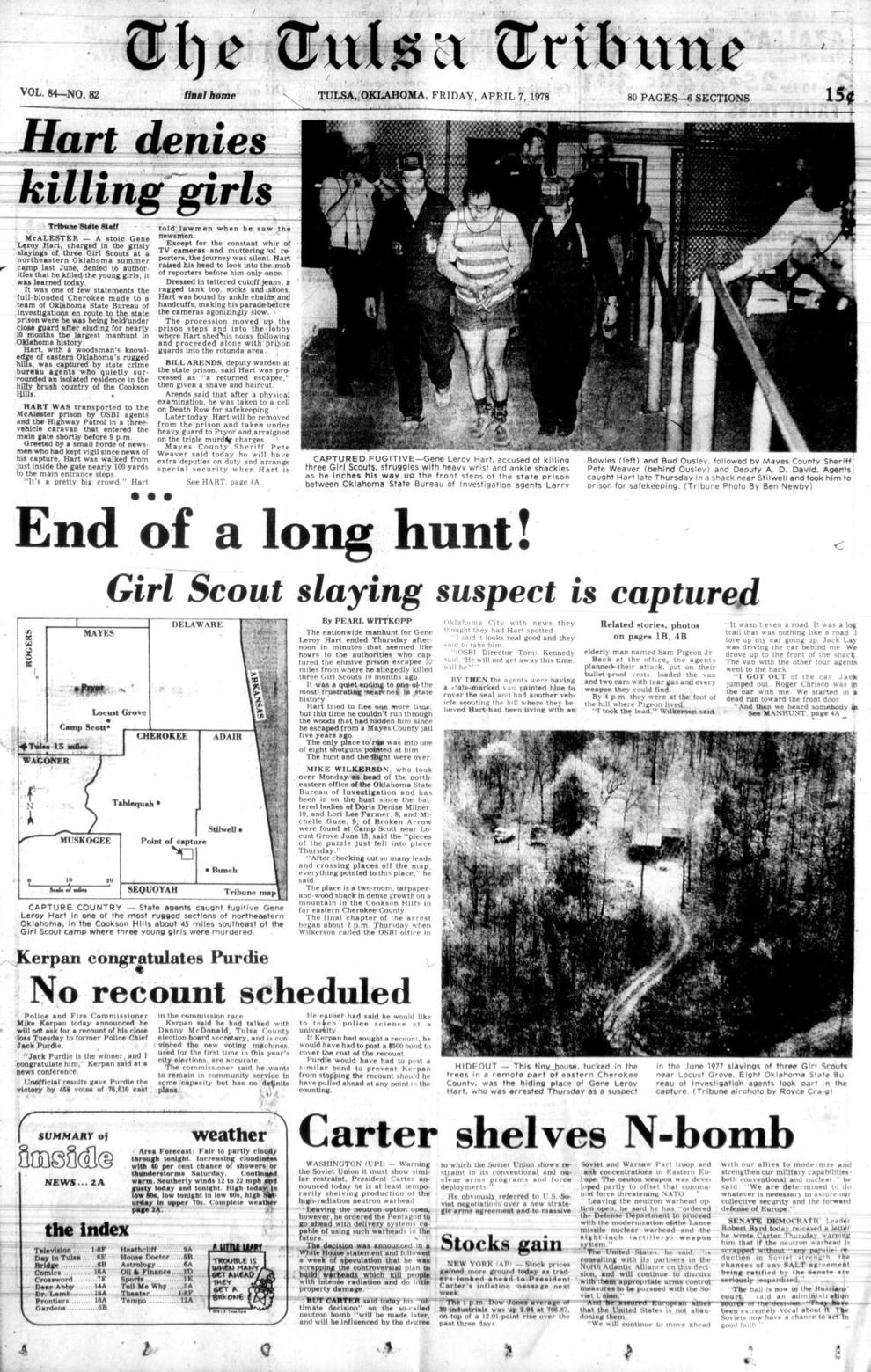 To frame Hart and fabricate evidence, "Think what would've been necessary. OHP, OSBI, Mayes County sheriff, Mayes County DA, the FBI. ... All would've had to have gotten together. You couldn't get all those people to agree it's daylight outside."
Wilkerson's brother, Mike Wilkerson, was an agent on the case, and together they co-wrote a book that defended the investigation.
Titled "Someone Cry for the Children," it was later made into a documentary.
"I was proud of that investigation," Dick Wilkerson said. "Our guys did great work and under adverse circumstances."
As for Sheriff Pete Weaver, who suffered a heart attack before the trial, he went on to lose his re-election bid in 1980.
In a later interview, Weaver said the case still haunted him. How "a man like Gene Leroy Hart could become a folk hero," he added, was something he would never understand.
Now in his 80s, Ron Shaffer, too, is still unable to put the case behind him, he said.
"The pictures of those little girls — such little bitty innocent things to be brutalized like that," the former chief prosecutor said. "Those are still with me. I guess they always will be."
Shaffer, who went on to become a Tulsa County district judge, said he hasn't changed his mind about the case and believes "in my heart we had the right man."
The prosecution is not allowed to request a change of venue, he said. But if it had been, "I think it would've made a hell of a lot of difference. We always said if we'd had it in Tulsa, we'd have gotten a conviction."
In Mayes County, "I think they had their mind made up before they ever got to the trial."
---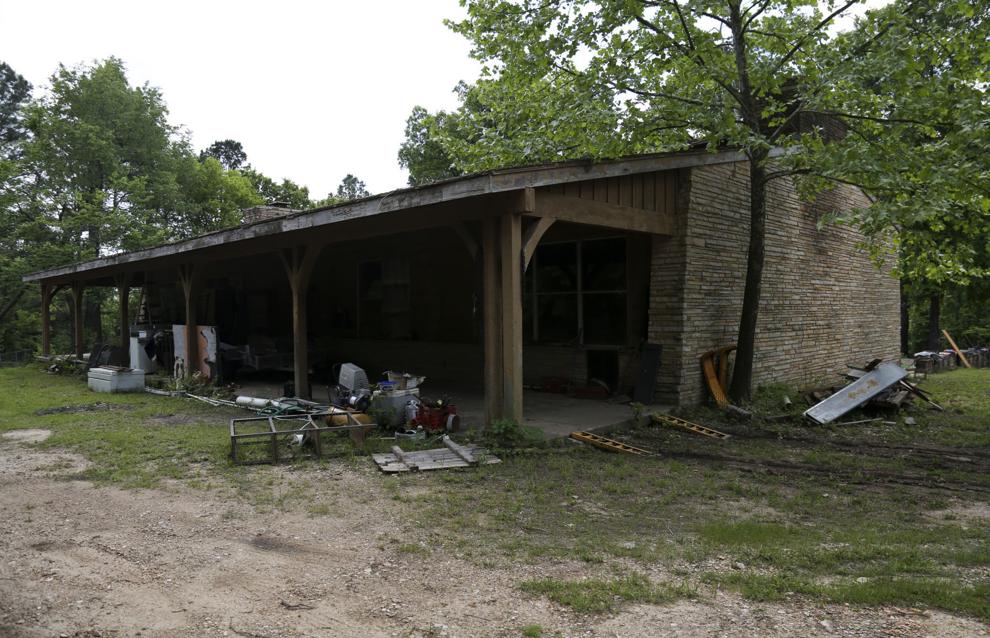 Ross Swimmer, who was the Cherokee Nation principal chief at the time of the trial, doubts that opinions among tribal members have changed in 40 years.
It was the kind of case, he added, where once people made up their minds, they seemed to be set.
"I think people who were certain that he was guilty and got justice in jail are still certain," Swimmer said. "And people that were certain that he was innocent, they probably still are certain."
Officially, the Cherokee Nation had no position on the case. But the council did donate $12,500 to Hart's defense, which might at least have created the appearance of taking sides.
Swimmer said that was not the case: "I wish I could remember our exact discussions. But I really don't believe the council had particular feelings one way or the other (about Hart's guilt or innocence)."
The concern was, he said, "that with Hart there had been a rush to judgment by the authorities. And so part of the reason for the donation was to see that he had a defense, had his day in court. We were just ensuring that he had a fair trial. I think he did."
Moveover, he added, he doesn't believe Hart's identity as a Cherokee created "any prejudice in his favor" among tribal members in general.
"I think a lot of Cherokees were sad early on because it appeared a Cherokee had committed this terrible crime," Swimmer said.
"But I think the more that came out about the investigation, the problems with it, speculation that evidence was planted — it began to turn people around, changed their minds."
Swimmer was supportive of the two late tribal members, Sam Pigeon and William Lee Smith, who were charged with aiding Hart.
Members of a respected traditional religious order, if they helped Hart, he said, they "believed they were doing the right thing." The charges against the men were dropped after Hart's acquittal.
---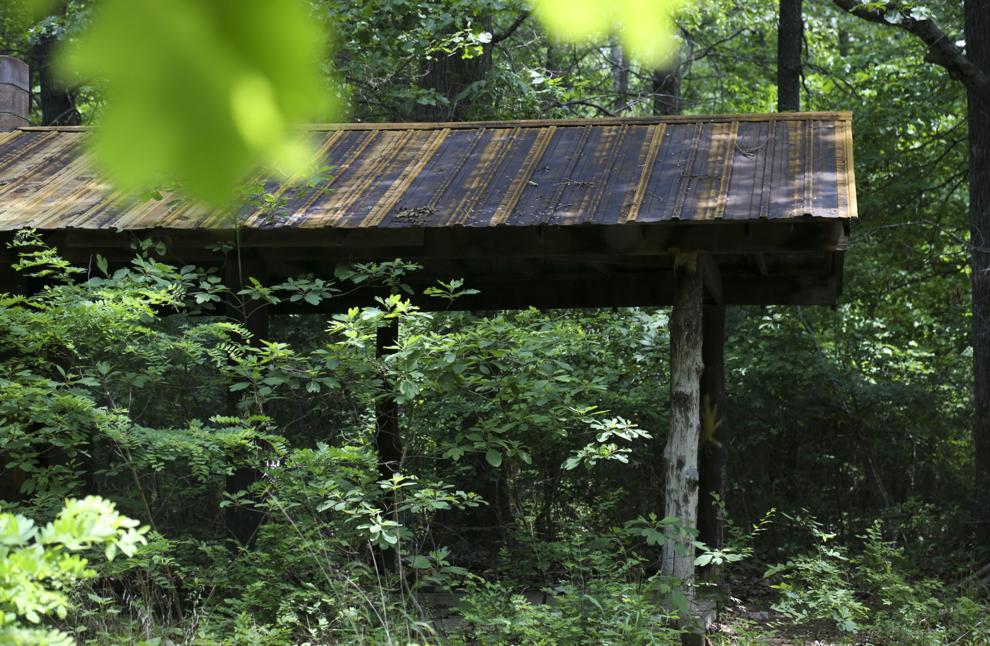 In the late 1980s, hopes surged that there might finally be answers in the case. DNA testing had just been introduced and was on its way to revolutionizing criminal investigation.
In the 30 years since, a number of DNA tests have been conducted on biological evidence from the crime scene.
To date, due largely to the degraded state of that evidence, authorities say, nothing conclusive has come from them.
One test, though, at least gave reason for pause.
In 1989, of five aspects of DNA tested from the scene, three reportedly matched those of body fluids taken from Hart.
Only one in 7,700 American Indians would match the samples of fluids, as Hart did, authorities said. But because only three of the five aspects matched, the results were officially deemed inconclusive.
The late Jack Graves, then-Mayes County district attorney, said if that test result had been available, he would have used it at trial.
"What it comes down to is, if there were 7,700 North American Indians at the Girl Scout camp on the night of the murders, only one would have matched the gene characteristics of Gene Leroy Hart," he said in a 1989 interview. "The chances of that are pretty small."
Something more conclusive may be forthcoming. A new round of DNA testing is currently being done, this time paid for through a private fundraising effort.
The Mayes County Sheriff's Office spearheaded the effort, which raised just over $30,000, much of it from Mayes County residents. OSBI assisted with preparation and submission of the evidence.
With the history of unsuccessful testing in this case, those involved are hopeful this time will be the charm.
Either way, they add, it shows that Mayes County residents are committed to pursuing closure for the families.
New leads are also followed when they arise, officials say. To date, though, those, too, have failed to pan out.
In the mid-1980s, then-Mayes County Sheriff Paul Smith announced that he was investigating links to possible other suspects. In the end, nothing came of it.
So, too, for claims that Bill Stevens, a convicted rapist, was the killer, the theory put forward by the Hart defense team. A Kansas inmate, Stevens had been investigated and eliminated as a suspect even before the trial, authorities said.
A more recent claim, which is the thrust of an upcoming film about the case, points the finger at convicted murderer Karl Myers.
John Russell, an ex-convict who is making the film "Candles" about the case, says the late Myers confessed to him once while they shared adjacent cells.
Russell gave the information to OSBI, which would say only that agents checked out the lead.
Myers died in 2013 of natural causes while awaiting execution for the 1996 killing of Cindy Marzano of Broken Arrow.
---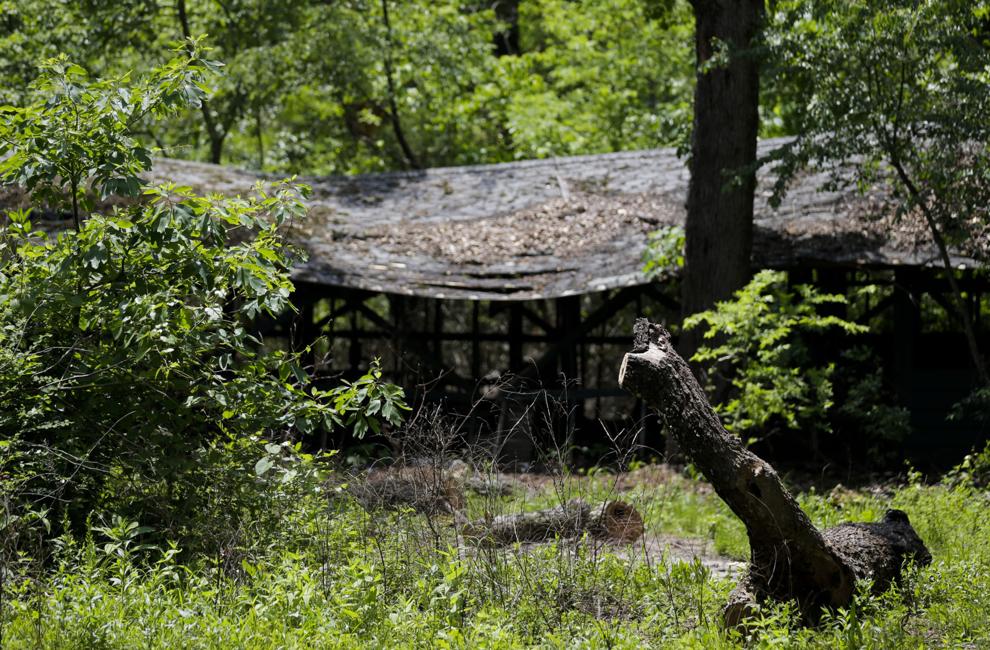 "It's amazing how, when I'm speaking, that emotion can come right back," Sheri Farmer said. "You wouldn't think so, after 40 years."
Much like Richard Guse, Farmer found a constructive way to redirect her grief and anger in the years following the murders.
She took up the cause of victim's rights.
Over the past four decades, Farmer has met, spoken to and counseled thousands of people in classes, seminars and one-on-one, including crime victim and law enforcement groups.
She said whenever she speaks, she prays going in, "'Lord, just let these words make a difference. Let them matter in another life.'"
If it existed at all in the late 1970s, "crime victims rights" as a movement was in embryonic form.
Farmer was in on the first wave, helping lead efforts in Oklahoma.
Among the changes she personally pushed for were, for victim's families, the right to be in the courtroom and to have a secure waiting area during court proceedings.
Together with her husband, Farmer also started a Parents of Murdered Children chapter in Oklahoma to mark what would've been Lori's 16th birthday.
"One thing we can do is we can make a difference in other people's lives," Farmer said. "If you have something bad happen, (ask yourself) how can this help anybody else."
Every now and then Farmer hears from somebody who's heard her speak.
"And I think 'OK — wow, maybe I did change some things. Something has changed because of that experience.'"
Former Tulsan Sheryl Stokes can speak to just how profoundly that experience has changed some.
A childhood friend and schoolmate of Lori Farmer's, Stokes saw the course of her life altered by the murders and their aftermath. Now, she advocates for families at the National Center for Missing and Exploited Children in Alexandria, Virginia.
Every morning at her office, she said, she walks in and sees the three photos on display there — of Lori, Denise and Michele — and her sense of mission is renewed.
"Everyone who walks in sees these three little girls," Stokes said, adding that it's one way she tries to keep their memories alive. She also has books, articles and photos about the case displayed, along with the "Remembering Lori" button she wears every May 25 — National Missing Children's Day.
"In my office, it's all about them."
Stokes was 8 years old at the time of the crimes.
"I remember hearing Lori's name over and over and thinking to myself, 'this can't be our Lori,'" she said. "My heart ached for all the families."
From the experience of following the case and the trial, Stokes said she knew when she grew up she was going to be an advocate: "I wanted to make sure families would not be alone ... through one of the most difficult and isolating times in their lives."
Just because Stokes is zeroed in on that mission, though, doesn't mean she's forgotten about the status of the case that started it.
Again, those three little faces are there in her office as reminders.
"We will never give up — never," Stokes said of finding answers for the Farmers and the other families.
"I still believe the murders will be solved. I believe somewhere out there someone knows something.
"I hope they realize it is time they came forward."
---
---
The complete Girl Scout Murders series
Chapter 1: Tulsans react to the stunning news that three area girls have been murdered at a Girl Scout camp near Locust Grove.
Chapter 2: The largest manhunt in Oklahoma history kicks off in pursuit of two-time prison escapee Gene Leroy Hart, who, despite being charged with the murders, has a growing number of supporters.
Chapter 3: One of the state's most-anticipated and sensational trials pits a seasoned, successful district attorney from Tulsa County against a scrappy, young Oklahoma City defense attorney in a battle over evidence and accusations that Hart is being framed.
Chapter 4: Officials stop pursuing the case despite a not-guilty verdict, and Hart dies unexpectedly while in prison for unrelated crimes.
Chapter 5: In the years following the murders, the survivors and others affected continue trying to make sense of it all, while maintaining hope that advancements in DNA testing may ultimately bring answers.
Chapter 6: After 40 years, the victims' families show their resilience, undeterred by the mystery that still surrounds the case.
Tim Stanley
918-581-8385
Twitter: @timstanleyTW