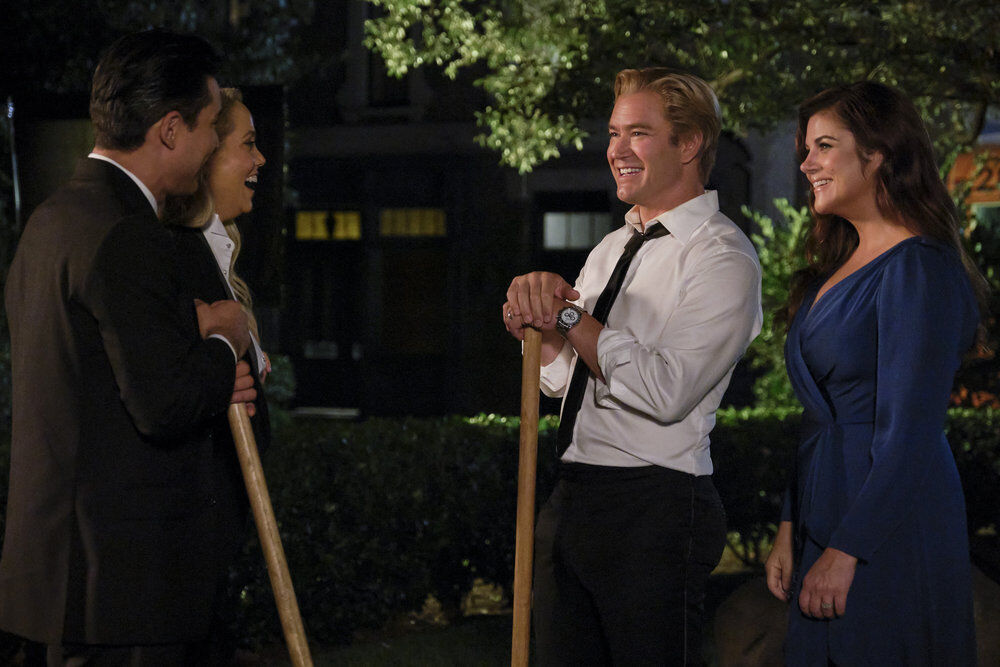 Actors from "Saved By the Bell" thought the show was going to get cancelled every season.
Yet here we are decades later and generations of fans are still watching reruns and Mark-Paul Gosselaar (you know him as Zack Morris) is still talking about episodes.
Gosselaar is among guests at Fan Expo Dallas, a major pop culture convention at Kay Bailey Hutchison Convention Center that began Friday and continues through Sunday in downtown Dallas. Gosselaar took part in a Saturday Q&A session and, as mentioned above, he told those in attendance that he and his cast mates always thought the series was going to end after every season.
"We would say goodbye to each other and that was it. We never thought we would go four seasons with the main show and one season with the college years," Gosselaar said, referring to a follow-up series, "Saved By the Bell: The College Years. "We would go back to school and that was it."
"Saved By the Bell" was a staple of Saturday morning TV from 1989 through 1993. Gosselaar is watching episodes for the first time in decades to do prep work for a "Zack Morris is Trash" podcast. Gosselaar makes notes when watching an episode so he and co-host Dashiell Driscoll can dissect and elaborate on what occurred in the episode.
That's one route for "Saved By the Bell" to remain fresh. Here's another: A "Saved By the Bell" reboot began streaming on Peacock in November and has been renewed for a 10-episode second season. The reboot features a new class of kids at Bayside High and the return of series originals reprising their original roles, including Gosselaar, Tiffani Thiessen, Elizabeth Berkley, Mario Lopez and Lark Voorhies, who was a guest star in a season one episode.
Gosselaar said he and his old mates loved playing those characters, but how do you bring them back for a reboot with a premise that moves the franchise forward?
"I'm glad that Tracey Wigfield, who is the showrunner, was able to figure out the best way," Gosselaar said. "I think she did an amazing job and the writers have done an amazing job. ... She cracked the crowd. I'm really proud of the reboot."
Gosselaar, who wants to add to his directing credits, said he directed an episode of the rebooted series. Driscoll is among writers on the show.
Gosselaar was asked by a panel moderator if there is anything people shout to him when they see him on the street. Gosselaar said he doesn't get recognized a lot. He constantly changes his look, which he did when was in the casts of recent series "Mixed-ish" and "The Passage."
"I think the only reason I get recognized is because my wife is a 6-foot blond and it's one of those things," he said. "Whoa. Who's the guy with the unicorn? Oh, it's that guy."
Gosselaar joked that people think he's James Van Der Beek. Van Der Beek was in a different 1990s TV project ("Dawson's Creek") about high school years.
Gosselaar provided an abbreviated version of how he got into the entertainment business. His Indonesian mother and Dutch father had no connection to show business, but he was the proverbial cute kid who started doing print work when he was 4. Maybe you saw him in a department store advertisement? He transitioned to television commercials, secured a Screen Actors Guild Card when he was 10 and landed his first TV series gig courtesy of a 1986 "Highway to Heaven" appearance. He appeared in a half dozen other series, including "Punky Brewster," before being cast in "Good Morning, Miss Bliss," the original title for "Saved By the Bell."
Gosselaar dyed his hair to be Zack Morris. He said you can't check a box on your driver's license to identify what color his hair was then because that color doesn't exist. He based the character on what he gleaned from the alleged cool kids in his school. He said nobody in his high school watched "Saved By the Bell" because it wasn't their thing. He said they watched "Beverly Hills, 90210" because it was the cooler show.
People now tell Gosselaar their high school experiences were nothing like "Saved By the Bell." His response? "Yeah. It was a TV show."
It was suggested to Gosselaar by a panel attendee that maybe "Saved By the Bell: The College Years" would have had a longer life if it had aired on Saturday mornings instead of in prime time. No, thanks.
"We didn't get paid very well for being on Saturday morning," he said. "It wasn't until we went on prime time that we got prime time-ish money. ... It was a substantial amount compared to what we made on Saturday mornings. I don't think any of us would have wanted to go back to Saturday morning pay."
Gosselaar said he went through a dry period after the end of "Saved By the Bell: The College Years." A trio of three-words-in-the-title TV movies ("She Cried No," "Dying to Belong," Born into Exile" got him back in front of viewers' eyeballs and he has a lengthy list of credits since, including a four-season run on "NYPD Blue."
Gosselaar said he never auditioned for "NYPD Blue." He was cast in the show after auditioned for "Philly," a Steven Bochco legal drama starring "NYPD Blue" alum Kim Delaney. Gosselaar read for "Philly" even though he knew the role was destined for Tom Everett Scott. Bochco responded by saying nice things and saying he wanted to work with Gosselaar. It was more than a polite rejection. Gosselaar was summoned to the "NYPD Blue" cast by Bochco after Rick Schroeder departed.
Gosselaar was welcomed to the show with a hug and kind words ("whatever you need, I am here for you") from Dennis Franz, who won multiple Emmys for his work on "NYPD Blue." Gosselaar called Franz one of the most genuine people he has ever met.
"It's not easy working with different personalities on the set," Gosselaar said. "People take it for granted that you get along. Everyone's different. Sometimes you have good chemistry. You would be surprised at movies that you love or shows that you love and the two stars of the show can't stand each other, but yet they make great television or films. Dennis and I genuinely liked each other. He still is a great friend."