Up until March 19, most Oklahomans knew Joe Exotic — if they knew about him at all — as the owner of a private zoo in south central Oklahoma who ran with a spectacular lack of success for governor and ended up in jail because of an equally misguided murder-for-hire plot.
As an example of Oklahoma's densely woven lunatic fringe, a curricula vitae such as this is relatively bush-league, something about which sensible people would dismiss with an "only in Oklahoma" shrug.
Then, on March 20, the streaming service Netflix unleashed "Tiger King: Murder, Mayhem and Madness."
Since its premiere, the seven-part documentary series has been Netflix's most popular show, while causing all manner of shock, outrage and fascination among viewers.
"I'm three episodes in," said "CBS This Morning" host Gayle King during a recent broadcast, "and I'm thinking, 'What in the world am I watching?'"
That's been a common reaction to "Tiger King," which is a deep look into the lives and alleged crimes of a small, closely connected and sensationally sketchy group of people who — for one reason or another — are obsessed with big cats.
'Star of his own show'
They include a one-time drug dealer who claims to have been an inspiration for the character Al Pacino played in "Scarface" and who "sold drugs to pay for my animal habit;" a guy who rides elephants around town and divides his time among a harem of young women he employs at his facility; and a woman named Carole Baskin, an animal rights activist and self-described "Mother Teresa of the big cat world" who owns the Florida-based Big Cat Rescue.
At the center, however, is Joe Exotic, a mullet-sporting, gun-toting, profanity-spewing, no underwear-wearing gay polygamist who ran the Greater Wynnewood Exotic Animal Park, where he presided over an ever-increasing number of lions, tigers, bears and other less-than-domesticated creatures.
This has prompted a number of social media posts in which Oklahomans post images of the more refined aspects of life in the Sooner State with the caption, "I'm from THIS Oklahoma," as opposed to the Oklahoma of Joe Exotic.
But the sad truth is, Joe Exotic — born Joseph Schreibvogel, and who is now officially known as Joseph Maldanado-Passage — really isn't all that exotic after all.
"He's an entertainer at heart," one of his employees says in an early episode. "He's definitely the star of his own show."
He is the sort of personality who "makes for good television," a TV reporter states.
In other words, Joe Exotic is one of those people who will do anything and everything to put himself — and keep himself — in front of the public. The more flamboyant, the more outrageous the act, the better.
Joe Exotic learned early on that few things drew a crowd as effectively as the chance to mingle with baby animals. And the more lion and tiger cubs available for visitors to pose with and pet, the more money one could make.
The problem with baby animals is that they continue to grow — in this case, into 500-pound predators with 3-inch teeth and paws filled with talons that can shred flesh like wet tissue paper.
It was this practice of breeding big cats to create cuddly cubs — and euthanizing larger cats that had outgrown their usefulness as props — that caused Carole Baskin to cross Joe Exotic's path and cash stream.
Power and politics
She claimed the practice to be animal abuse, and what started as an internet feud continued to escalate until Joe Exotic decided to hire someone to kill Baskin — an enterprise that, as is the case with every other endeavor in "Tiger King," was as misguided and successful as Joe Exotic's run for governor.
It all plays out as if a resurrected Flannery O'Connor started writing for "Sons of Anarchy," but without the religious imagery.
Eric Goode, who co-directed the film with Rebecca Chaiklin, said this project started as a film about illegal sales of venomous snakes — until one of the buyers he was shadowing showed Goode the snow leopard he had recently purchased, caged in the back of his van on a hot Florida day.
That shifted the duo's focus to the world of big cat collectors. "I didn't know," Goode intones on the film, "that this would consume five years of my life, or end up as ugly as it did."
And ugly "Tiger King" often is. While there are no scenes of overt animal abuse, the conditions in which the animals are kept at the various "zoos" and "parks" the principal characters oversee are at best depressing and at worst appalling.
It almost makes one think it would be better for tigers to be allowed to become extinct than to be subjected to the sort of "happy lives" the people in "Tiger King" claim they are providing.
But then, the animals aren't the point of "Tiger King." They are simply the symbols of what the characters in this series crave — power, and the ability to control that power.
Rick Kirkham, a former "Inside Edition" personality who joined the Joe Exotic team to create a reality show and who tries to present himself as the gravelly voice of reason, says, "It's hard to explain the addiction of exotic animals … the feeling of power of being around these animals."
Or as Baskin put it, "They can go from being so sweet to just wanting to tear your face off."
And that is maybe the true ugliness of "Tiger King" — the corruption that is born from the misguided sense of power these misfits believed they possessed over the creatures that populated the insular, isolated, insane little fiefdoms they made for themselves.
It might very well be that everyone depicted in this show at first truly loved these animals and wanted to do all they could to keep these endangered species viable in this world.
Late in the series, there is a grainy bit of film of Joe Exotic, where he speaks about protecting and caring for big cats, and it's the only time where he sounds completely sincere, even humble.
King in a cage
But it lasts only for a minute. After all, sincerity and humility don't make one a "star." And those qualities certainly don't make one into the "Tiger King," someone who has convinced himself that he alone is capable of ruling over some of the most powerful and dangerous animals on the planet.
That the "Tiger King" himself ends up in a cage might seem the perfectly ironic ending to a tale of unbridled hubris. But the story of "Tiger King" is far from over.
Just days before the show's premiere, Joe Exotic filed a $94 million lawsuit against the U.S. Fish and Wildlife Service, prosecutors, business associates and others he blames for his arrest and conviction.
Celebrities such as Cardi B and Kim Kardashian have made known their efforts to support Joe Exotic, from creating GoFundMe pages to petitioning for a presidential pardon.
And, of course, there has been talk of the inevitable Hollywood adaptation, with actors promoting themselves on social media to be cast as various characters.
It looks as if Joe Exotic's 15 minutes of infamy are going to last a long, long time.
---
Gallery: People are going crazy over the Netflix series 'Tiger King.' Check out some of the social reaction
Reality star Kim Kardashian West

Actress and singer Elizabeth Gillies

Comedian Michelle Wolf

Author Jon Acuff
Screenwriter and columnist Sophia Benoit

Actor Zach Braff

Writer J.P. Brammer

Brammer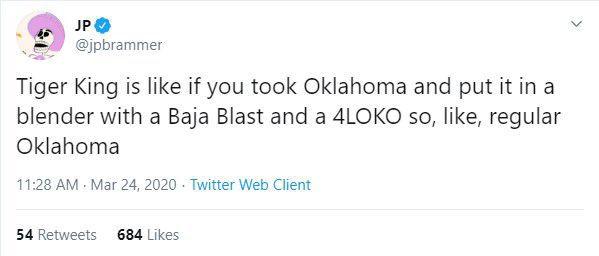 College football coach Mike Leach

Actor/NFL Network host Kyle Brandt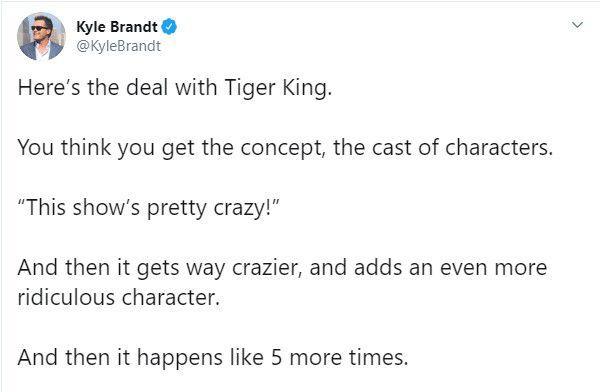 Actor Nicola Coughlan

YouTuber/actress/singer Gabbie Hanna

Singer/songwriter William Clark Green

Writer/comedian Ian Karmel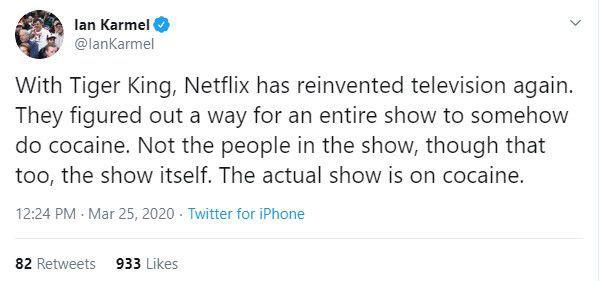 TV producer Andy Lassner

Makeup artist and YouTuber Manny MUA

ESPN personality Sarah Spain

Beats1 editorial producer Tom Thorogood

Sports writer/podcaster Jimmy Traina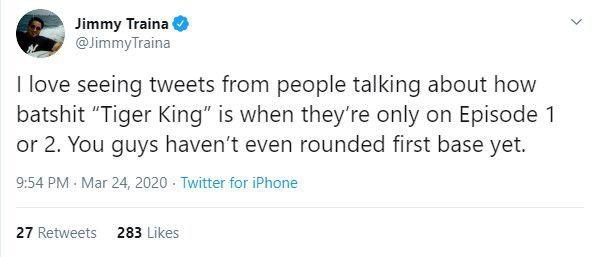 Podcaster/NBA Desktop host Jason Concepcion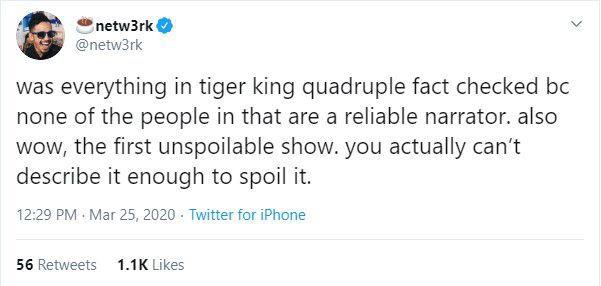 Bars, restaurants and entertainment venues are closed indefinitely because of the COVID-19 threat.
Find all of the links to coronavirus content in this Tulsa World Special report
Art needs an audience, regardless of the form it may take. A song, a dance, a play, a poem, a painting, a story — without that unique act of s…
It was 37 years ago, in March 1983, that "The Outsiders" opened in movie theaters nationwide, taking Tulsa author S.E. Hinton's creation from …
Get the latest Tulsa World Magazine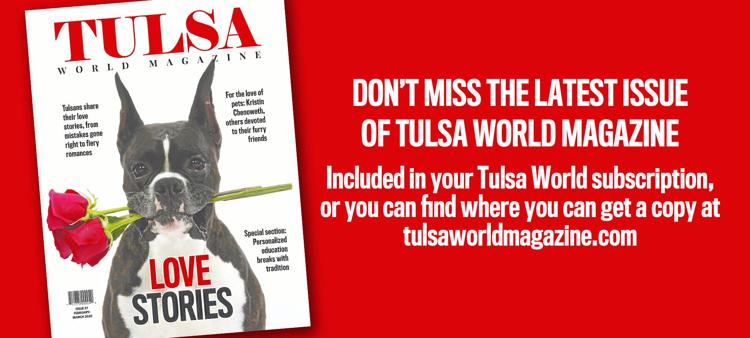 ---
James D. Watts Jr.
918-581-8478
Twitter: watzworld
Stay up-to-date on what's happening
Receive the latest in local entertainment news in your inbox weekly!