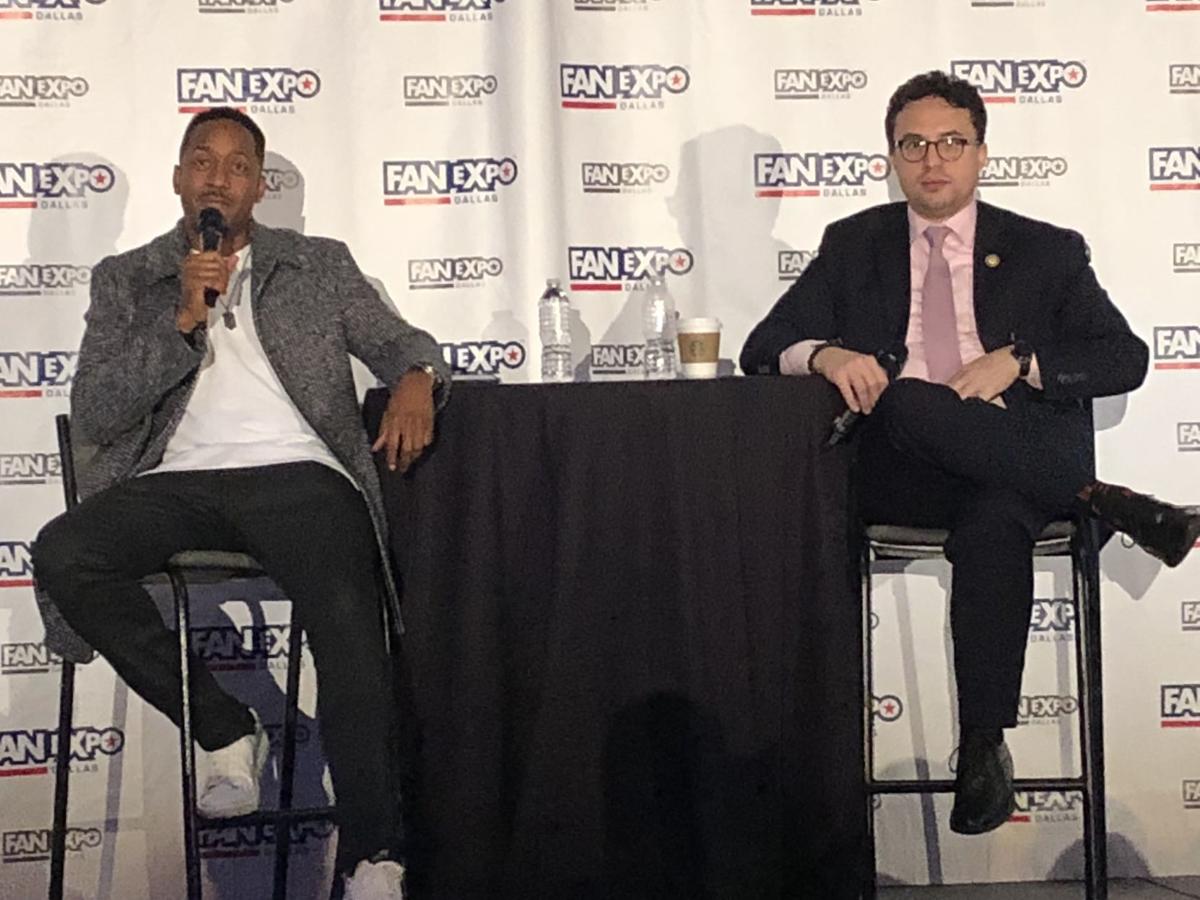 Jaleel White did such great work on "Family Matters" that Steve Urkel is in the club.
Greatest TV characters of all time.
At various points in their histories, TV Guide and Bravo put together "greatest character" lists and of course Steve Urkel made the cut. He showed up midway through the first season of "Family Matters" and, like Fonzie and "Happy Days," he proved so popular that the show morphed to become about him.
White talked about the origins of the character during a Q&A session Saturday during Dallas Fan Days, a pop culture convention that continues Sunday at the Irving Convention Center. He said he started out doing an Ed Grimley impersonation. Grimley was a nerdy character brought to life by Martin Short on "Second City Television" and "Saturday Night Live."
The origin of the character's eyeglasses? White said his father was a procrastinator who didn't go out and get the "typical" nerd glasses with tape in the middle.
"He got me his own glasses that he only used when he practiced dentistry to keep particles from flying into his eyes," White said.
"So (it was) my little peanut head and his glasses. Thanks dad, you didn't go to the store.... Sometimes the best inventions just came out of necessity or accident or you just use what you had at the time."
When talking about nerdy Steve Urkel, White talked about the nerd life. He said it has taken over the planet.
Said White: "There was a time where, hey, we had these movies, 'Revenge of the Nerds' or 'Superbad' or whatever, and it's like I think if you remade those movies today it would be called 'Revenge of the Jocks.'
"I'm very, very respectful of how people have evolved over time, but, at the time, when Steve Urkel was incarnated, the idea of a black nerd being a central character on a television show was absurd. One of my executive producers told me himself. He was like, if we had ever pitched this how to the network the way it has turned out, they would have said 'Lock the doors and don't ever let the guys back in' because basically the show became a black kid who loves cheese and polka, plays the accordion, loves the girl next door, bugs the crap out of their family and breaks everything he comes in contact with in their house. He doesn't knock. He just comes right on in.
"As a network pitch, they are not even validating your parking. But what that did for me was it made me an un-cliched creator, so some of my own frustrations that I have in the business, I am trying to sell things to people that are not necessarily so obvious that they work and you have got to just hang in there and make magic happen."
From interactions with others, White knows Steve Urkel gave some TV viewers the courage to be themselves. After a fan at the convention talked about the impact White had on his life, White said, "I'm happy to have inspired you man. I'm dead serious."
Other selected takeaways from the Q&A session:
•White, who was on the show from ages 12 to 21, told a story about his first date. He double-dated with a "Family Matters" co-star, Darius McCrary.
The story? White said he was 16 when he met a young lady at the NAACP Image Awards. He said he went "goo goo ga ga" and talked with her while her dad was standing nearby. It was awkward, said White, but the dad was cool about it.
White tried to be cool too. He asked for the girl's phone number and didn't have pen or paper. He swore he would remember the number and ran off in search of a napkin and pen immediately afterward.
At some point, White realized this: "I can't take this girl anywhere without my mom."
White didn't have a car and driving wasn't concerned about driving because he was busy with the TV show. But McCrary drove a BMW. Hey, Darius. Can you take me on my first date with this girl? Said McCrary: "She got a friend?"
White put in a request. His date found a friend for McCrary. The friend turned out to be the daughter of supermodel Beverly Johnson
Said White to McCrary: "I over-hooked you up."
•White said being on "Family Matters" sparked a desire to write. He wrote a 1993 episode of the show that guest-starred NBA player Larry Johnson. At the time, Johnson had been appearing in popular commercials featuring him as a Grandmama character.
White said he knew Larry Johnson and asked if he would l ike to be on the show. White then went to a Foot Locker store and asked a store manager if he could have a Larry Johnson poster. He took the poster to the writer's room and brought the writers his idea for an episode.
"Within four weeks we were shooting it and within two months it was on the air, the highest-rated episode of that year," he said.
•White appreciates that "Family Matters" made statements by touching on social issues over the years. When asked if any current shows are addressing issues, he had an interesting response.
"I'm a little different," he said. "If you're lucky enough to come from a family with a strong spiritual foundation, that's where you are going to get your (life lessons). If you're not getting it from your family, maybe hopefully you have a coach or a teacher or somebody who had a deeper impact on your life. I tend to watch television strictly for entertainment purposes. I'm kind of astonished how many people go to television and the movies for deeper reasons, for personal (reasons). For me, I was very lucky with my parents and very lucky with my family foundation. I'm a churchgoer. I try to give that back to my daughter. But television is just entertainment."
•In regard to entertainment fare, White said it was easier to create conflict without controversy in the pre-social media era of the 1970s and 1980s. Whatever words came from the mouths of Archie Bunker and George Jefferson were "steeped" in those characters.
"And the joy of those characters was watching the opposition to those characters," White said. "It wasn't necessarily take a side every day. Comedy is about conflict. That's what comedy is about, at its core. This person wants something. That person want something else. Put them in a room together. We both know know what they want and neither one of them are going to get it."
•White has bonus cred in the pop culture universe because he voiced Sonic the Hedgehog in animated programs. He said he got the job because of the way TV executives think. He was the face of a TGIF prime time Friday lineup and the execs wanted to "sell" Sonic on Saturday mornings.
"So they said, 'Hey, why don't we get the guy from Friday night to lead us into Saturday morning?' So I was cast to play Sonic the Hedgehog."
White, who said he is probably too honest about this, said he didn't want the Sonic job because he had a lot on his plate at the time. He was going to school and doing "Family Matters" and, as soon as he finished work on the TV show, he would head to a recording studio for the Sonic gig.
"They would just pile them up," he said. "I would be doing four episodes at a time."
In hindsight, White said he was grateful he got to voice Sonic because "we are defined by our hits."
"People see you walking down the street (say) 'It's Urkel. It's Stefan. It's Sonic. It's Total Blackout. It's Dancing With the Stars.' That's my whole career right there in five sound bites. I am very, very grateful for Sonic. That's a job that I didn't want and am glad I took."
•Seen White in any TV dramas? Sure you have. He said he told his manager he wanted to be on every TV drama and he doesn't care what they want him to play. He has guest-starred in dramas or comedy-dramas like "Castle, "Hawaii Five-O," "CSI: Crime Scene Investigation," "NCIS," "House," "Boston Legal" and "Psych."
"I was trying to make a point to TV execs and trying to make a point to the fans by just being that guy who you see pop up," he said, adding that he scratches one off the list every time he appears in a major network drama.
•When did White know he was famous?
He was a few episodes into his "Family Matters" run when he traveled to New York to be on a talk show. The phone rang as soon as he walked into his hotel room. He and his family assumed it was the front desk calling. It was a fan who wanted to talk to White. Said White: "That became the beginning of checking in under a different name."
•If you've been waiting to hear Steve Urkel's voice in a Scooby Doo episode, your wait is almost over.
White said new Scooby Doo mysteries will feature the Scooby gang solving mysteries with random celebrities like himself and Ricky Gervais. White said the project will be coming out soon.
Jimmie Tramel 918-581-8389
Twitter: @JimmieTramel