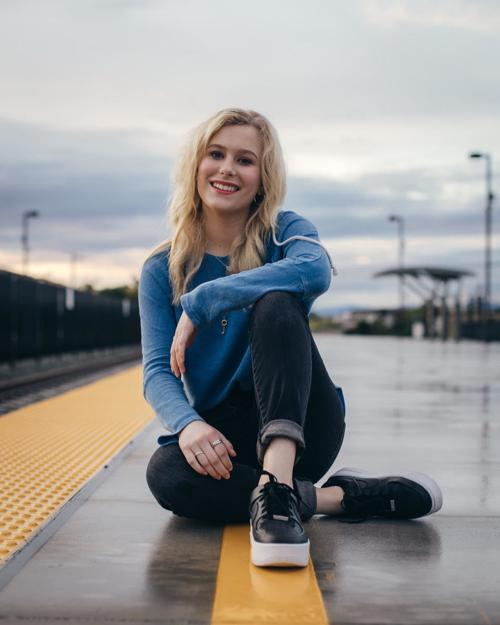 Estella Kirk is ready to offer "Shelter in the Storm."
A 15-year-old model, actor and singer from McAlester, Kirk was wrapping up work on her first EP when the COVID-19 pandemic arrived. She has something to say about it, and the result is her first single, "Shelter in the Storm." The song and an accompanying video have been released with the intent of spreading hope during the pandemic.
Kirk's five-song EP will be unveiled in September, and she's releasing one song per month until then. "Shelter in the Storm" was co-written with Kira Fontana, a celebrity vocal coach turned Christian music producer.
You can keep up with Kirk on Instagram (@estellakirkmusic), Twitter (@Estellakirk_) and Facebook (m.facebook.com/estellakirkmusic). In the meanwhile, here's a Q-and-A session related to "Shelter in the Storm."
What do you hope to accomplish with the song?
I hope to inspire people and to give people faith during this time because this time can be super scary, especially for teens. And I kind of hope to be a light to them and show them that they can still lean on God during this time and show him that he still has control during this time.
You were working on the EP and hit the pause button to do this song?
We were actually writing another song for this EP. It was the last song on this EP, and we were finishing it up and then we just kind of thought, "Wait a minute. This does not feel right." We couldn't really write a song about anything else other than the coronavirus because it was going on, so we just didn't think that it was the right thing to write about, what we were writing before. So we paused on that project and started writing "Shelter in the Storm."
How did the songwriting go on it?
It was good. It was a long process and it was a struggle at times, but it was a fun process and a learning process for me, but we actually met with Kira's worship group and they gave us a couple of verses from the Bible and just a lot of inspiration for the song, so that was a big help from them.
Did you write or co-write the other songs on the EP?
Yes, all five songs are co-written.
Does songwriting come natural to you?
I would say to a certain extent it does, but there is a lot that does not come natural to me, especially singing. Singing does not come natural. It took a lot of work to get where I am today and I have had a lot of vocal problems, but songwriting probably comes the easiest to me, but it definitely does not come easy, I would say.
You shot the video in Southern California when the pandemic was breaking out?
Most of the time, it's sunny, but it was actually raining that whole week, which was perfect because that was the time we were filming it and it was called "Shelter in the Storm." But we actually saw a sunset right at the end of the video, which is the last part in the video, and we were kind of waiting on something special to happen and kind of talking to God about what could be amazing in the end of the video. As soon as we talked to him, he showed us something in the video that was amazing and that's how we ended it, with the sunset.
Are you pleased with the song and video?
Yes, it's definitely my favorite project.
What made you want to be a singer?
I wanted to be a singer when I was little, but I wanted to be a pop singer and God kind of changed my direction on what he wanted me to do. Before, when I wanted to be a singer, it was just because I loved to do it, but now, it's because I want to inspire people and I want to just share God's message in what I feel like he made me to do.
What's something that should be part of your story?
I would say my advice to people would be to have confidence in themselves and believe in their dream, which is something I kind of struggled with. So if I could tell anyone something, that's what I would tell them because if you have a dream and you don't believe it yourself, how can you expect others to believe in that? And it took me a while to learn that, so I just want to spread that message.
Predicting the future is difficult, but where would you like to be in 10 years?
That's probably the toughest question because, like you said, I don't really know the future. I'm really just focusing on the EP right now, but I would say just to be performing at bigger venues and be inspiring more people because right now I would say I am inspiring people but not as many as I would like to in the future.
---
Jimmie Tramel 918-581-8389
Twitter: @JimmieTramel
Stay up-to-date on what's happening
Receive the latest in local entertainment news in your inbox weekly!