Story songs are great. One of the best (turn up the radio) is "The Devil Went Down to Georgia."
Released in 1979, "The Devil Went Down to Georgia" was such a scorching crossover hit that it climbed to No. 3 on the Billboard Hot 100 chart. It became the signature song for the Charlie Daniels Band.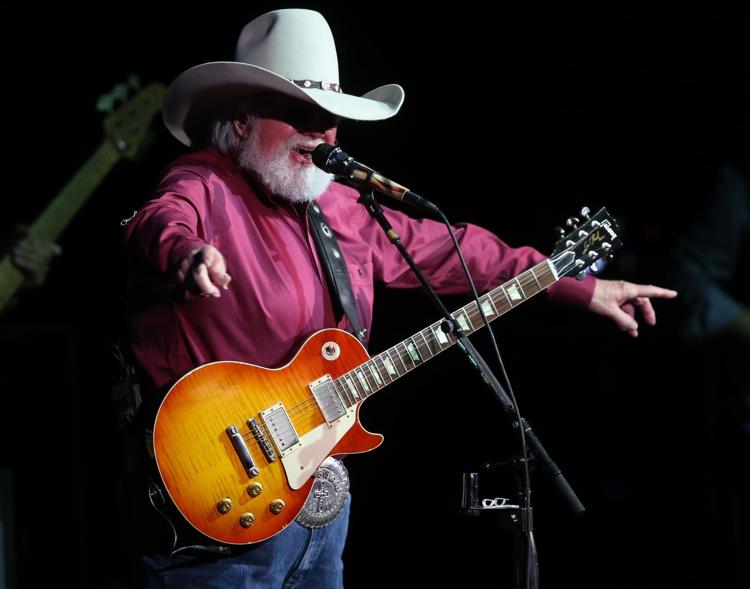 There's a local story about the man responsible for this story song: In the 1960s, Charlie Daniels went down to Tulsa. That's where he met the girl who became his wife.
A member of the Country Music Hall of Fame, Daniels died earlier this month. He was 83. Tulsa was part of a life well-lived.
Not yet famous, Daniels was trying to make ends meet as a musician in the early '60s. He was gigging on the East Coast when he got a call from a friend who was living in Tulsa. The friend, Clint Butram, suggested Tulsa as a city of opportunity for a band. Daniels was in a band called the Jaguars at the time. The Jaguars became regulars at the Fondalite Club near 11th Street and Denver Avenue.
"We were so popular with the crowd that we had to play three or four times a night," Daniels wrote in his 2017 memoir, "Never Look at the Empty Seats."
Raised in Mayes County, Bob Shocklee said he used to make weekend trips to the Fondalite Club two or three times a month to watch Daniels' band.
"He did the Beatles, and he did the Beatles like the Beatles did themselves," said Shocklee, now a Broken Arrow resident. "That's one of the reasons everybody went down there."
Hazel Alexander, a Central High School alum, wasn't much of a clubgoer, but she visited the Fondalite Club with a girlfriend one night, according to a 2014 Daniels interview with the Oklahoman. Daniels spotted the "curvy blonde" sitting at a table and was immediately smitten. During a break, he asked her to dance. It was the start of something.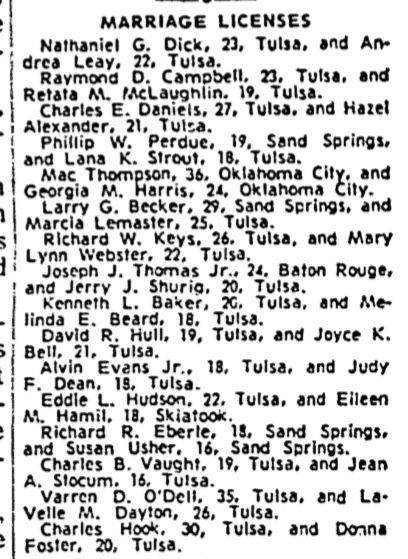 Daniels wrote in his memoir that he and Hazel were atop a Ferris wheel in Tulsa the first time he told her he loved her. The feeling was mutual. Daniels, 27, and Alexander, 21, were wed by a justice of the peace in Tulsa on Sept. 20, 1964. Because Daniels was booked to perform six nights a week, their honeymoon lasted all of one night at the Reeder Hotel. Their only child, Charlie Jr., was born April 28, 1965, at Hillcrest Medical Center.
Daniels wrote this about his Tulsa bride in the memoir: "Hazel has been the one stable thing in my life. No matter what else was going on, even if the world was falling in on me, she has always been there loving me, supporting me, and telling me that as long as we were together everything would be all right. She has given me the reason and encouragement to climb some very tall mountains and go through some very low valleys. She has stuck it out with me through cheap motels, cars that wouldn't start, used furniture, repossessions, mountainous debt, too many bills and too little money, and my being away from home for long periods of time."
Another Tulsan, during a recent interview, talked about giving Daniels a nudge in the right direction.
Dr. Jerome Solow is a dentist who long ago decided to try his hand at songwriting. He met Daniels ("he could play anything") during the Fondalite era, and they collaborated on some recording projects. Solow said they had some moderate hits, but they discovered they — for many reasons — could not compete with the big record labels.
Solow was frustrated as a songwriter. Daniels was frustrated trying to get "somewhere." Solow said he advised Daniels to get the heck out of Tulsa and go to New York, Los Angeles or Nashville.
"He had to get somewhere he could bloom, and he couldn't do it here," Solow said.
According to Solow, Daniels said he couldn't relocate because he didn't have money or credit. Solow offered financial backing. Solow said they went to a bank at 31st Street and Yale Avenue and co-signed a note for $6,000. In return, Solow said Daniels agreed to pay back the money (which he did) and use some of Solow's songs (Daniels preferred his own songs).
Daniels ultimately made it to Nashville. The memoir said Bob Johnston of Columbia Records provided financial help and let the Daniels family rent a house he owned at an affordable price. The memoir also said Daniels didn't fit in very well as a studio musician because all the Nashville pickers played like they were in a studio, and he played like he was "slamming away" at a beer joint.
Here's a sort-of Tulsa connection: Tulsa is home to the Bob Dylan Archive. Daniels, a Dylan fan, asked Johnston if he could play on a session when Dylan came to town to record the 1969 album "Nashville Skyline." Daniels got his wish, played on one session and was leaving to make room for a replacement guitarist when Dylan said, "I don't want another guitar player. I want him." Daniels, no stranger to Nashville rejections, wrote that Dylan's words provided encouragement. You sort of know the rest of the story, but here's a Tulsa-centric wrap-up:
Daniels and Solow had a falling out somewhere along the line, but they reconnected and patched up their relationship.
"Every time he came through, I would see him," Solow said.
Daniels performed at an outdoor festival in Pryor and chatted with Solow during a pre-show autograph signing.
"Follow me," Daniels said.
Daniels led Solow to a chair near the back of the stage and invited him to watch the show right there alongside the band. Solow said the last song of the set was "The Devil Went Down to Georgia." At the end of the song, Daniels walked from center stage to the corner where Solow was seated, handed Solow the fiddle bow and said, "Thank you."
Daniels played a pretty good fiddle — and gave the dentist his due.
---
Video: Danny O'Connor and his Delta Bravo team are 'pop culture detectives'