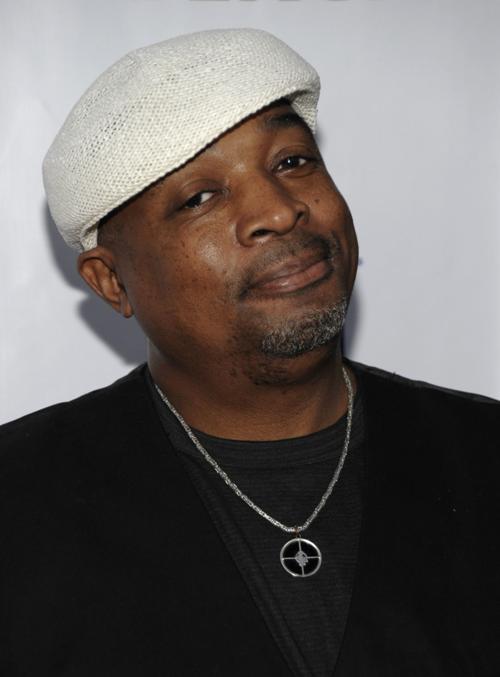 An interview with Chuck D, soon to be presented with the Woody Guthrie Prize in Tulsa, began with a welcome to John Starks' hometown.
"And Black Wall Street," replied Chuck D, who, during the course of the phone interview, showed that he is up to speed not only on Tulsa's past but also Guthrie's history.
A hip-hop icon, author, artist and social activist, Chuck D will receive the Woody Guthrie Prize during a Saturday ceremony at Cain's Ballroom. Presented annually by Tulsa's Woody Guthrie Center, the Woody Guthrie Prize recognizes artists who have used their talents to speak for those without a platform. Past recipients are John Mellencamp, Norman Lear, Kris Kristofferson, Mavis Staples and Pete Seeger.
The reason the interview began with a Starks mention is that Chuck D is a longtime admirer of the Tulsan, a starting guard for the NBA's New York Knicks in the 1990s.
"When he first came to the Knicks, I wanted to start a John Starks fan club," Chuck D said. "He was scrappy, but he didn't become the famous John Starks yet. But I was like: This kid is different."
On to current events? Asked about being selected for the Woody Guthrie Prize, Chuck D called Guthrie a hero of the people who believed in freedom and fairness and equality and speaking for the voiceless and playing his music and just being himself.
"I'm a big fan of his story," Chuck D said. "And he, like John Starks, made his way in New York, too, just trying to grind and trying to make a difference against the odds."
Continuing, Chuck D said he liked that Guthrie traveled and didn't want to stay put but still fought for the "types" who were ostracized in his home state. To be called an Okie, said Chuck D, was not a good thing back in the day.
"All somebody has to do is not just read, which they should do to get context, but 'The Grapes of Wrath' was a good tale and actually says a lot," Chuck D said. "And then hearing (Guthrie's) music made you understand the movie even more."
When Chuck D was announced as the 2019 recipient, Woody Guthrie Center Executive Director Deana McCloud said Woody was a fighter for the people and that Chuck D's message has consistently aligned with Woody's: Choose a side; fight the power; and work for a better world.
Chuck D said he is not much for awards and honors but, because people put in the time to consider and select him for the award, he is grateful.
"I'm usually a person who rejects every individual award," he said, indicating that he encourages groups and collectives.
The most significant group Chuck D put together was, of course, Public Enemy. Through Public Enemy, the Prophets of Rage and solo efforts, Chuck D has deployed his art to bring issues facing the black community to the forefront.
Chuck D was asked when he first knew Public Enemy was making a difference.
"When you have a cluster of people, especially in the media, back in the day that didn't totally get it," he said, "you knew they had to get some education, especially at the beginning of our trips into Europe and the U.K.
"We were groundbreaking, so to speak. Not only did people not understand where we were coming from with the music, but that particular population did not understand black life in particular. We were groundbreaking in that regard."
Chuck D remains active in many ventures, including rapstations.com and his own record label, SpitSlam, but he said he has tried to reduce the number of irons in the fire, "or, better yet, just compress and consolidate them. You don't want to be everywhere and nowhere at the same time."
The trip to Tulsa will allow Chuck D to finally be face-to-face with Oklahoma rapper Jabee. Providing background, Chuck D said he "breaks" a lot of artists and, when artists send him music, he tries to spread it around and get it heard.
"We pushed (Jabee's) music out there, and he (was) on the cover of the Oklahoma Gazette just off of the help that I gave him," Chuck D said. "To me, things like that, those services, are a joy to me. I'll be looking forward to meeting Jabee for the first time in person, where I have supported his music and tried to give him some guidance from afar."
Chuck D was interviewed for the 2016 Oklahoma Gazette story he mentioned and, when talking about Jabee in that story, he name-dropped Woody Guthrie. Chuck D, who was mentioning Guthrie in tweets long before becoming a Woody Guthrie Prize recipient, won't have to do homework to get familiar with the man whose name is on the trophy.
Chuck D referred to Guthrie as "a wild man and wise man at the same time" and an artist's artist. Chuck D embraces not just the musical arts but the visual arts. He graduated from Adelphia University with a degree in graphic design and, if you ask him to identify the best comic artist of all time, he'll tell you Jim Steranko and Jack Kirby are tied in first place, with John Romita coming in at No. 3.
Chuck D put his visual artistic skills to use to help push the right buttons with musical endeavors in the early years.
"Hip-hop needed a visual forwardness," he said. "It needed a situation to be more than just sound because people didn't kind of get it.
"I'm glad I added to that aesthetic in the middle of the 1980s and I have come full circle, especially in the last four years, of doing more things visually. And the thing about it is artists in the past — visual artists — they would do things, but then you had to wait for people to come. Now, immediately, you can go to social media and expose your art."
And at Cain's Ballroom on Saturday, Tulsa can get exposed to the newest recipient of the Woody Guthrie Prize.
---
Jimmie Tramel
918-581-8389
jimmie.tramel
@tulsaworld.com
Twitter:
@JimmieTramel