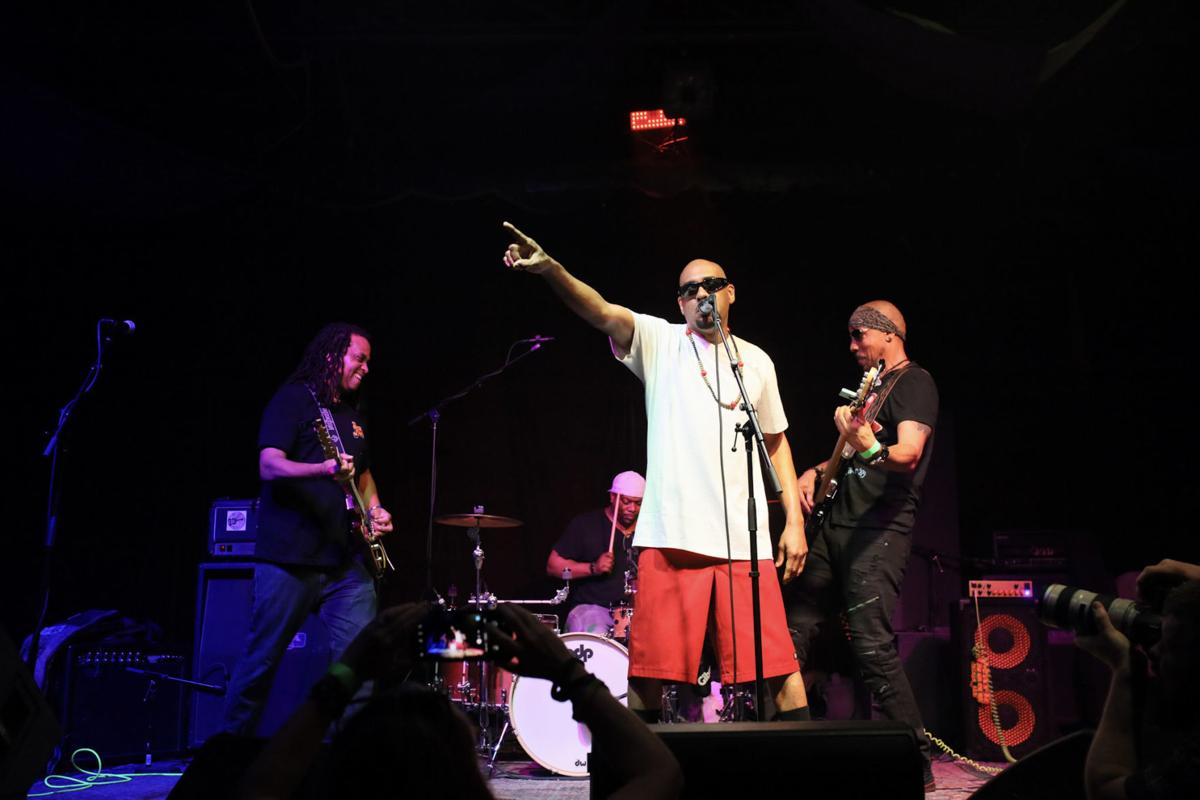 Tori Ruffin is a guitarist for Morris Day and the Time. He has shared stages with some of the biggest names in music. He was in the fictional band Sexual Chocolate in the movie "Coming to America."
Now, Ruffin is in a Tulsa-based band, and he's working to preserve a local venue.
Ruffin is the founder of Freak Juice, which will be among bands performing at Juice Fest, scheduled from 1 p.m. to 2 a.m. Saturday, Aug. 1, at Juicemaker Lounge, 3508 S. Sheridan Road.
The mission of Juice Fest is to save Juicemaker Lounge, which, like other live music venues, took a financial hit because of the COVID-19 pandemic.
Asked if Juicemaker Lounge is in danger of closing, Ruffin said, "Absolutely. Every month is a struggle."
Juice Fest will be a live audience event. Ruffin said Juicemaker Lounge will be sanitized and "aired out," and masks will be encouraged to make the venue as safe as possible. Admission is $10, but a $15 ticket will include Freak Juice's newest CD and a $25 ticket will include the CD and a T-shirt.
Ruffin said he has owned Juicemaker Lounge for a year and eight months. Freak Juice's fans are called "juicemakers," so that's how the venue got its name. He said he played the club for years before buying it.
Originally from Los Angeles, Ruffin said he once had a business putting bands together for Arsenio Hall's television show.
"Anybody that was an R&B artist, including Whitney Houston or Mariah Carey or anybody who came on those shows, we either played in the band or put together the band," he said, adding that he got the opportunity to work with many artists, including Prince.
"We were doing all the late-night shows. We were doing Jay Leno back in the '90s, so that's how I got the Morris Day gig. He came on Jay Leno and we put together the band and I had to play with Morris. That was one of my childhood heroes. Everybody loved the Time back then."
Ruffin sampled Tulsa for the first time about 15 years ago.
"A buddy of mine, Charlie Redd from the Full Flava Kings, we used to play together in Austin when we were kids," he said. "He said, 'Tori, you've got to come to Tulsa, man. It is just like Austin was when we were kids before everything got crazy.' Then I came down here and just fell in love with the place. I've been coming here off and on and got an opportunity to open up a lounge."
Check the Juicemaker Lounge Facebook page or call 818-209-6345 for updates about future events, including pending livestream shows.
Also, check movie listings later this year for a "Coming to America" sequel. "Coming 2 America" is scheduled for a Dec. 18 release. Ruffin said it was a fluke that he was in the first film. Actors from the original cast, including members of Sexual Chocolate, are returning for the follow-up, confirmed star Eddie Murphy in an interview.
Said Ruffin: "It seems like it's going to be just as funny, so I'm excited."
---
Remembering gentle giant Jaime Cardriche, actor and former OSU athlete
Jimmie Tramel 918-581-8389
jimmie.tramel
@tulsaworld.com
Twitter: @JimmieTramel