Legendary film critic Gene Siskel disliked "Friday the 13th" so much that he felt an obligation to torpedo the movie.
Siskel awarded the movie zero "stars" after being introduced to it in 1980.
Here's the first sentence of his review that was published in the Chicago Tribune: "It has been suggested to me that a great way to keep people from seeing a truly awful movie is to tell them the ending."
So that's what Siskel did.
In the second paragraph of the review, he gave away the identity of the killer.
In the third paragraph, he told readers what happens to the killer.
Continuing, Siskel wrote, "Now there — I hope I've ruined 'Friday the 13th,' which is the latest film by one of the most despicable creatures ever to infest the movie business, Sean S. Cunningham."
Siskel clarified that this give-away-the-ending tactic was a "weapon" he planned to use sparingly — presumably only when the movie was bad enough to justify dropping spoiler bombs.
Did those bombs destroy the public's desire to see the movie? Nope.
Filmed for a paltry half a million dollars at fictional Camp Crystal Lake, "Friday the 13th" grossed nearly $60 million worldwide. Siskel (RIP; died in 1999) and others might say "gross" is exactly the right word, but here's another word for you: classic.
"Friday the 13th" has been promoted to classic status. Fathom Events returns retro movies to theaters for limited-run engagements. If you go to the Fathom Events online site (fathomevents.com) and click on "classics," you'll notice "Friday the 13th" is coming soon to a theater near you — just in time for the Halloween season.
Special 40th anniversary showings of "Friday the 13th" are scheduled Sunday, Oct. 4; Tuesday, Oct. 6, and Wednesday, Oct. 7, at Cinemark Tulsa 17, Cinemark Broken Arrow and Regal Warren Theatre Broken Arrow.
If you see a Camp Crystal Lake van in the parking lot of any of those theaters, don't get frightened that Camp Crystal Lake is spilling over into reality. The van is the vehicle of a local "Friday the 13th" fan.
Critics may have hated "Friday the 13th," but people who love the movie love it enough that they buy tickets to sequels (11 so far, including a remake) and at least one of them expressed his love by customizing a van.
"As with a ton of other horror fans, something about the 'Friday' franchise just really appealed to me," said Tim Wright, owner of the Camp Crystal Lake van. "No matter how many times I watch them, it's never too much."
We'll talk more later about Wright and his van, but first, here are 10 things to know about "Friday the 13th:"
1. Released in 1978, "Halloween" pre-dated "Friday the 13th" in launching a slasher movie craze. It was the box-office success of "Halloween" that provided the motivation for creating "Friday the 13th."
2. "Friday the 13th" featured a cast of mostly unknown actors. Among them was Bing Crosby's son, Harry.
3. The most famous "Friday the 13th" alum is Kevin Bacon. "Friday the 13th" was his fourth movie. "National Lampoon's Animal House" was his first.
4. Adrienne King played the heroine in "Friday the 13th." After surviving Camp Crystal Lake, King had a chilling real-life encounter with a stalker. In response, she chose to become sort of invisible. She appeared, uncredited, as a stuntwoman in "Ghostbusters" and provided voice looping in films like "The Pelican Brief," "Jerry Maguire" and "Titanic." You can find her now at adrienneking.com, where she sells Crystal Lake wines, paintings and merchandise.
5. Betsy Palmer agreed to play Jason Voorhees' mother in the film only because her car was acting up and she needed $10,000 to buy transportation. She expected the movie to bomb.
6. Unlike others in the cast, Palmer's resume included a long list of credits. She was perhaps best known for being a 12-year panelist on the game show "I've Got A Secret."
7. "Friday the 13th" has a connection to horror maestro Wes Craven ("Nightmare on Elm Street"). "Friday the 13th" producer and director Sean S. Cunningham (the fellow Siskel referred to as "despicable") collaborated with Craven on 1972's "The Last House on the Left."
8. Victor Miller, who wrote the "Friday the 13th" screenplay, has won three Daytime Emmys for his work on the soap opera "All My Children."
9. Harry Manfredini is among MVPs of "Friday the 13th." The composer's contributions are flat creepy.
10. Tom Savini is also among MVPs of "Friday the 13th." Savini provided the makeup effects. A bonus feature about the effects will be part of the Fathom Events screenings. Also — and this is big — Savini suggested a "Friday the 13th" shock ending that gave life to Jason and, therefore, sequels.
"The whole reason for the cliffhanger at the end was I had just seen 'Carrie,'" Savini once told the New York Daily News. "So we thought that we needed a 'chair jumper' like that and I said, 'Let's bring in Jason.'"
Let's bring in Wright to wrap up this story.
Wright has customized other pop culture-themed vehicles, including a Mystery Machine van from Scooby-Doo lore, a Jurassic Park Jeep and a Gotham PD vehicle. His love of scary stuff can be traced to Scooby-Doo and KTUL's long-gone "Plenty Scary Movie." He occasionally celebrates birthdays on Friday the 13th (including this year), so why not add a "Friday the 13th" van to the armada?
The van has a skeleton for a passenger (it's a leftover from the Jurassic Park Jeep). Props include a hockey mask, a plastic machete, a couple of backpacks and a cardboard sign that reads, "It's gonna be a great summer."
"I've gotten a couple of thumbs-up in traffic and have seen a couple of people taking pictures in parking lots," Wright said. "I've also been asked if we are hiring counselors."
He answers "yes" — because counselors keep disappearing.
---
Fried favorites and more: Get a taste of the fair at these places around Tulsa
Route 66 Fry Bread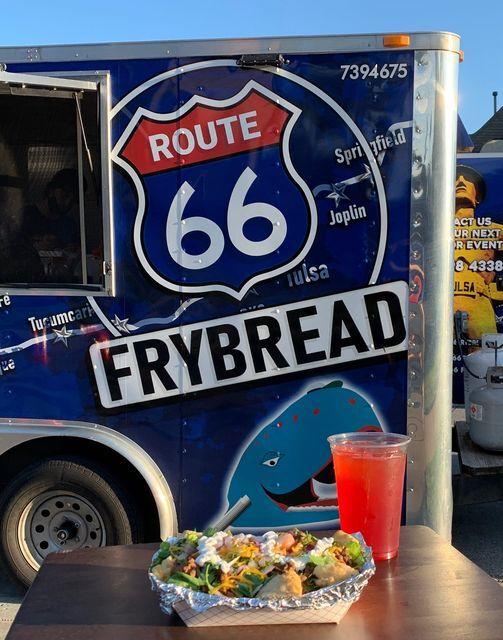 Dope Soul Catering & Food Truck: Loaded Reese's Funnel Cake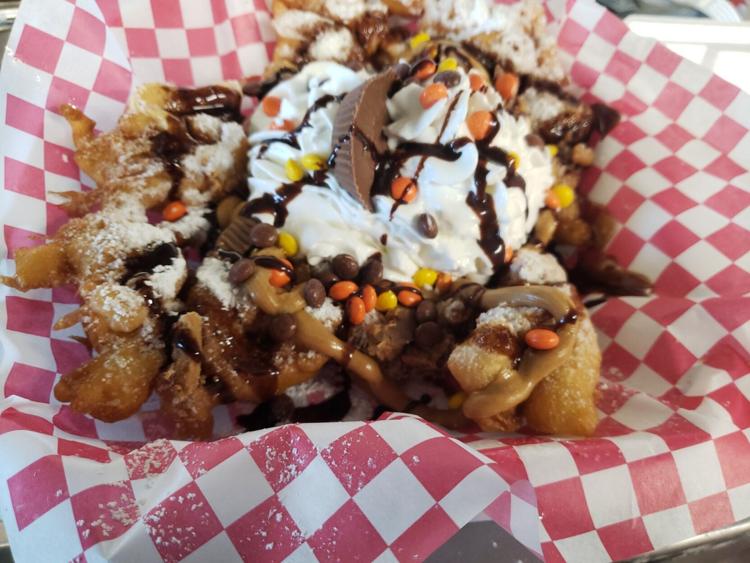 Dope Soul Catering & Food Truck: Fried Oreos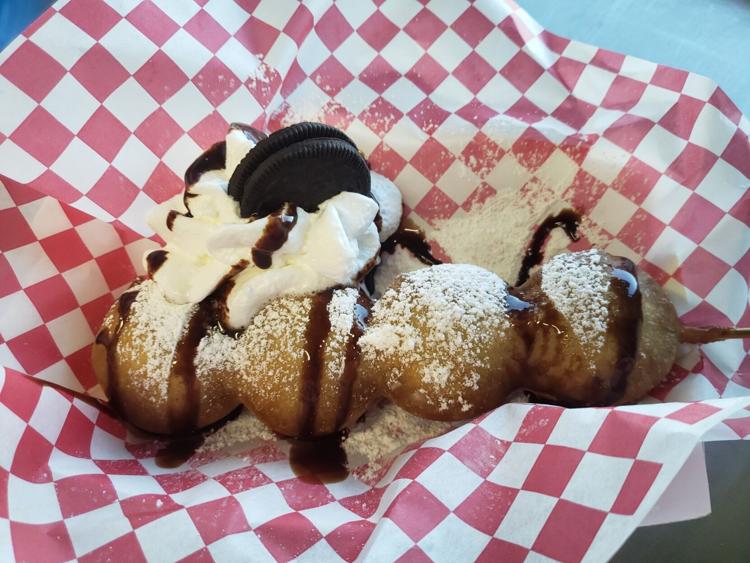 Dope Soul Catering & Food Truck: Strawberry Mini Beignet Donuts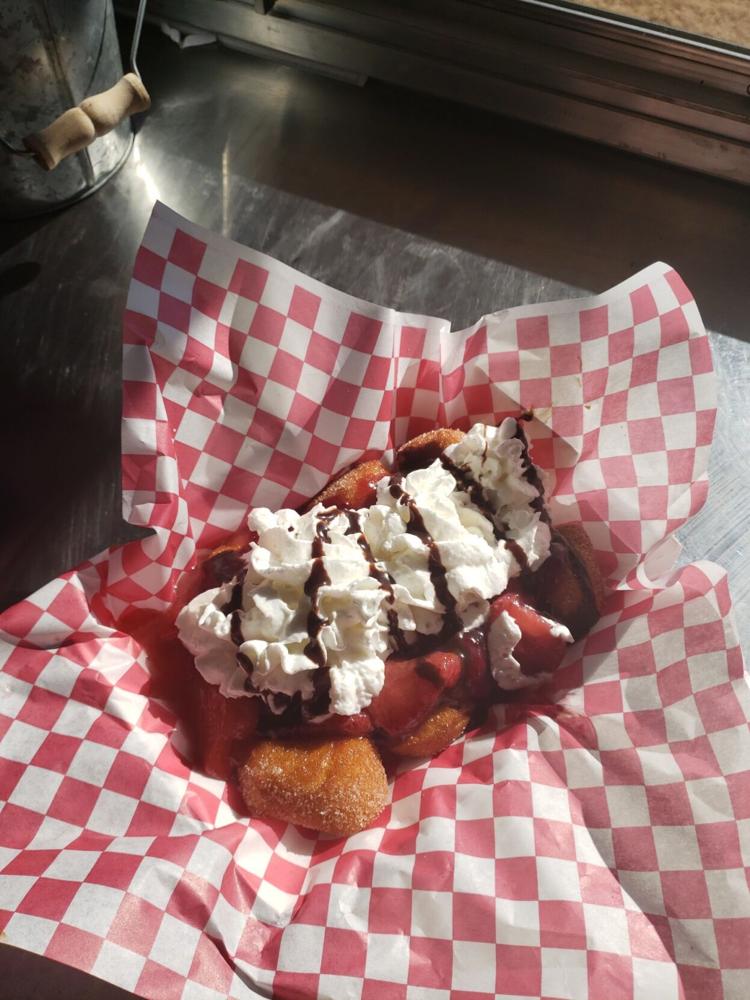 Dope Soul Catering & Food Truck: Tiger's Blood Marshmallow Gummy Volcano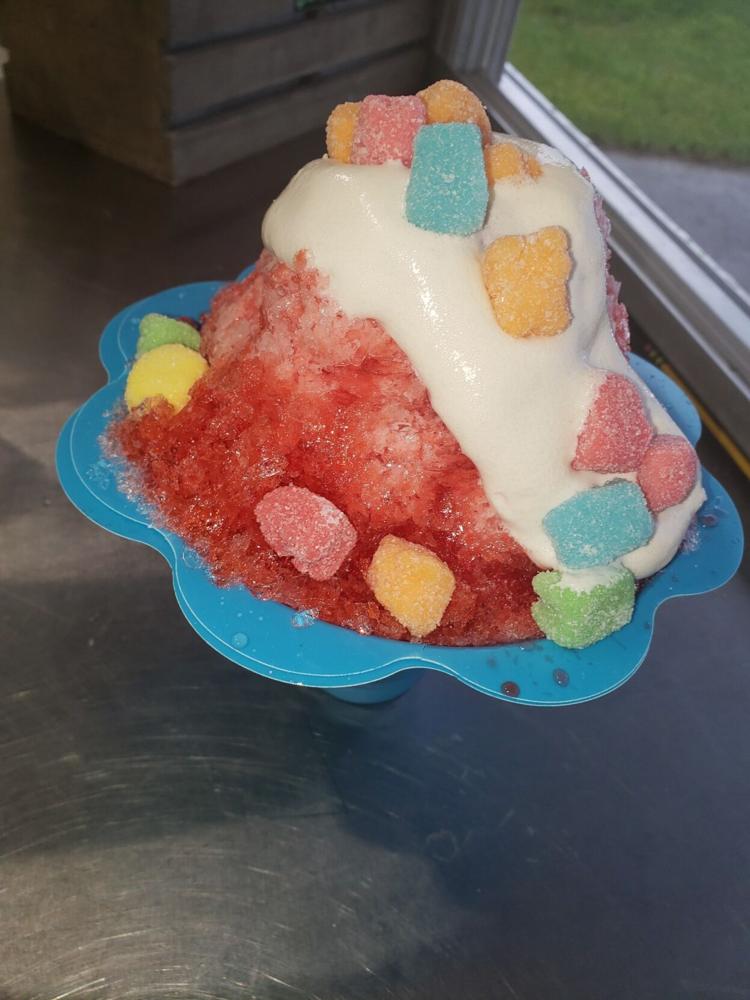 Dope Soul Catering & Food Truck: Spicy Mango Burst Shaved Ice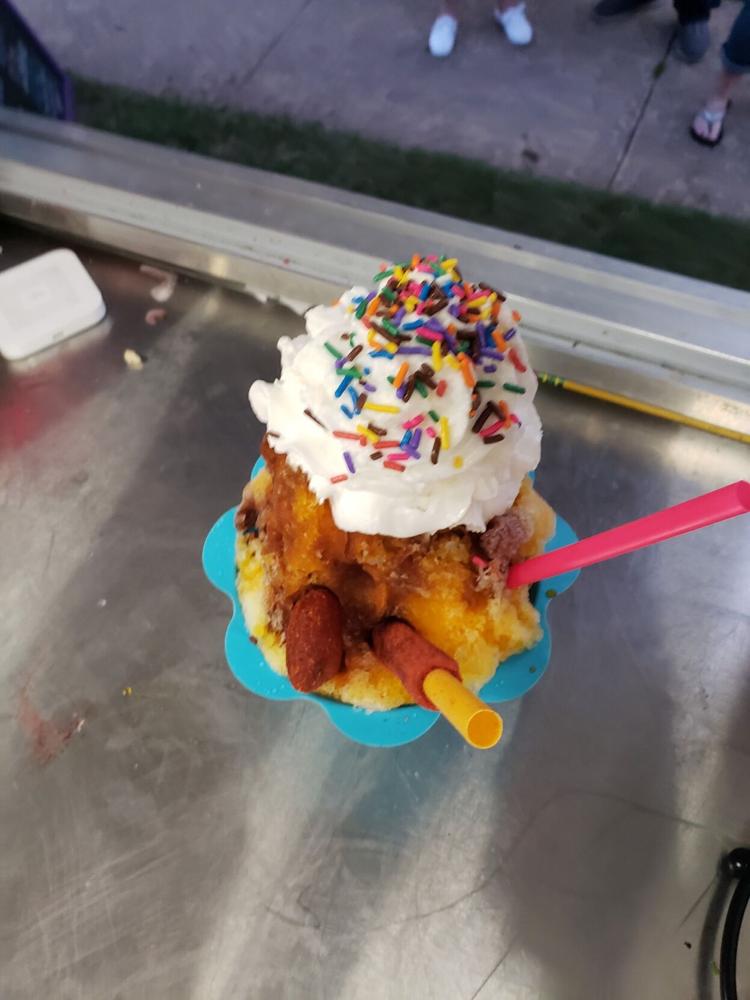 Iguana Island Treats: Pineapple Whip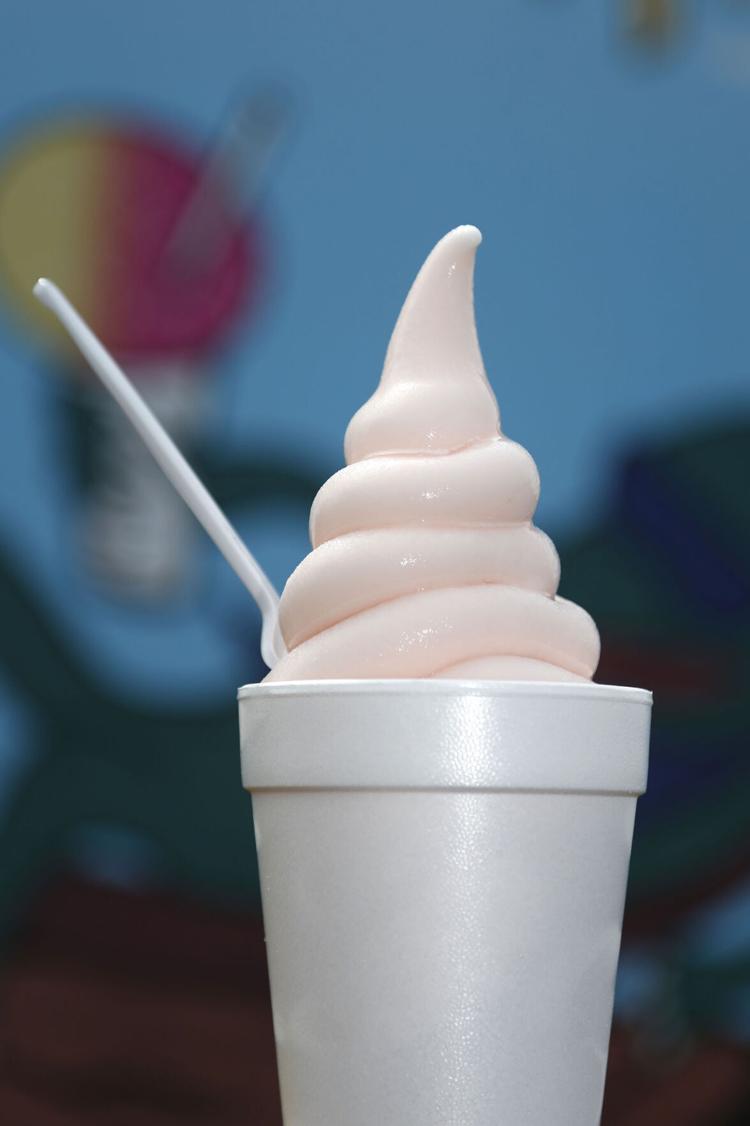 Iguana Island Treats: Pineapple Whip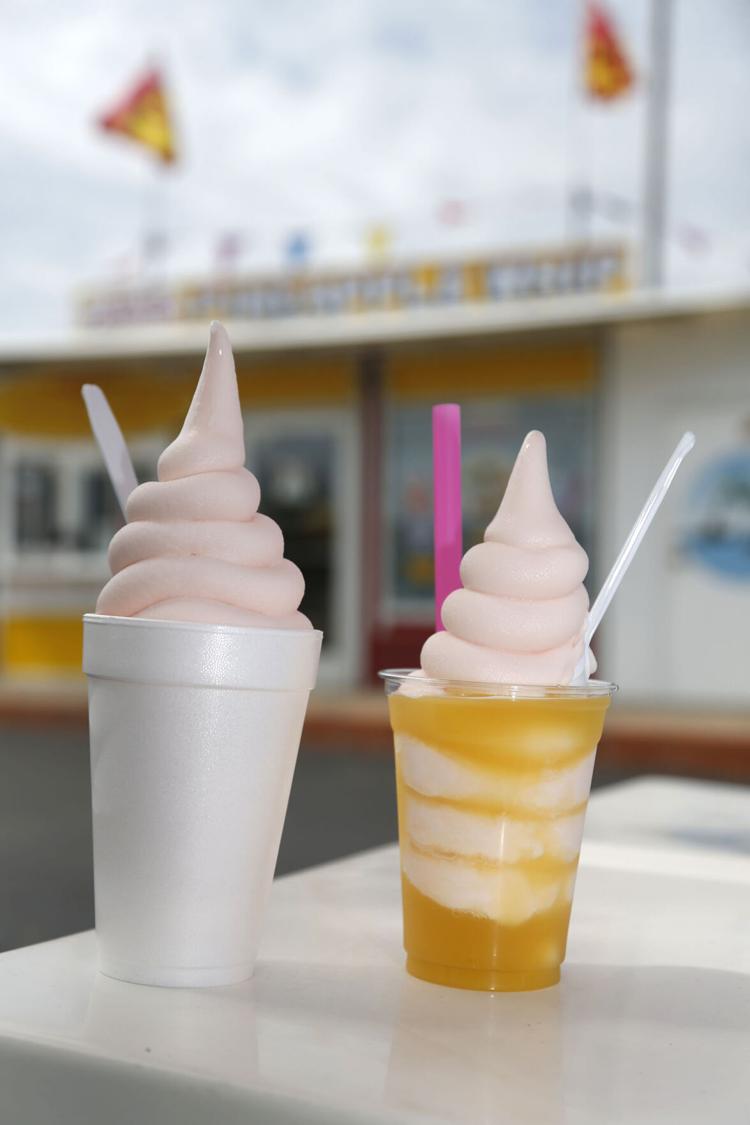 Taylor Made: Turkey Legs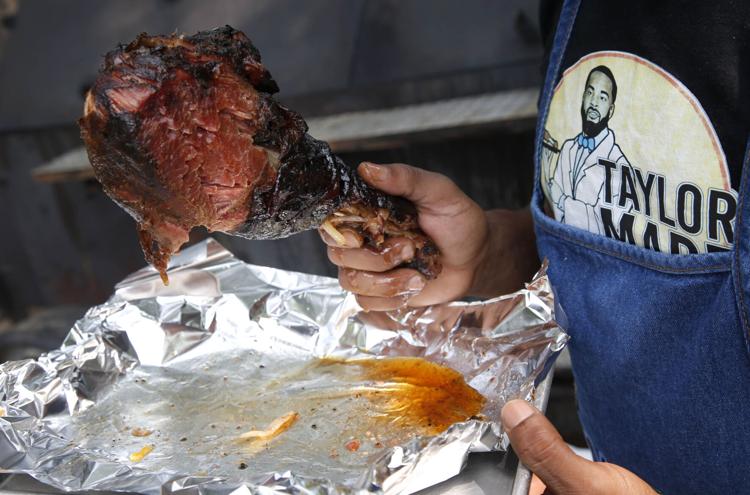 Waffle That! Cookie Butter Waffle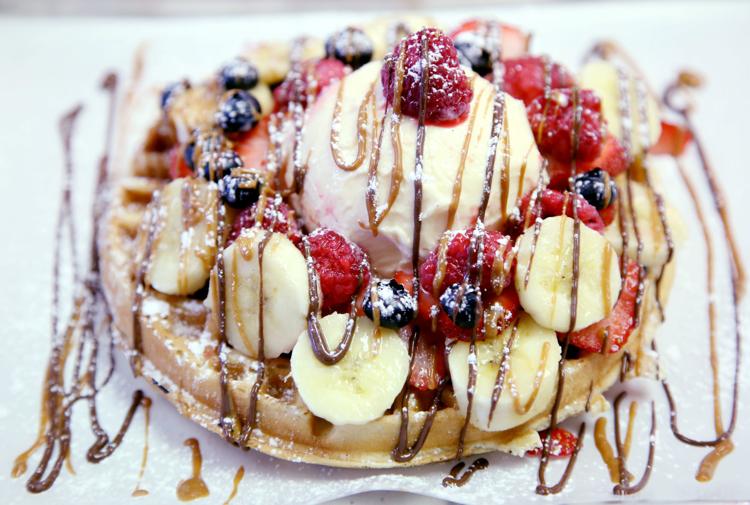 McAlister's Deli: Lemonade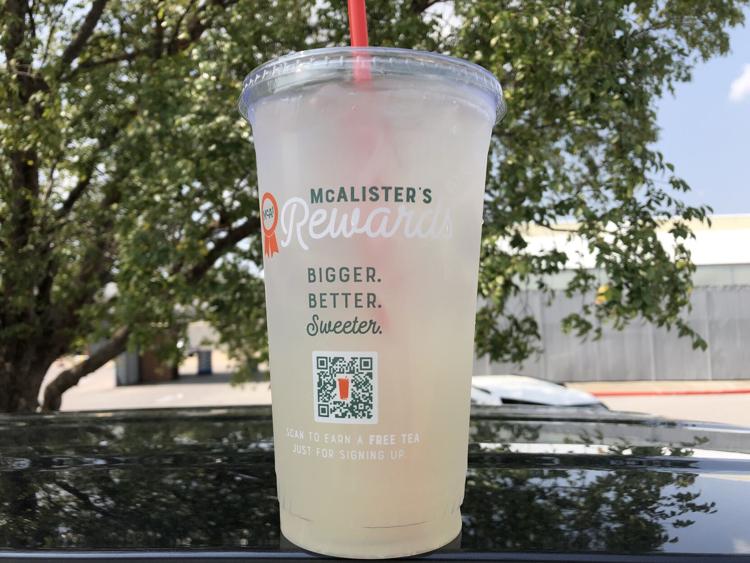 Harden's Hamburgers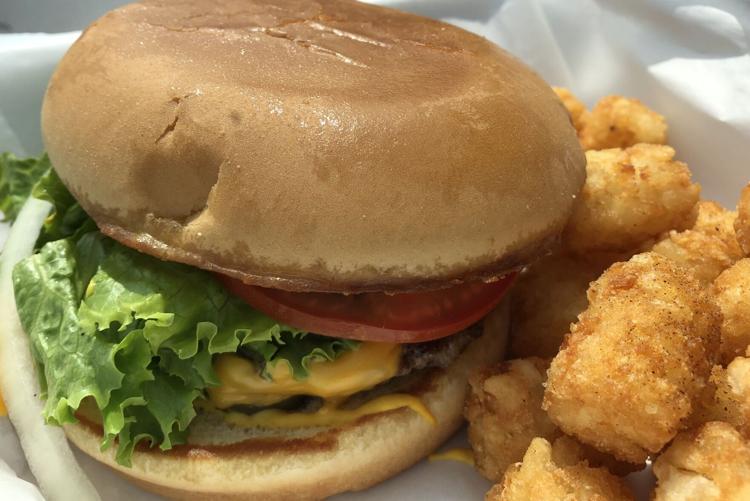 Harden's Hamburgers... and fried favorites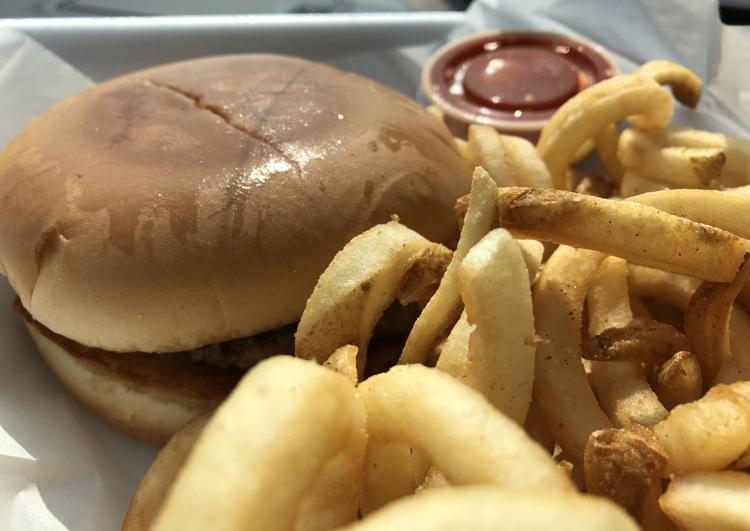 Corn dogs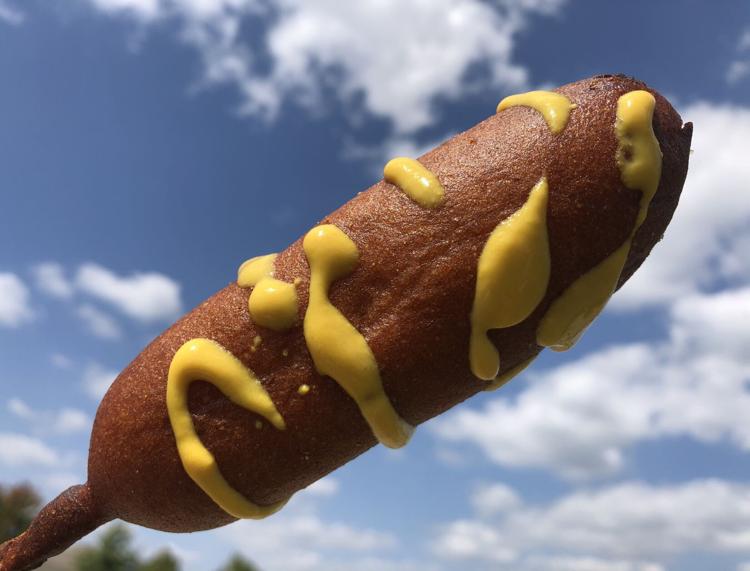 Fried alligator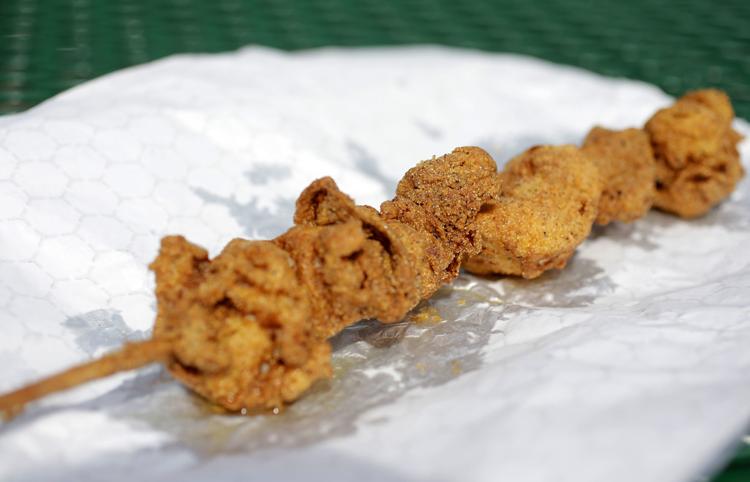 Fried pickles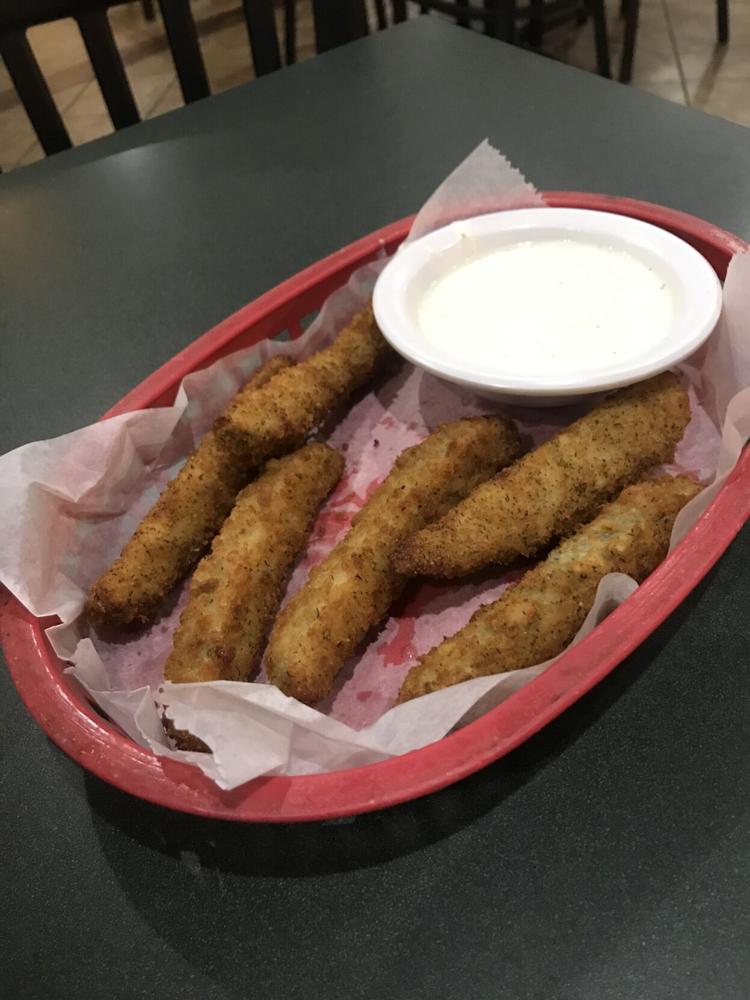 Mazzio's pizza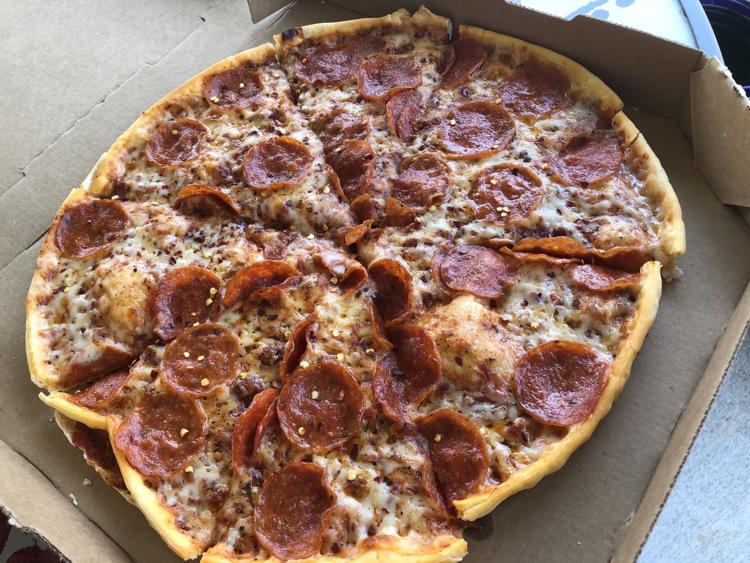 Something to do: Play games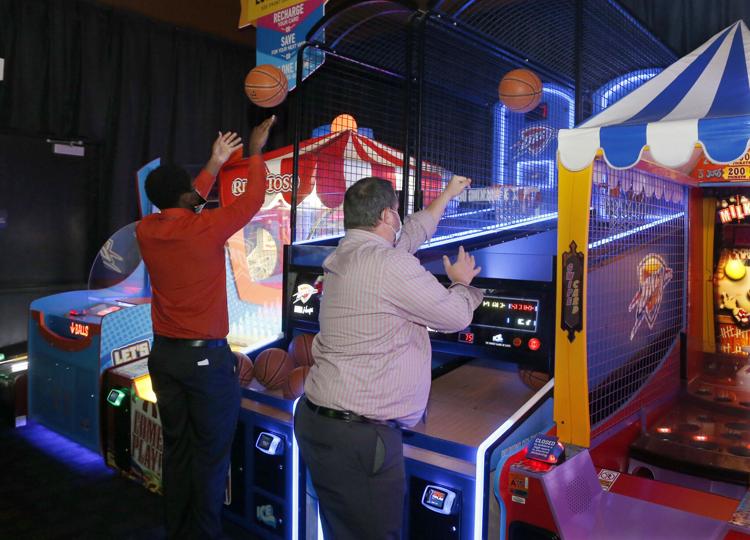 Buy the book: "Fair Foods: The Most Popular and Offbeat Recipes from America's State and County Fairs"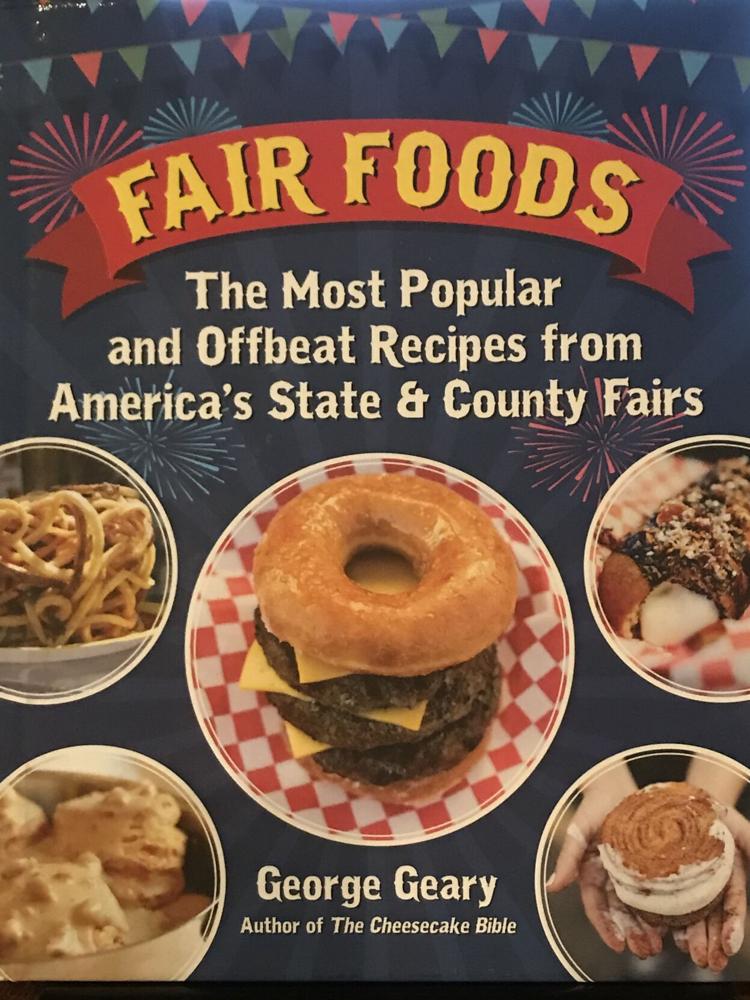 Journalism worth your time and money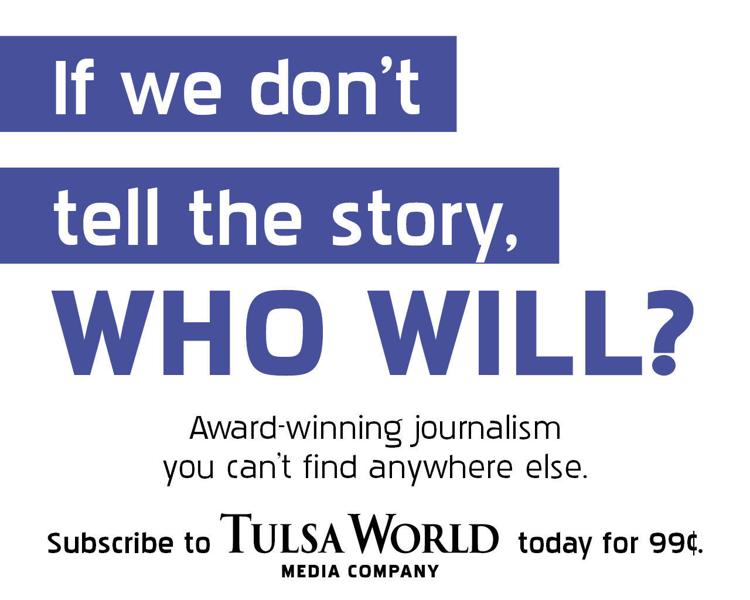 Jimmie Tramel
918-581-8389
<&underline>jimmie.tramel@tulsaworld.com</&underline>
Twitter: @JimmieTramel
Stay up-to-date on what's happening
Receive the latest in local entertainment news in your inbox weekly!