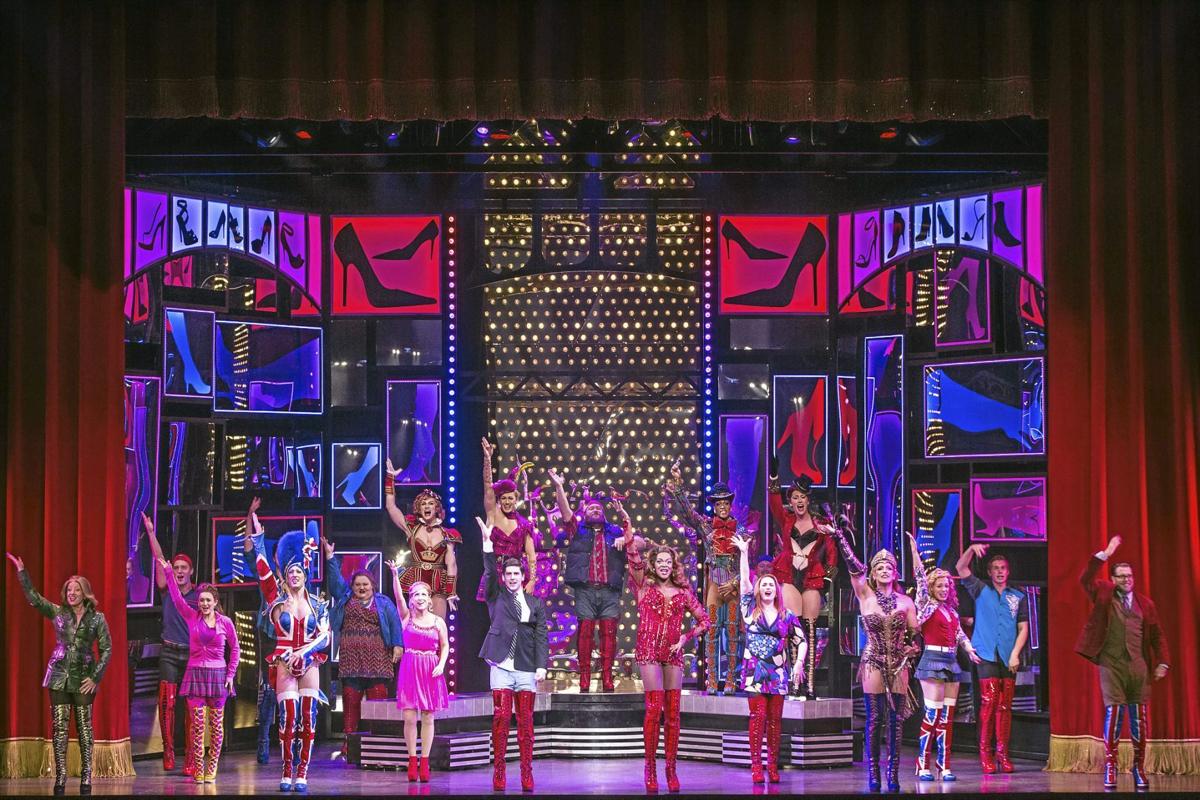 "Kinky Boots," the multiple award-winning musical about outrageous footwear and unlikely friendships, is the next offering in the Tulsa PAC's "Broadway on Film" series.
This filmed version of the stage production will be shown at 8 p.m. Friday, Feb. 20, on a large screen in the Chapman Music Hall of the Tulsa PAC, 101 E. Third St. All attendees must wear masks, and seating within the hall has been arranged to help maintain social distancing.
"Broadway on Film" is a collaborative effort of the Tulsa PAC and Celebrity Attractions.
The show was filmed live in November 2018, during its run at the Adelphi Theatre in London, England.
"Kinky Boots" is based on the 2005 film of the same name, which was inspired by true events. The story centers around Charlie, who is struggling to find a way to save his family business, which has been making old-school men's shoes for years.
A chance encounter with a drag queen named Lola serves as a spark of inspiration, as Charlie remakes his factory to craft the sort of high-heeled, high-topped boots that are comfortable to wear and fabulous to see.
Tony Award-winning writer and actor Harvey Fierstein wrote the show's book, adapting the screenplay by Geoff Deane and Tim Firth. Grammy Award winner Cyndi Lauper won a Tony for her score, which includes such songs as "Everybody Say Yeah," "What a Woman Wants" and "The Soul of a Man."
"Kinky Boots," which opened on Broadway in 2013, earned 13 Tony Award nominations and won six, including Best Choreography for Jerry Mitchell, who also directed the production.
The Broadway production was transferred more or less intact to London in 2015, with Mitchell directing. The London production starred Killian Donnelly as Charlie and Matt Henry as Lola, who would earn an Olivier Award for his work.
When the film was shown last year on a subscription streaming service, the website Theatre Mania stated in a review, "Watching 'Kinky Boots' gets you as close to the live show as you can possibly hope to get without actually stepping into a theater. ... This recorded version of 'Kinky Boots' captures the excitement of a live musical."
Tickets are $20 per person. To purchase: 918-596-7111, tulsapac.com.
Chamber Music Tulsa
Chamber Music Tulsa is offering a slightly acerbic concert for Valentine's Day, when it presents a free virtual performance by the early music group, the Four Nations Ensemble, at 7 p.m. Sunday, Feb. 14.
The group will present what it terms as a Baroque Valentine's Day Celebration titled, "When Love Goes Wrong," featuring vocal and instrumental works on the topic of romance gone awry.
Among the featured works will be Barbara Strozzi's "Amor Dormiglione," which might be freely translated as "Stupid Cupid"; the aria "Credete al mio dolore" (Believe in my pain)" from Handel's "Alcina"; and Clerambault's "Medea" Cantata for soprano and instruments.
The program will also include works by Antonin Vivaldi, Francois Couperin, Michael Haydn, Jean-Paul Egide Martini and Giuseppe Tartini, whose Sonata X, Op. 1 for violin and continuo, is subtitled "Didone Abbandonata" (Dido Abandoned)
Performers will be Pascale Beaudin, soprano; Andrew Fouts, violin; Loretta O'Sullivan, cello; Scott Pauley, lute; and Andrew Appel, harpsichord and director.
---