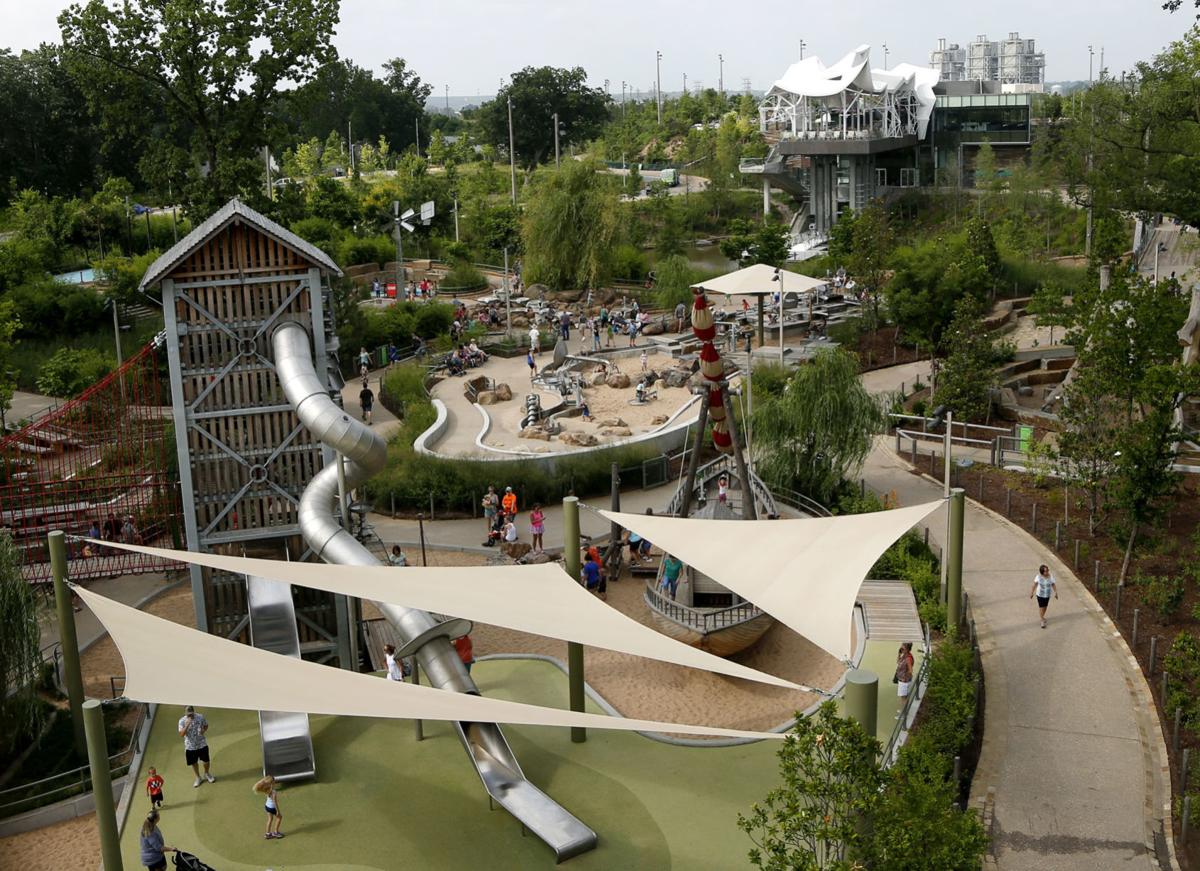 Gathering Place events will return starting today, with "unique and engaging" events for Tulsa families to safely enjoy for the remainder of 2020, according to a news release.
"We are so pleased to be able to once again resume our programming," Tony Moore, executive director, said. "Everything is so different this time around, as we reinvent our approach to programming with respect to social distancing. These family-friendly events can all be experienced with a focus on guest safety; we look forward to sharing this calendar of events as Gathering Place eases back into the event space."
The new event calendar includes five free experiences from Sept. 18 through December:
Friday Nights at the Gravel Lot (starts TODAY)
A new kind of concert series is being christened at the park: A drive-in music experience will take place at the Gravel Lot, located at 33rd St. and Riverside Drive right across from the park's sport courts. Gather your quarantine crew, grab a funky fresh mask and relive the totally awesome 80s. Celebrate Tulsa's 918 Day and reminisce with our 9-1-80's music, all from the safety of your vehicle at The Gravel Lot. Prepare for an 80s night of total recall featuring musical selections from radio station 100.9 and DJ Steve Cluck spinning 80's MTV classics, as well as food trucks, trivia and fun for all ages. The news release said to be on the lookout for more celebrations of the decades at The Gravel Lot.
Gathering Place is adding a fun spin to social distancing with its latest outdoor art installation, "Pinwheels of Hope." Discover 10,000 colorful pinwheels lining the pathways and gardens, leading to a large mural spelling out "hope" on the QuikTrip Great Lawn. This installation is in honor of medical professionals who have provided hope during the pandemic.
Willow Beach Wheels & Wine (Oct. 3)
Willow Beach Wheels & Wine is an automotive celebration for car enthusiasts. The event pairs classic and exotic cars with a variety of wines and craft beers. Come out and show your support for our COVID-impacted restaurants. Enjoy live entertainment, food and beverage couplings, and an up-close view of the over 50 of the region's most exotic cars. Enjoy fall weather as you stroll through the Gathering Place gardens. Willow Beach Wheels & Wine is free for all ages to attend, but you must be 21 to purchase alcoholic beverages. Masks and photo ID required.
Sweets & Treats on Spooky Street (Oct. 30-31)
Gathering Place is casting a spell on Halloween weekend with "Sweets & Treats" on Spooky Street. Pack up your ghosts and ghouls and witness one of the most immersive drive-through experiences in Tulsa. Enter the haunted circle outside Williams Lodge for a two-night spooktacular event lined with trick-or-treat candy stations, 3-D holographic stories, a jack-o-lantern jam and more Halloween fun to enjoy from the comfort of your vehicle.
Winter Wonderland (Dec. 18-Jan. 3)
Despite the challenges of COVID, Gathering Place will again transform into a Winter Wonderland, but the 2020 event (presented by American Airlines) will have socially spaced zones and surprises to celebrate this holiday season. Wander through the park and experience thousands of twinkling lights illuminating Chapman Adventure Playground, special performances and carolers, as well as some new plans tucked in the park's sleigh.
The release said the health and safety of Gathering Place guests and staff is the park's top priority and the park will continue to closely follow the recommendations from the CDC and The City of Tulsa. Said the release: "Thank you to our safety partner, OU Physicians, a part of OU Medicine, for helping us provide safe events for Tulsa."
"We have treasured our relationship with Gathering Place and are so pleased to be able to help find ways for families to once again safely enjoy events and organized activities there," Dr. Peter Aran, chief medical officer and associate dean , said. "Of course, we will continue to monitor the situation and will offer updated suggestions as the pandemic continues."
---
Tulsa Greek Festival: See photos of the event back to the 70s
Stay up-to-date on what's happening
Receive the latest in local entertainment news in your inbox weekly!