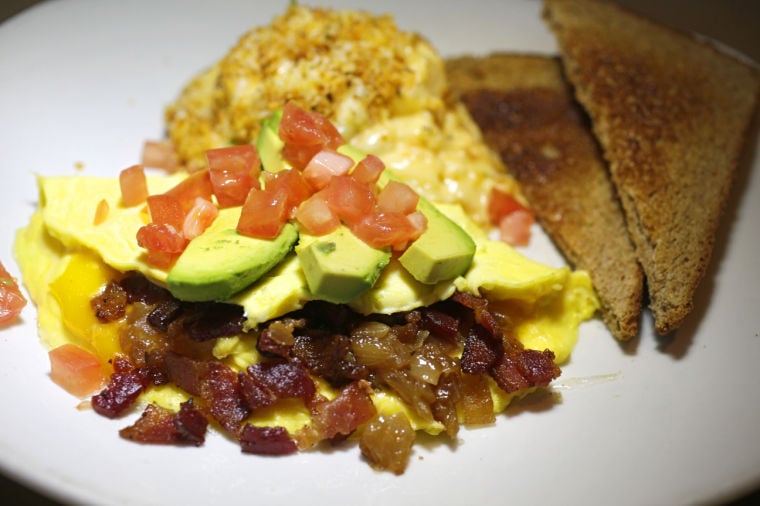 This is a recap of Scott Cherry's restaurant reviews in last week's Weekend section. More reviews are available at tulsaworld.com/weekend.
---
BONEFISH GRILL
4651 W. Kenosha St., Broken Arrow
(On a scale of 0-4 stars)
Dinner 4-10 p.m. Monday-Thursday, 4-11 p.m. Friday-Saturday, 3-9:30 p.m. Sunday; Sunday brunch 11 a.m. to 3 p.m.; accepts all major credit cards.
The brunch menu included a variety of omelets, eggs Benedict, hand-helds (burgers, wraps, tacos, sandwiches), starters, cocktails and a few entrees adapted from the regular dinner menu.
Eggs Benedict always looks inviting, and when I saw the surf-and-turf eggs Benedict ($13.50), I had to have it. It came with filet mignon, lobster, poached eggs and Hollandaise sauce on toasted English muffin.
I ordered the filet medium-rare. It was sliced so thin it was difficult to tell the doneness, and it didn't look very pink, but it was tender. The sweet lobster meat was terrific, the poached eggs were perfect, and the Hollandaise ran wild through all of the flavors.
We also had grilled sea scallops and shrimp served on wooden skewers, and among the choice of sauces, we picked lemon butter. Mango salsa, herb pesto and Pan Asian also are available.
The medium-sized scallops were flawless, cooked through but not rubbery. Many menus advertise jumbo shrimp, and they are not. Bonefish doesn't describe the shrimp, but these were big guys. The scallops and shrimp both went well with the lemon butter sauce.
FLORENCE PARK CAFE
Service: order at counter
(on a scale of 0 to 4 stars)
8 a.m. to 4 p.m. Monday-Friday, 9 a.m. to 1 p.m. Saturday; accepts all major credit cards; vegetarian, vegan, gluten-free available.
The opening menu includes nine sandwiches, three salads, quiche of the day, soups of the day and potato salad. All sandwiches and salads are $6.50, quiche is $4, and soup is $3.50 a cup and $5 a bowl.
We chose the curried meatloaf sandwich, veggie patty sandwich, tomato basil soup and a glass of rosemary lemonade ($2).
The meatloaf sandwich included a mild curry flavor blended with lettuce, tomato, sweet spicy mustard and a house-blended mayo on thick house-made bread. The flavors had a nice balance, and the sandwich was more filling than I thought it would be at first sight.
Owner Jonathan Haring does not use faux meat in the veggie patty. He mixes items such as black beans and lentils to make the patty and tops it with lettuce, tomato, sweet spicy mustard and a house-made spicy red pepper aioli that adds a sharp kick and garlicky edge to the sandwich.
Among other sandwich choices were roast beef, ham-and-Swiss, roast turkey and BLT.
Tomato basil soup, loaded with celery, tomato, onions and carrots, was satisfying and flavorful with just the right amount of basil added to the mix.
Scott Cherry 918-581-8463