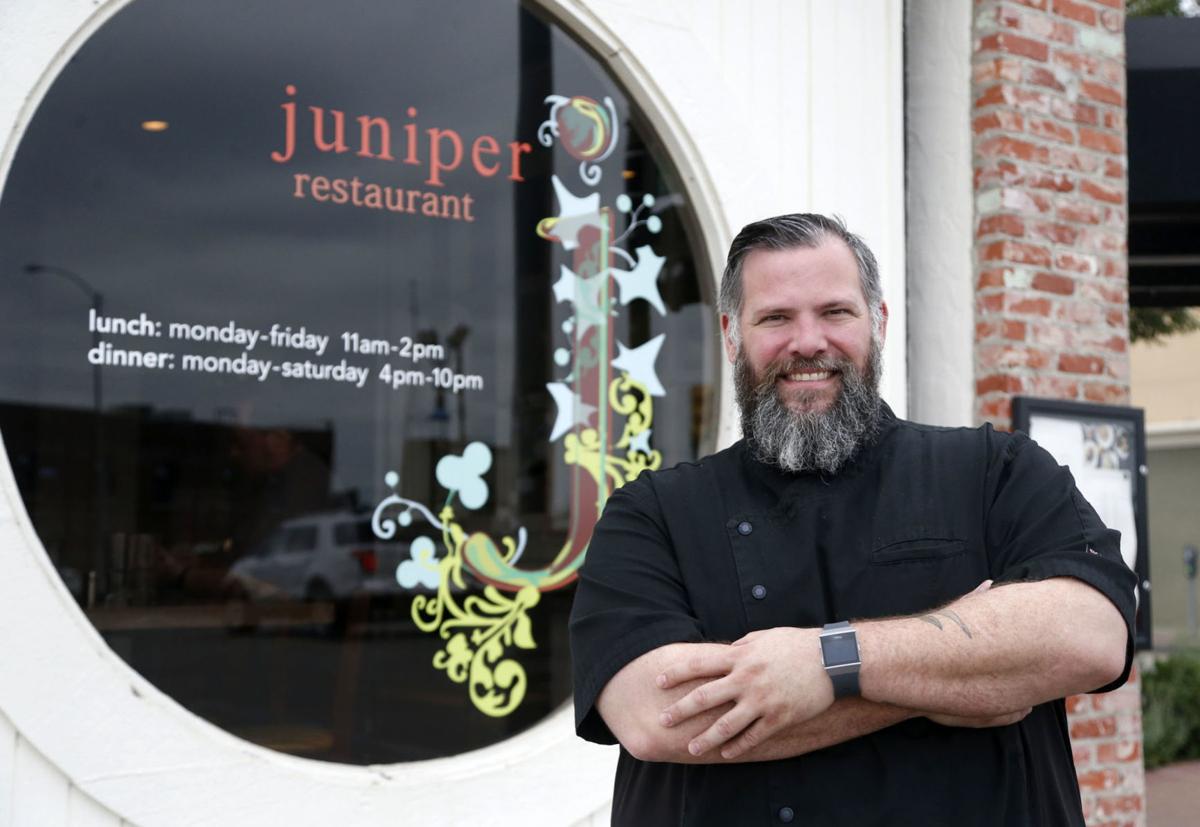 Chef-proprietor Justin Thompson has announced PRHYME Downtown Steakhouse and Juniper will reopen Tuesday, Sept. 15.
"For the first week, we will only accept reservations so we can get back to our old selves again and be confident in knowing that we can give each of you the wonderful experience you've come to expect at our restaurants," Thompson said in a release.
"Should you find yourself wanting to get out and treat yourself to the very best dining and hospitality in Tulsa, we'll be there. Join us for dinner, curbside takeout or delivery."
PRHYME Downtown Steakhouse is at 111 N. Main St.; the phone number is 918-794-7700.
Juniper, which features modern American cuisine, is at 324 E. Third St.; the phone number is 918-794-1090.
Mother Road Market opens patio for diners
Mother Road Market, 1124 S. Lewis Ave., has opened its patio for diners who order takeout food items.
Customers order from motherroadmarket.com/to-go. Park in a space not dedicated for to-go pickups. Call the food merchant where you placed your order and give it your table number. Staff will bring food to your table.
Masks must be worn at all times when not seated at your table.
The Mother Road Market building is closed, but those who have restroom needs may go to Eleanor's Bookshop or Graham Collective in the new Shops at Mother Road Market, 1102 S. Lewis Ave.
White Lion schedules English dinner, trivia night Pub Quiz
White Lion Pub, 6927 S. Canton Ave., has two upcoming events, a traditional English dinner Sunday, Sept. 13, and a trivia night Pub Quiz on Tuesday, Sept. 15.
The dinner, which will have staggered seating times from 5-8 p.m., will include roast beef and Yorkshire pudding, roast and mashed potatoes, carrots, turnips, Brussels sprouts, English gravy and apple sponge pudding with custard. Chicken en croute will be available for those who don't eat beef.
Cost is $29.95 per person, plus tax and gratuity. Adult beverages are extra.
The trivia night, open to individuals and teams, will begin at 6:30 p.m. Tuesday. Fish and chips will be available at a reduced price. The trivia is free, but reservations are required.
For reservations to the dinner or trivia night, call 918-491-6533 after 4 p.m. Tuesday-Saturday.
Villa Ravenna sets Prisoner Wine dinner
Villa Ravenna, 6526 E. 51st St. in The Farm shopping center, has scheduled a five-course dinner featuring wines from Prisoner Wine Co. at 6:30 p.m. Sept. 23.
The dinner will include pear Gorgonzola, halibut fillet, lasagna alla Bolognese, wild boar osso buco and lemoncello cake.
Prisoner wines will include Blindfold White, The Snitch Chardonnay, Cutting Cabernet Sauvignon, Red Blend and Unshackled Rose.
Cost is $110 per person, plus tax and 20% gratuity. Reservations: 918-270-2666.
---
Scott Cherry
918-581-8463
Twitter: @ScottCherryTW