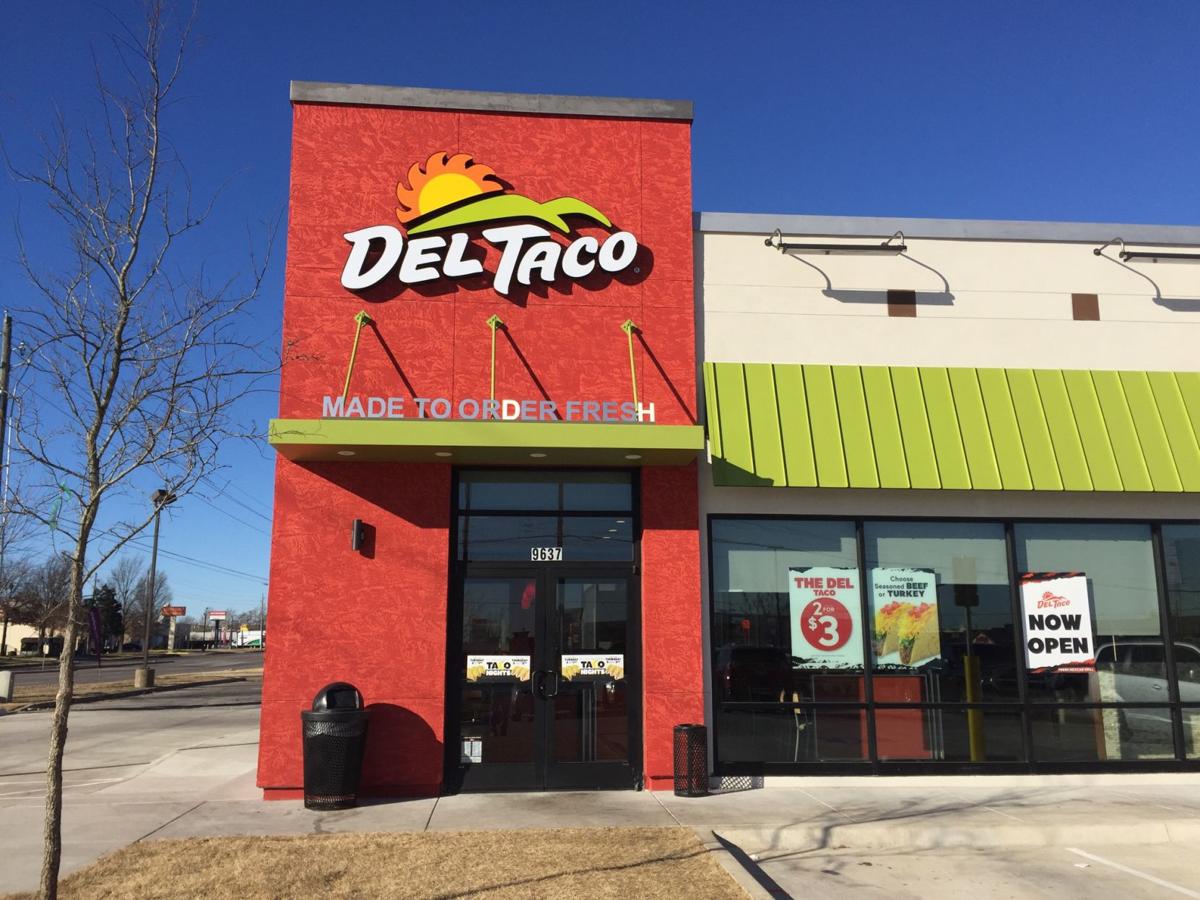 Del Taco, a national chain based in California, has opened its first Tulsa location at 9637 E. 71st St., near the intersection of 71st Street and Mingo Road.
A gas station and car wash previously occupied the space.
Del Taco has a far-ranging menu of mostly Tex-Mex items and recently brought back seasoned ground turkey for a limited time.
The turkey can be substituted for any protein in existing menu items, including tacos, burritos, nachos and fries. Del Taco also offers plant-based tacos and burritos.
Del Taco has more than 580 restaurants scattered over 14 states.
Hours for the Tulsa store are 7 a.m. to 1 a.m. Sunday-Thursday and 7 a.m. to 2 a.m. Friday-Saturday. The phone number is 539-367-1595.
Eight graduate from Kitchen 66 program
Eight food-related businesses recently graduated from the Kitchen 66 Launch Program based in the Mother Road Market, 1124 S. Lewis Ave.
Kitchen 66 is a program of the Lobeck Taylor Family Foundation that combines a four-month curriculum with practical experience and sales.
The businesses that graduated:
Fuego Farm, a company producing hot sauces with locally grown peppers.
Nom & Spice, a plant-based fusion restaurant concept.
Pamales Tamales, a Mexican cuisine catering company that features more than 25 tamale flavors.
Jamie James Kitchen & Catering, a food business focused on providing healthful meal prep options to the north Tulsa community.
Piguet's Prime Time, a farm-to-fork restaurant.
Sombremesa, a food truck featuring Latin flavors.
American Inheritance, a chocolate company that combines traditional American confections with Belgian techniques.
Elegance Dessert Bar, a dessert bar featuring traditional desserts and custom creations.
Beef tenderloin tops Boston Deli special
Pecan-roasted beef tenderloin with onion straws and peppered strawberry cabernet highlight the Thursday night special for January at Boston Deli, 6231 E. 61st St.
The dinner, offered in addition to the regular menu, also includes grilled asparagus, baby red potatoes, Scissortail Farms sweet baby kale salad and chocolate bread pudding.
The dinner, served from 5-9 p.m. Thursdays in January, is $29.
Extra bites
• Fleming's Prime Steakhouse & Wine Bar, 1976 Utica Square, is offering its prix fixe filet and lobster dinners Sunday nights. It includes a petite filet mignon and North Atlantic lobster tail with salad and dessert for $55.
• DQ stores for a limited time are offering chicken strips with a choice of dipping sauce or a double cheeseburger, each served with fries, drink and small sundae for $6. Area DQ locations include a Dairy Queen at 7021 S. Memorial Drive in Woodland Hills Mall and a DQ Grill & Chill, 3120 W. Kenosha St., Broken Arrow.
• Throughout the month of January, Smitty's Garage restaurants are offering classic burgers (beef, turkey and garlic quinoa) for $3.99. The restaurants are at 9718 Riverside Parkway, 7104 S. Sheridan Road, 13303 E. 96th St. North, Owasso, and 801 E. Hillside Drive, Broken Arrow.
• P.F. Chang's, 1978 Utica Square, has added tonkotsu ramen, spicy miso ramen, bao doughnuts and tiramisu to the menu.
• Texas de Brazil, 7021 S. Memorial Drive in Woodland Hills Mall, is offering a 20% discount on takeout orders through January.
---
Scott Cherry
918-581-8463
Twitter: @ScottCherryTW