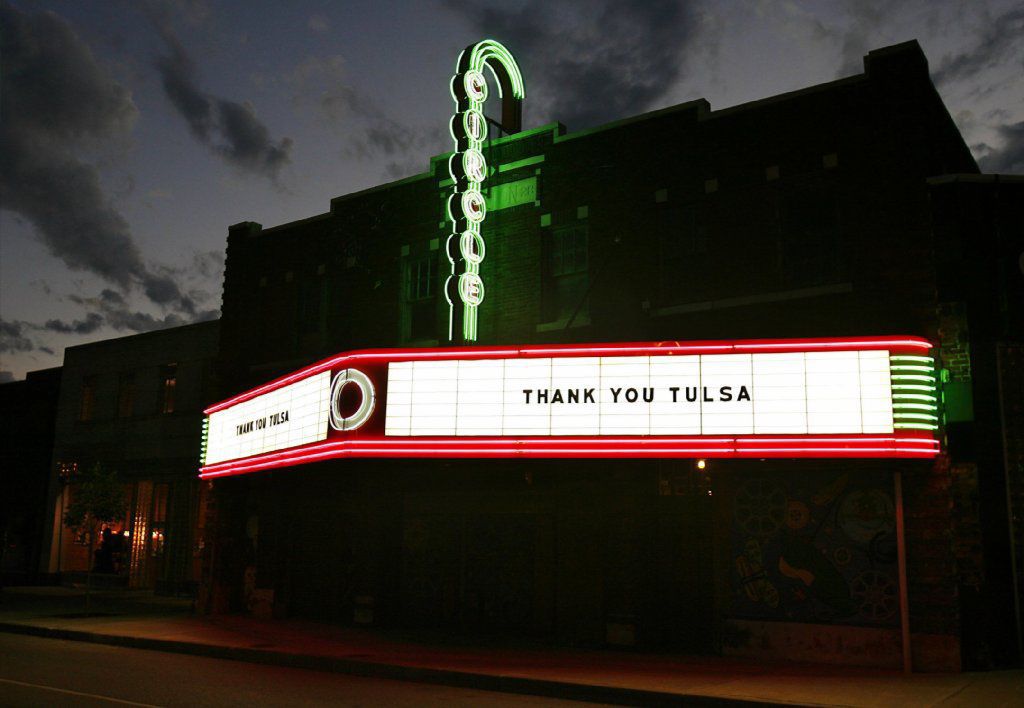 Tulsa's Circle Cinema, an official satellite site of the 2021 Sundance Film Festival, will supplement its festival films with "beyond film" programming.
Through short film screenings, music performances and panel discussions, Circle Cinema's "beyond film" offerings will be uniquely Oklahoman in collaboration with local filmmakers, artists and musicians. A news release said the events will showcase "incredible" works with a focus on providing a platform for Black, Indigenous, people of color and LGBTQ+ creatives.
All "beyond film" events will be free to watch and attend. At listed show times, the events will stream online through youtube.com/circlecinema, facebook.com/circlecinema and will be shown in-theater at Circle Cinema. Following premieres, each event will remain free to watch on-demand for the duration of the festival.
For a full schedule of festival films, COVID-19 safety protocols, tickets and more, visit circlecinema.org/sundance. Tickets can also be purchased in-person at the Circle Cinema box office, 10 S. Lewis Ave.
The Tulsa aspect of the festival is being presented by the Cherokee Nation Film Office and FC Tulsa.
Here are "beyond film" events:
6 p.m. Friday, Jan. 29: Representation Matters: Indigenous Actors and the Importance of Having a Seat at the Table, presented by the Cherokee Nation Film Office. Panel discussion.
Native and Indigenous actors come together to discuss the subject of accurate portrayal of Indigenous characters in film and TV. This conversation highlights the significance of representation in the industry and the work to shatter stereotypes.
Panelists: Michael Greyeyes, Jenna Clause, Zahn McClarnon, Kimberly Guerrero, Morningstar Angeline
Moderator: Angelique Midthunder
4 p.m. Saturday, Jan. 30: Representation Matters: Indigenous Filmmakers and the Importance of Authentic Voices, presented by the Cherokee Nation Film Office. Panel discussion.
Indigenous filmmakers discuss the importance of inclusion and representation in the industry, along with the responsibility to their community of ensuring Indigenous stories are told with authenticity.
Panelists: Billy Luther, Elle-Máijá Tailfeathers, Jeremy Charles, Kyle Bell
Moderator: William Garroutte
4 p.m. Tuesday, Feb. 2: Oklahoma: The Film Industry's New "It State." Panel discussion.
Oklahoma is becoming a desirable place for film and TV production. Industry leaders from across the state come together to highlight what makes Oklahoma so attractive.
Panelists: Tava Sofsky (director Oklahoma Film + Music Office), Chief Chuck Hoskin Jr. (principal chief of the Cherokee Nation), Abby Kurin (executive director, Tulsa Office of Film, Music, Arts & Culture), Richard Janes (Oklahoma Film and Television Academy), Blake Pickens (co-producer of "Wild Indian"), Cassidy Lunnen (producer), Dylan Brodie (producer/production manager)
Moderator: Jennifer Loren, director of the Cherokee Nation Film Office & Original Content
9:30 a.m. and 2 p.m. Saturday, Jan. 30, and 11 a.m. Sunday, Jan. 31: Coffee with Casii Music Lounge. Performances and interviews.
Circle Cinema partners with Coffee with Casii to provide a music lounge and filmmaker conversation to experience Tulsa's rich film and music talent. Coffee with Casii is a weekly livestream morning show that singer-songwriter Casii Stephan and her manager, Amira Al-Jiboori, created to form a connection with people during the pandemic. Their show evolved to a music morning show with a special guest segment for connecting with other artists, filmmakers, musicians, business owners, activists and others to help share their stories. During this music lounge and conversation experience, Stephan will interview local filmmakers, perform songs and share stories themed to the conversation.
Guests will include: Joe Cappa, director and animator of "Ghost Dogs," a 2021 Sundance official selection. He will be promoting the live screening event at Admiral Twin Drive-In on Jan. 30, as well as a cross-promotion with local brewery American Solera and its Ghost Dogs IPA and Worman's Premium Lager. Crystal Kayiza (2018 Sundance Ignite Fellowship recipient, director of "Edgecombe" and "See You Next Time," official selections at past festivals) and members of the creative team behind "Fire in Little Africa," an upcoming documentary and hip-hop album about Greenwood and the Tulsa Race Massacre fire, also will be guests.
11 a.m. Saturday, Jan. 30: The Church Studio: From the Chamber. Panel discussion.
The Church Studio presents From the Chamber, a discussion featuring the innovative team behind the making of the upcoming mini-documentary, "Mural of Space and Time, The Collision of 3 Masters." The film honors the ultimate Master of Space and Time, Tulsa's Grammy award-winning artist, producer, singer and songwriter: the late Leon Russell.
Panelists: Teresa Knox (executive producer), Patrick "p.s" Gordon (renowned oil-on-canvas artist) and members of the music, creative and technical crew behind the film.
12:30 p.m. Saturday, Jan. 30: Native Storytelling. Panel discussion.
Oklahoma alumni of Sundance Institute Fellowship programs come together for a panel on Native Storytelling. Filmmakers Suzanne Kite, Blackhorse Lowe, Erica Tremblay, Kyle Bell, Sterlin Harjo and Jeffrey Palmer will discuss the impact and importance of Indigenous voices in cinema. Featuring clips from "Little Chief" (2020 short directed by Tremblay), "Shimásáni" (2009 short directed by Lowe), "Defend the Sacred" (2017 short directed by Bell), "Pahá kiŋ lená wakháŋ" (2019 performance by Kite) and "Isabelle's Garden" (2015 short directed by Palmer).
Panelists: Kite, Lowe, Tremblay, Bell, Harjo and Palmer
12:30 p.m. Sunday, Jan. 31: Welcome to Tulsa/Confronting Our Past, Embracing Our Future. Film and panel discussion. In partnership with the Tulsa Office of Film, Music, Arts, and Culture.
While 2021 marks the centennial of the 1921 Tulsa Race Massacre, the Tulsans of today see this as a starting place, not a finish line. This event will explore how the spirit of Greenwood continues today and is guiding its renaissance through a screening of the new documentary short "Welcome to Tulsa," followed by a panel discussion.
Welcome to Tulsa synopsis: Tulsa's rich history, unknown to many, is filled with both triumph and tragedy. See the emotional story of Tulsa's Race Massacre, culminating with its centennial commemoration in 2021, and how the city is now rising on an international stage with a thriving cultural scene. Directed by Trey Thaxton.
Panelists: Thaxton ("Welcome to Tulsa" director, owner of Goldmill Co.), Venita Cooper (owner of Silhouette Sneakers and Art, Greenwood Main Street board member), Phil Armstrong (project director for Tulsa Race Massacre Centennial Commission)
Moderator: Brandon Oldham (George Kaiser Family Foundation Officer on the Vibrant and Inclusive Tulsa team).
2:20 p.m. Sunday, Jan. 31: Her Flag. Film and panel discussion.
"Her Flag" is a documentary chronicling the passing of the 19th Amendment, which kicked the door open for women's right to vote. "Her Flag" follows artist, activist and Oklahoman Marilyn Artus as she uncovers the stories behind the amendment. The film is followed by a panel discussion.
Panelists: Artus, Oklahoma City Councilwoman Nikki Nice and artists Nicole LaRue and Higgins Bond
Moderator: Jessica Wolfson (producer of "Her Flag")
4 p.m. Sunday, Jan. 31: Queering Cinema in Oklahoma. Panel discussion
A panel discussion featuring Oklahoma filmmakers reflects on the evolution of Queer cinema and how these films affect the communities they represent.
Panelists: Laron Chapman (writer/director), Yousef Kazemi (writer/director), Alexandra Nicole (writer/director), Lance McDaniel (filmmaker), Veronika Payton (writer/producer/director/composer)
Moderator: Russ Kirkpatrick (film producer)
---