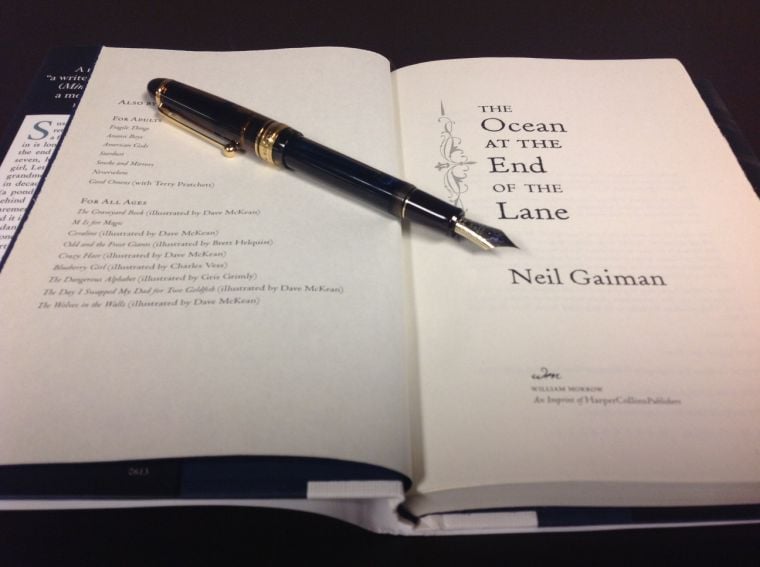 When Neil Gaiman began work on his novel "Stardust," he decided to try something different.
"I was trying to write a story that I wanted to have the rhythm of something that might have been written in the 1920s," Gaiman said, "and I loved the idea of how writing by hand might affect the story being told.
"That's when I got hooked on writing by hand. To me, typing is like work. Writing with a pen is like playing. And you can write on planes when they're taking off and landing."
Gaiman's preferred tools are fountain pens, as he has mentioned several times on his long-running blog (in one entry, he refers to a particular model, the Lamy 2000, as a "novel-writing" pen).
When Gaiman set out on what he has said was his final book-signing tour, for his 2014 novel, "The Ocean at the End of the Lane," he purchased a special pen for the purpose.
"It was a Pilot Custom 823, which is a rather expensive pen," he said. "It has this little screw thing at the end that keeps it from leaking on airplanes."
Gaiman used the pen, filled with a dark red ink that had the color of blood, to sign some 5,000 sheets that were inserted into copies of "The Ocean at the End of the Lane."
"On the tour itself, I think I signed about 400,000 copies of the novel, along with all the other books that people brought," Gaiman said. "I suppose that in the course of everything, I signed about a million things with this pen.
"I look at that pen now and think, on a per-signature basis, this pen is now cheaper than any sort of cheap disposable pen I could have used," he said, "because it lasted throughout that whole process, and all it really cost me was a bowl of ink."
Gaiman chuckled, and said, "And that's about the only thing I can come up with to justify my collection of pens."
Gaiman will appear at the Tulsa PAC on Tuesday as the guest of the Oklahoma Center for Poets and Writers at OSU-Tulsa.
James D. Watts Jr. 918-581-8478