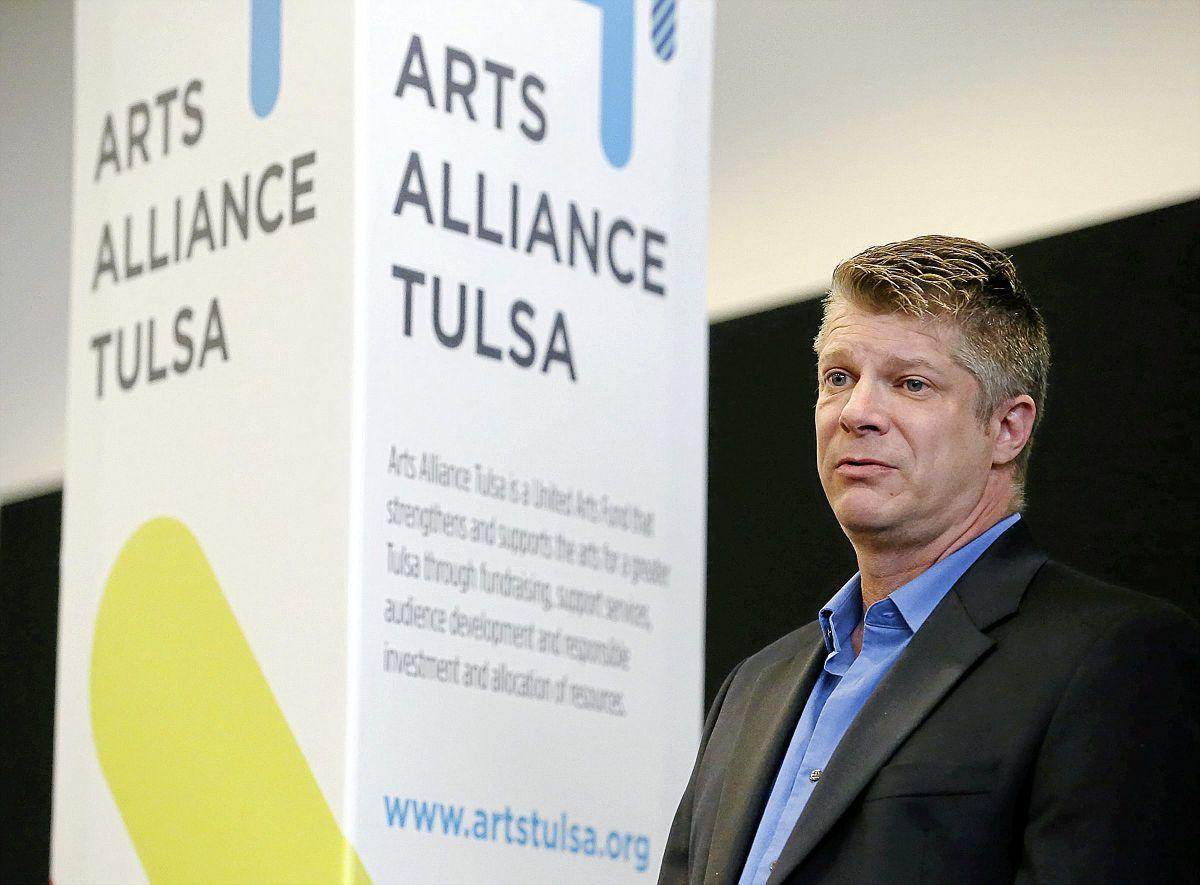 Arts Alliance Tulsa had some big plans when it was launched in October 2015.
The United Arts Fund — a nonprofit designed to provide supplemental funding and audience development support for a community's arts groups — planned to conduct a short, intensive fundraising campaign with a goal of raising $2 million, with the grants to the member arts organization going out in mid-2016.
"We really tried to do too much too soon, before people in the community even really knew who we are and what we were trying to accomplish," said Todd Cunningham, AAT executive director.
The goal was scaled back to about $1 million, and the campaign continued long past the planned 120 days.
"We thought we have about 20 arts groups sign on to this; we ended up with almost double that," Cunningham said. "And the funding requests we received from our 39 member organizations totaled $5 million. On top of all that, we had all the expenses that any start-up organization has to deal with."
Still, last month Arts Alliance Tulsa sent out its first checks to its member arts organizations, which range from entities such as Gilcrease Museum, the Philbrook Museum of Art, Tulsa Opera and Tulsa Ballet, to smaller groups including Theatre Tulsa, Theatre North, 108 Contemporary, Fab Lab Tulsa and A Pocketful of Hope.
The funds are to help fund the operational costs of the organizations, rather than underwrite specific projects or programs.
"Every group received a grant based on a percentage of their budgets," Cunningham said. "All told, between the grants and in-kind contributions, our contributions to our member groups was more than $400,000."
Compared with figures released by Americans for the Arts, Arts Alliance Tulsa ranks 23rd among the more than 50 United Arts Funds in the United States for the most money raised, and 20th in the amount raised per capita.
"We're basing this on figures from 2014, which is the last year available," said Chad Oliverson, AAT marketing director. "But for a start-up organization to rank that high, when in all likelihood we should be at the bottom of the list, is pretty incredible. But it also shows how important the arts are to Tulsa and how generous this community is."
Arts Alliance Tulsa will also benefit from the recent Vision tax package, which is estimated to raise more than $2 million for the arts over the next 15 years.
It has also received a three-year commitment, totaling $1 million, from the George Kaiser Family Foundation.
In addition, AAT is working with Griffin Communications, which owns Tulsa's KOTV Channel 6, to create a series of public service announcements focusing on the educational outreach programs of Arts Alliance Tulsa member organizations.
The spots will begin airing in late November on KOTV and will continue through May 2017.
"Our local arts groups provide maybe the greatest access to the arts and culture that most area students receive," Cunningham said. "The 39 member organizations of Arts Alliance Tulsa last year provided free programs that reached more than 155,000 area students."
Those numbers were gathered as part of the three-part campaign Arts Alliance Tulsa has been working on to collect comprehensive data to establish a clear picture of the economic impact the arts have on the Tulsa community.
The first phase involved compiling the information submitted by the member groups with the joined Arts Alliance. The second phase is being conducted in partnership with Americans for the Arts and Oklahomans for the Arts, through surveys distributed at arts and performances events.
The third phase involves collecting data from for-profit venues and presenting organizations, such as the BOK Center and Cain's Ballroom.
"We are wanting to create as complete and accurate a picture as possible of how the arts affect the economic life in Tulsa," Cunningham said. "Just going by the date from our member groups, they have produced more than $62 million in revenue for the local economy, create more than 2,000 jobs, and produce more than $6 million annually in state and local tax revenue.
"We don't have mountains and we don't have beaches — that makes our arts and cultural groups an important part of tourism for Tulsa," he said."
James D. Watts Jr.
918-581-8478
Twitter: watzworld