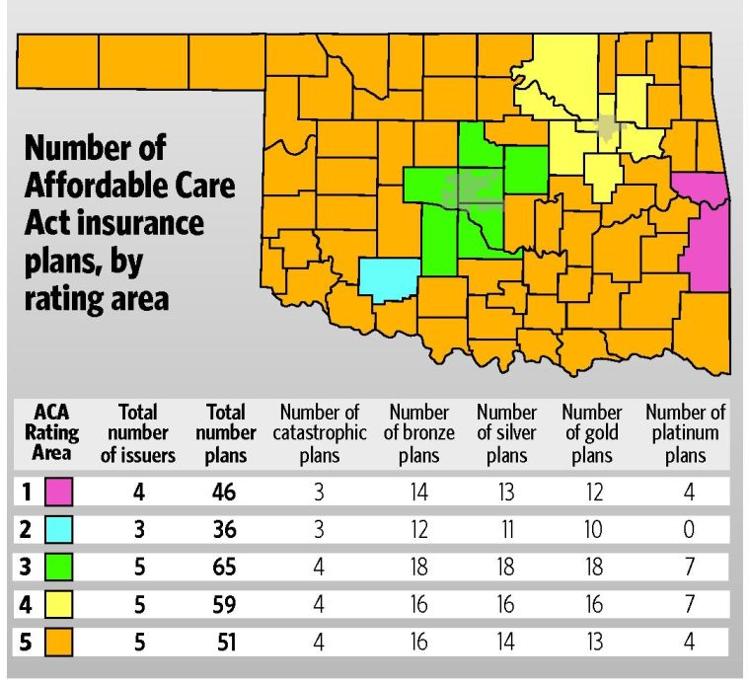 While federal officials continued public assurances that online enrollment in the Affordable Care Act would open as planned Tuesday, the president of one insurer said
the companyTULSAWORLD.COM has been
Get more to test the site
information for days
Community- Read past stones Care President
about the Afford- and CE0 Rid>
able Care Act and ard Todd gaid
find resources, the company
including a has tried to test
calculator to see th i-
if you are eligible ch where
for a subsidy to consumers are
purchase insur- supposed to be-
ance' gin enrolling in
tulsaworld.com/ coverage Tues- healthcarelaw day but has ex-
perienced tech- - nical issues for
rOr more the past week.
HHS Secretary Community-
Kathleen Sebelius Care is one of says more than five insurance 664,000 Oklaho- companies of- mans have access fering coverage to new quality through Okla- health-care cov- homa's feder- erage through the ally operated health insurance exchange and exchange. See one of two offer-A15ing only health
= maintenance organization plans. Blue Cross Blue Shield of Oklahoma, GlobalHealth, Aetna and Coventry Health Care will also offer plans through the exchange.
"Basically all CMS (Centers for
Medicare and Medicaid Services) systems are down, so there is no testing that is taking place," Todd told the Tulsa World late Monday.
"We have gotten very limited testing done. We have not been able to see all of our plans in terms of what someone will see if they go on the website, and the subsidy calculator, which is a big part of the health-care law,... we understand is not available."
The law is designed to provide subsidies for people with household incomes between 100 percent and 400 percent of the federal poverty level, or $11,490 to $45,960 for a single person.
Oklahoma is one of 36 states where the federal government will either run or help run exchanges, which are websites where consumers can compare and enroll in health insurance plans. Federally operated exchanges are set to open for enrollment Tuesday.
Todd said CommunityCare has also has raised concerns with federal and state officials over what it believes are wide variations in benefits among companies. Deductibles offered in CommunityCare's plans and those offered by "the state's largest insurer" are dramatically different at some levels, he said.
"We understood that although they wouldn't be identical," benefits for plans within the same category would be similar, he said.
"What we've been able to pretty well substantiate is that deductibles will vary in the silver category from $2,000 to over $6,000."
Todd emphasized that CommunityCare has received no explanation from the Centers for Medicare and Medicaid Services about the website problems or the differing deductibles and that there may be explanations for both.
"We have raised that concern with CMS and are awaiting a response from them. We have not seen that variation in any other state we have looked at."
Blue Cross Blue Shield of Oklahoma, which is the state's largest insurer, responded Monday night that CMS has approved the plans it is offering.
The law is designed to offer coverage at four levels — bronze, silver, gold and platinum — and at a catastrophic level for some people. The plans are supposed to pay between 60 percent and 90 percent of the cost of health care depending on which level consumers choose.
Todd said that if the wide variation in deductibles is allowed to go forward, "it's going to be a potentially unfair result for Oklahomans."
Federal officials could not be reached for comment on the issues raised by Todd late Monday.
In statements issued earlier Monday, CMS said that regardless of a government shutdown, enrollment would open for insurance plans under the health-care law as planned Tuesday. Spending for the exchange is mandatory spending, and the system would not be affected by any disruption in government funding, a spokeswoman said.
Rick Kelly, divisional vice president of network management at Blue Cross Blue Shield of Oklahoma, said the company's employees are "ready to take questions and field calls and help people as they go through this process."
"It's a process that is going to take a little bit of time, but hopefully at the end of that we will be able to get more Okla homans insured," Kelly said.
Oklahoma ranks No. 5 nationally in the number of uninsured residents, with about 650,000 people lacking health insurance.
Kelly said people shopping for health coverage should study the network of medical providers before purchasing an insurance plan.
In the Tulsa area, Blue Cross Blue Shield will offer plans under its Blue Choice network, which has 14,000 providers, as well as a more limited network of providers for plans with lower monthly premiums, he said.
When asked about technical problems with the federal exchange, Kelly said he doesn't know what to expect.
"This is a massive undertaking, and I think there's no doubt that there will be a few bumps along the road and everybody is just going to need to work with each other."
Both Kelly and Todd said that regardless of any initial technical problems, consumers should remember that they have until Dec. 15 to sign up for coverage that begins Jan. 1. Those who don't have health insurance have until March 31 to obtain it or be subject to a fine.
People who have health insurance through their jobs or through federal programs such as Medicare are already in compliance with the law's requirement to have insurance and don't need to take any action.
Kelly said enrolling in plans under the exchange requires preparation. Consumers will need documents such as proof of household income, proof of citizenship and details on insurance offered by employers.
"I think consumers need to take their time and go to the exchange and do their research and make the best decision they can for themselves and their family. For a lot of people that will probably mean they need to spend more than a day on it.
"It's a very important decision and one they need to step through and make sure they educate themselves and make the right choice."
Ziva Bransteter 918-581-8306
ziva.branstetter@tulsaworld.com
Affordable Care Act resources
To enroll in health insurance plans under the Affordable Care Act, log onto healthcare.gov. The site has a list of health insurance "navigators" who can help you enroll. You also can call 800-318-2596 for more information.
All insurance brokers and agents in Oklahoma are licensed to help consumers select insurance plans.
Insurers offering coverage under the law in Oklahoma have more information about plans they are offering on their websites:Blue Cross Blue Shield of Oklahoma:reformandyouok. com
CommunityCare:ccok .comAetna:aetna.comCoventry:coventryhealth- care.com
GlobalHealth:globalhealth. com