Oklahoma ranks No. 5 in new COVID-19 cases and test positivity in latest White House report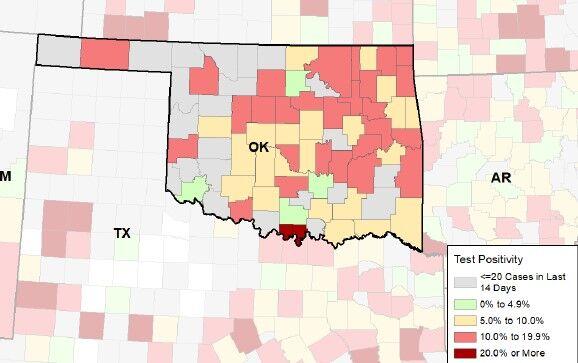 Oklahoma ranks No. 5 in the U.S. for new COVID-19 cases and test positivity, according to the latest White House Coronavirus Task Force weekly report released Wednesday afternoon.
The state's rate of new weekly cases was 142 per 100,000 people, nearly doubling the U.S. average of 74 per 100,000 people. Its test positivity rate was at 10%, which is more than double the national average of 4.8%.
One-third of Oklahoma — or 26 counties — is in the red zone for high levels of community transmission, with another 24 counties in the yellow zone for moderate spread.
The report again recommends Gov. Kevin Stitt implement a statewide mask mandate, noting that the highly contagious virus is being brought into nursing homes though community spread.
"Arkansas is a great example in the Heartland where statewide transmission has decreased through mask usage," according to the task force.
The report, dated Sept. 13, comprises data from Sept. 5-11. Oklahoma is in the red zone for new weekly cases – more than 100 per 100,000 people – and the yellow zone for positivity – between 5% and 10%.
The state has been in the daily case red zone for 10 consecutive weeks, and the red for positivity in two of the 12 weeks the task force has produced its reports for states.
Charlie Hannema, a spokesman for Stitt, said it's difficult to verify the task force's data without information on other states. He also said that test positivity is a tough metric for state-by-state comparisons because methods vary.
"I'd understand making the comparison if each state was testing a similar random sample, but the positivity rate can vary widely based on the number of people who are seeking testing on a given week," Hannema wrote in an email.
He pointed to Johns Hopkins University, which lists Oklahoma at a 6.9% positivity rate as of Tuesday.
Johns Hopkins uses a seven-day moving average for positivity rate, whereas the White House task force uses the percent positive for the reported week ending Fridays.
The task force has recommended that bars must be closed and indoor dining capacity limited since its Aug. 9 report.
Its stance softened to a degree in the latest report.
"In areas with ongoing high levels of transmission (red and yellow zones), use standard metrics to determine school learning options and capacity limits for bars and indoor dining," the report states.
The report recommends the state develop a plan for increased surveillance of "silent community spread" by using antigen – or rapid tests – to monitor transmission among K-12 teachers; staff working at nursing homes, assisted living, and other congregate living settings; prison staff; and first responders.
State officials previously have said the White House is sending rapid test kits to nursing and long-term care facilities in September, with schools planned for a second distribution at a later time.
The state has been grappling with an outbreak in its prison system, with upward of 80% of the inmate population infected at its worst in the minimum-security Eddie Warrior Correctional Center in Muskogee County.
There have been 2,115 cumulative positive tests throughout the state prison system, including about 783 inmates at Eddie Warrior. There were 595 current positives across the system Wednesday, including 113 at Eddie Warrior.
Hannema said the governor's office and the state department of health are "exploring options" for the testing of DOC employees.
The White House task force first recommended that Oklahoma implement a mask mandate in its Aug. 2 report. Its first report, on June 29, recommended ensuring the public use of masks in all COVID-19 hot spots.
Metro areas in the red zone are: Tulsa, Muskogee, Stillwater, Enid, Miami, Guymon, Fort Smith, McAlester, Bartlesville and Elk City. The yellow are Oklahoma City, Lawton, Shawnee, Tahlequah, Durant, Weatherford, Ardmore, Ponca City, Duncan and Woodward.
The counties in the red are Tulsa, Cleveland, Muskogee, Payne, Garfield, Le Flore, Rogers, Wagoner, Ottawa, Creek, Texas, Sequoyah, Pittsburg, Washington, Osage, Delaware, Kingfisher, Seminole, Craig, Hughes, Woodward, Love, McIntosh, Beckham, Blaine and Cotton.
The yellow counties are Oklahoma, Pottawatomie, Comanche, Canadian, Cherokee, McCurtain, Bryan, Grady, McClain, Okmulgee, Custer, Caddo, Adair, Kay, Mayes, Logan, Lincoln, Atoka, Stephens, Johnston, Haskell, Nowata, Garvin and Marshall.
---
Oklahoma's new cases (rate per 100,000)
Red zone is 100 and above; yellow zone is 10 to 100
Sept. 13: 142 (74 national average; 5th highest in U.S.)
Sept. 6: 146 (88; 9th)
Aug. 30: 114 (88; 13th)
Aug. 23: 123 (93; 12th)
Aug. 16: 117 (112; 15th)
Aug. 9: 146 (114)
Aug. 2: 186 (137)
July 26: 126 (140)
July 19: 128 (140)
July 14: 102 (119)
July 5: 69 (100)
June 29: 67 (74)
Oklahoma's test positivity rate
Red zone is 10% and above; yellow zone is 5% to 10%
Sept. 13: 10.0% (4.8% national rate; 5th highest in U.S.)
Sept. 6: 11.3% (5.2%; 4th)
Aug. 30: 9.6% (5.4%; 9th)
Aug. 23: 9.9% (5.8%; 8th)
Aug. 16: 9.4% (6.5%; 11th)
Aug. 9: 9.8% (7.1%)
Aug. 2: 9.8% (8.2%)
July 26: 10.1% (8.5%)
July 19: 9.8% (9.1%)
July 14: 9.7% (9.6%)
July 5: 6.0% (8.3%)
June 29: 5.8% (7.0%)
Each of these reports can be found online at coronavirus.health.ok.gov/white-house-coronavirus-task-force
Source: White House Coronavirus Task Force reports
---
Gallery: Virus basics: 11 of your COVID-19 questions answered