Local
top story topical
'No politics' — But Trump shakes a lot of hands and poses for a lot of photos during Tulsa visit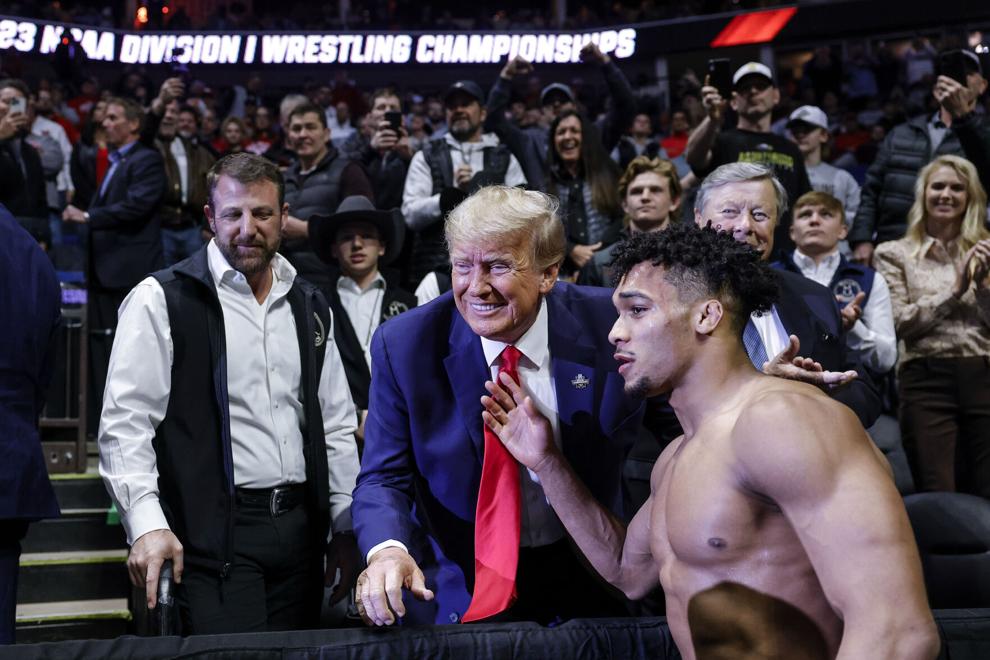 Former President Donald Trump's good friend U.S. Sen. Markwayne Mullin insisted that Trump's return to Tulsa was strictly about watching the NCAA Division I wrestling finals and "showing what this city has to offer."
No fundraisers. No speeches. No press conferences.
"My boys actually made the ask down in Mar-A-Lago when we were down there," Mullin said, referring to Trump's Florida home and where Mullin also has a residence. "When he found out it was going to be in Tulsa, he said, 'I'll be there.'"
Trump did keep about as low a profile as a former president running for president can in an arena full of people, but he did shake a lot of hands and pose for a lot of photos.
Check out our latest digital-only offer and subscribe now
And Mullin got to introduce a lot of constituents to a man who could be the past and future president of the United States or, judging by a Trump social media post early Saturday morning, an appointee with a Manhattan criminal court.
Or both.
Almost three years after Trump's 2020 reelection campaign suffered a reversal in the BOK Center, the former president made a successful if subdued return, with no drama and little controversy.
Ensconced by Mullin and Mullin's three sons in a boxed-off area in the northeast corner of the BOK Center floor, Trump shook hands and posed with each of the national champions as they came off the elevated mat in the center of the arena 30 yards away. Otherwise, Trump did nothing to draw attention to himself after he walked across the floor to his seat a half-hour before the final session began.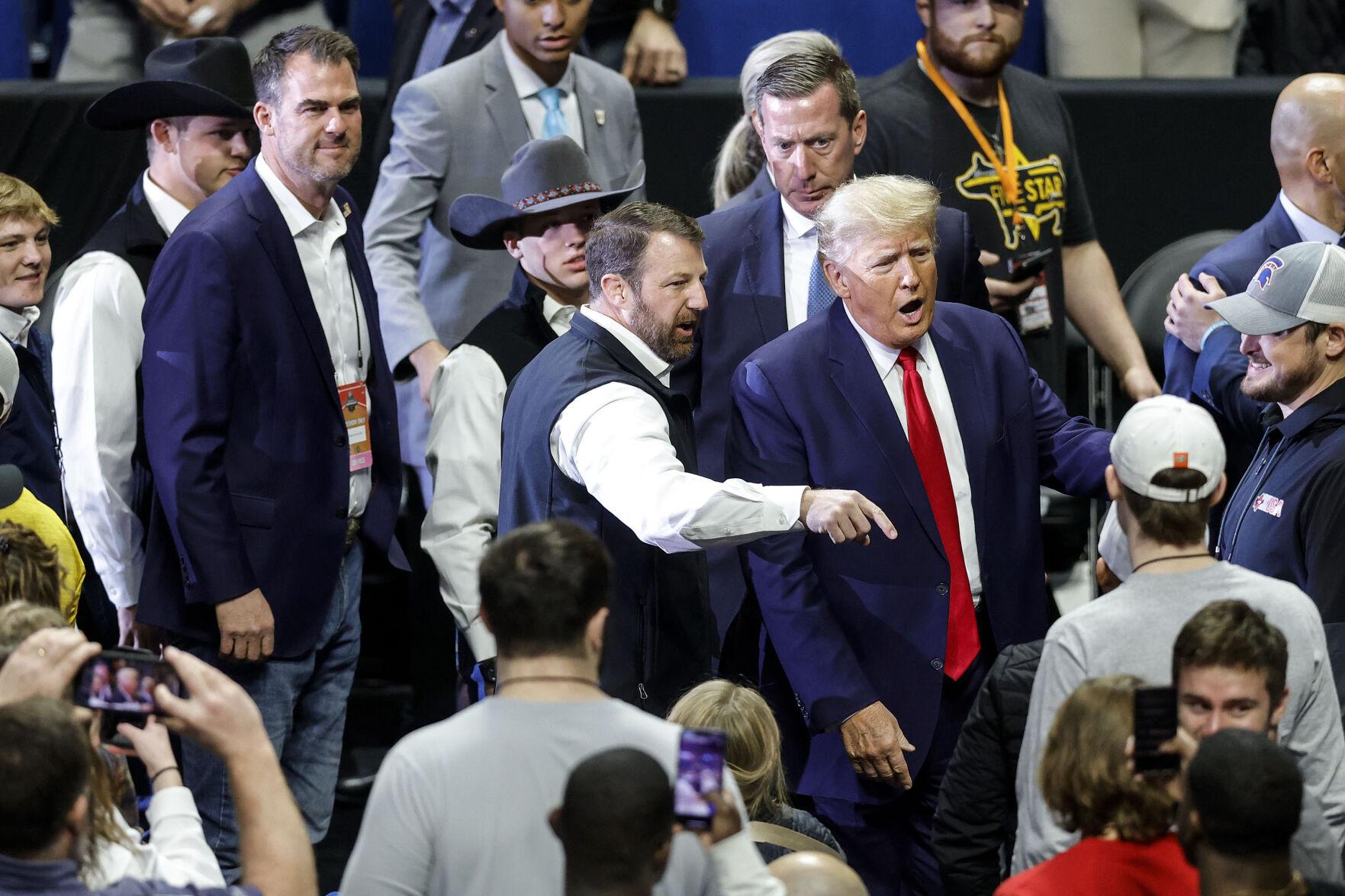 Trump was expected to stay in the floor seat for only a few matches before ascending to Mullin's private suite. Instead, he stayed put for all 10 matches, watching closely while Mullin, a former wrestler, explained the finer points of the sport. Trump talked with fans between matches, but reporters were kept well away.
Earlier in the day, Trump's all-caps post on his Truth Social platform said he expects to be arrested on corruption charges in New York on Tuesday. His lawyers later walked that back, but reporters following the case closely say all signs point to charges soon.
The former president is embroiled in several other legal imbroglios, including accusations that he tried to unduly influence the 2020 vote count in Georgia.
Speaking before Trump's arrival, Mullin dismissed the New York case as sheer politics.
"They've been after the president (Trump) since Day 1," Mullin said. "The (Manhattan) district attorney needs to concentrate on putting bad guys in jail."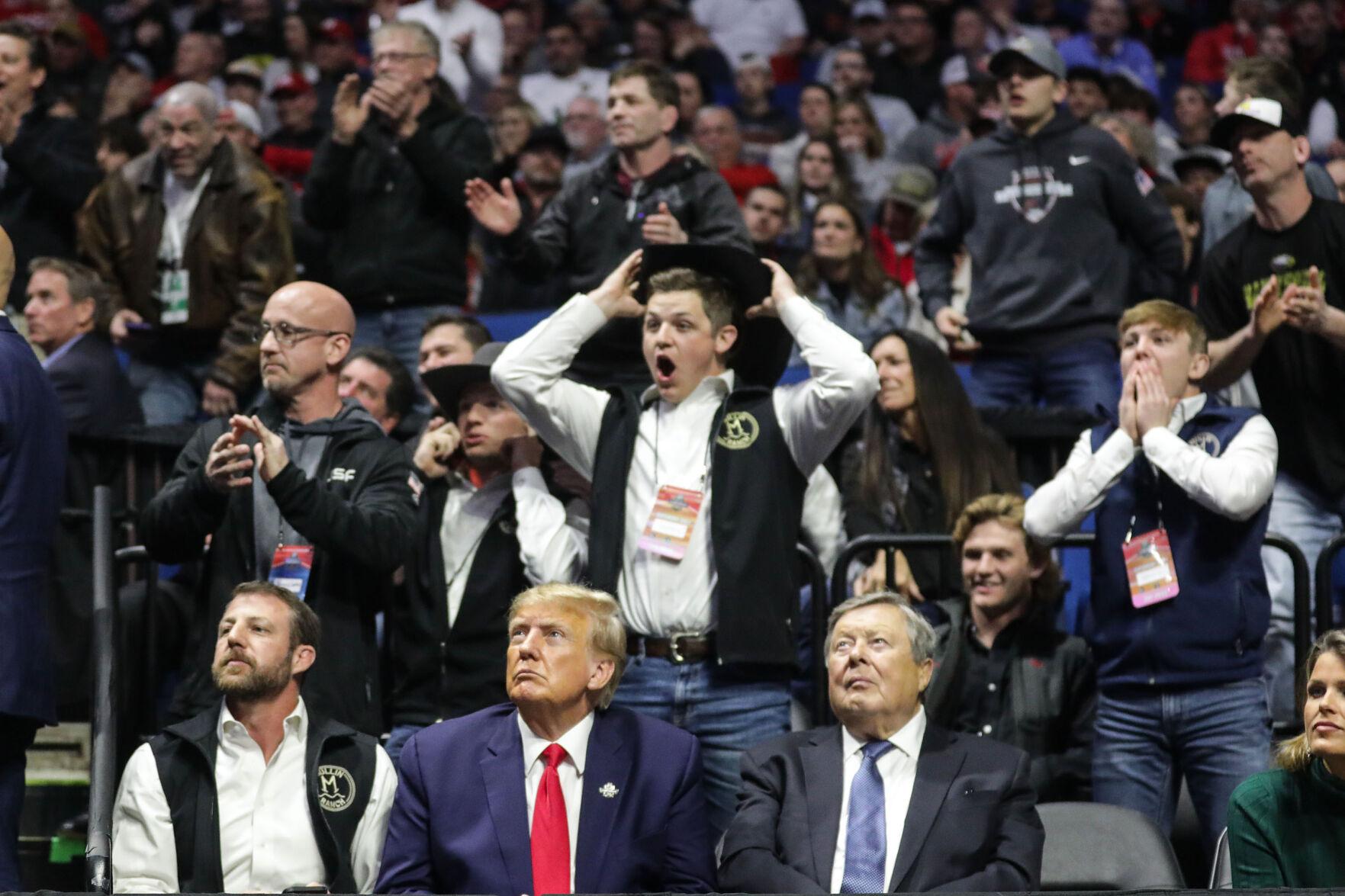 Mullin seemed to compare the charges against Trump with unproven and largely discredited claims that former Secretary of State Hilary Clinton, Trump's 2016 opponent, committed criminal security breaches while in the Obama administration.
"Everybody sees this for what it is," Mullin said. "It's not what this country is about. We had an opportunity to get after Hilary, … and we didn't."
Gov. Kevin Stitt, who spoke to the press with Mullin, refused to be drawn into any discussion of Trump. He said he was there to talk about what a great event the wrestling tournament was for the city and state.
The governor did not sit with Trump, and Stitt acknowledged that he is "good friends" with Florida Gov. Ron DeSantis, who is expected to challenge Trump for the 2024 Republican nomination.
In his morning social media post, Trump called for his followers to take to the streets in protest of what he said is his pending arrest, and around two dozen followers gathered on the corner of First Street and Denver Avenue in hopes of a glimpse. Trump, however, arrived from a different direction.
Trump did receive a warm if not overwhelming reception inside the BOK Center. For sure, it did not rival the attention given the wrestlers on the center mat.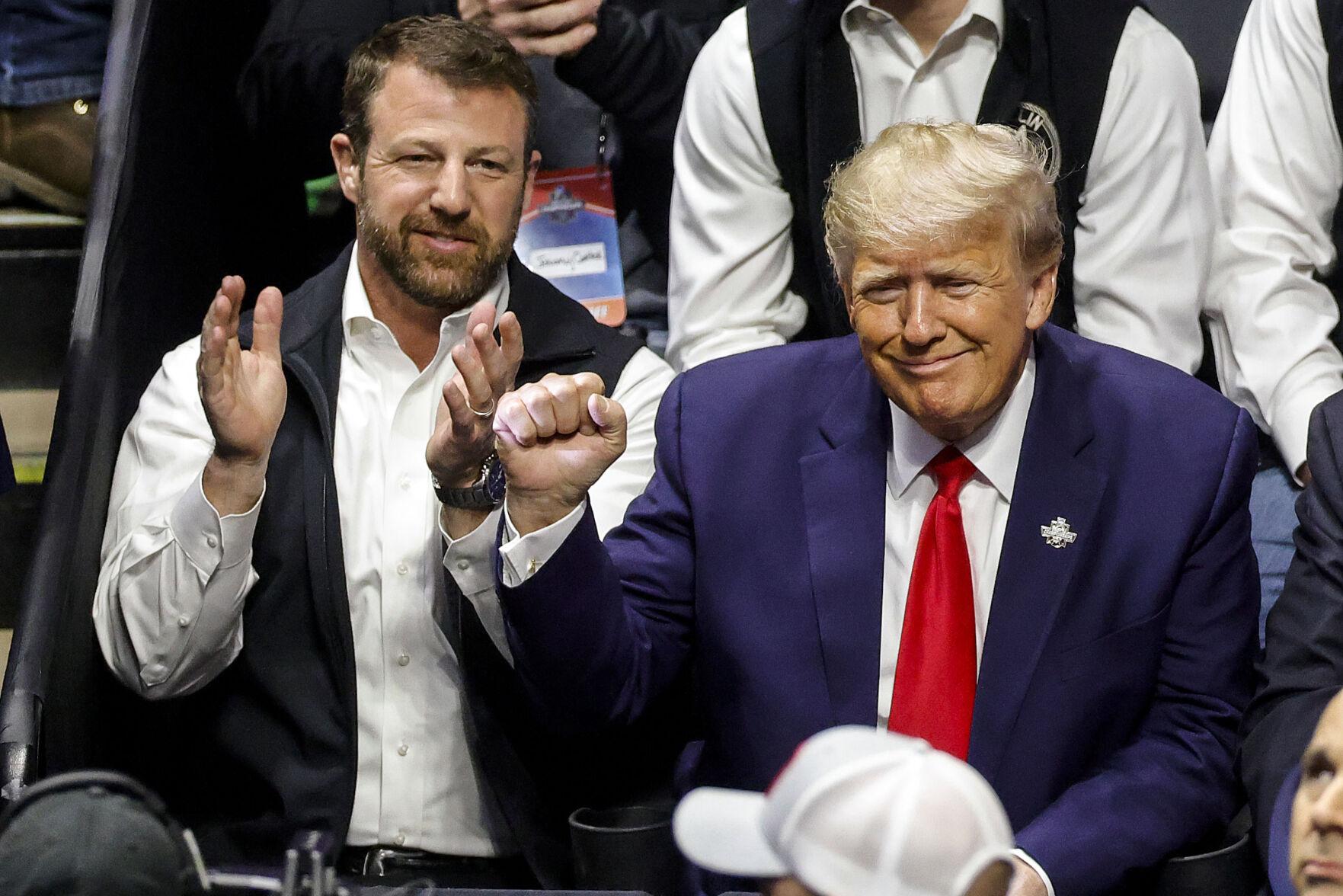 ---
Former President Donald Trump's good friend U.S. Sen. Markwayne Mullin insisted that Trump's return to Tulsa was strictly about watching the N…
President Donald Trump arrives on Air Force One at Tulsa International Airport