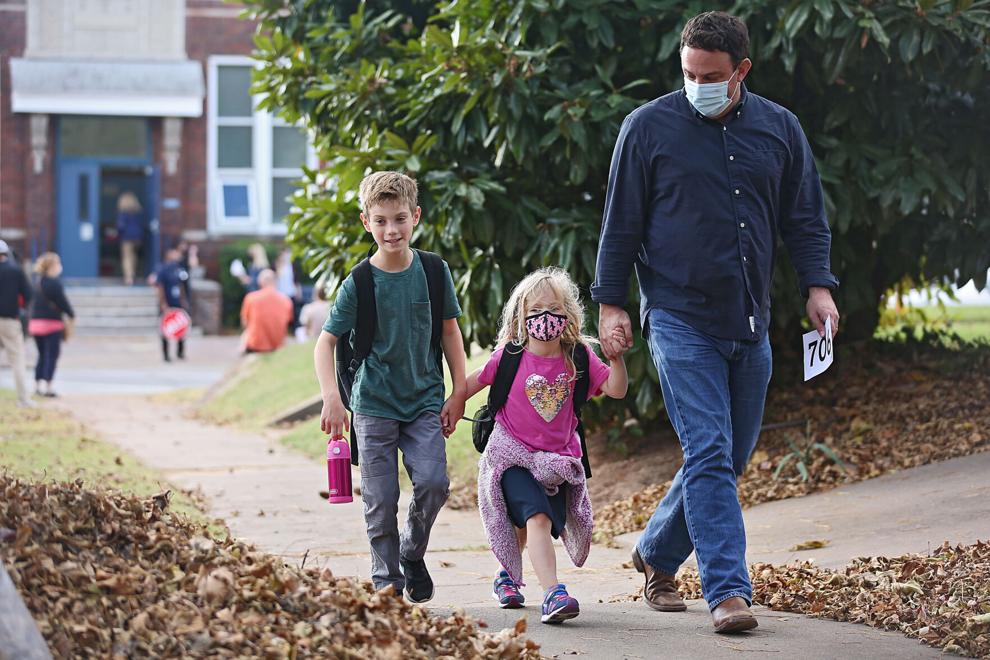 Correction: This story originally misidentified Hale Junior High School vocal music teacher Michael Broyles. The story has been corrected.
---
After more than 11 months of learning from home, Mason Smith has missed seeing his friends and classmates face to face.
But that's not to say the Salk Elementary School fifth grader's online learning experience has been all bad.
"It's easier at home because I get help from my parents … and sometimes a calculator," he said with a grin.
Along with other students across Tulsa Public Schools, Smith and two of his three siblings will have their first day of in-person classes Tuesday. Tier three and four special education students; fourth, fifth, sixth and ninth graders; and seventh graders at the district's junior high campuses have the option to return to campus starting Tuesday morning or remain in distance learning.
His oldest brother, an eighth grader at Thoreau Demonstration Academy, will go back in person on Thursday, along with other students in pre-kindergarten, kindergarten, first, second, third, eighth, 10th, 11th and 12th grades, as well as seventh graders at the district's middle schools.
The four Smith children are enrolled at three different schools. Their father, Jared, took leave and eventually resigned from his job in part to oversee the children's education while their mother, Sarah, continued to work full-time in information technology.
In order to accommodate the changes, the Cherokee, Muscogee (Creek) and Seminole family had to adjust its finances and received tribal assistance to cover the costs associated with upgrading their internet bandwidth in order to handle turning their home into a schoolhouse for four students.
Although he was used to being at home in the afternoons to help with homework prior to the pandemic, transitioning to a role comparable to all-day tutor has been a learning experience for Jared Smith.
Along with figuring out how to keep the boys engaged academically, it has meant remembering how to break down algebra problems for the oldest and explaining to the youngest learner how to tell time.
"My mother was a teacher for 40 years," he said. "I have always respected teachers anyway, but this has taught me a lot more about the patience that is required to teach kids at multiple ages and multiple levels and with different personalities and learning styles."
Although the family is excited at the prospect of in-person classes starting soon, the last 11 months have been a learning experience for everyone at the Smith house.
For the children, it has meant learning how to be more independent in the kitchen and how to better manage their time during the school day.
The abrupt shift in the spring meant both parents had to figure out how to help their children access their assignments in the first place, something that they say has gotten easier over time. It has also given them additional, extended insight into how each child approaches his schoolwork — whether it is primarily on his own like the oldest or, like Mason, with the occasional assist from a calculator.
"It has opened our eyes to how we can best help each of our children," Sarah Smith said.
Across town, the last 11 months in distance learning have helped teach James and Brianah Dodson more about their children's learning styles and needs, as well.
Prior to the pandemic, their three sons were on a transfer into Council Oak Elementary School. All three have sensory processing issues, which has made online instruction particularly challenging for their kindergartner, Jude.
While in distance learning, the Dodsons were able to confirm that he needs multiple breaks and extra time while taking required standardized tests, as well as additional practice building his fine motor skills — information they might not have ascertained quite as easily in a normal school year.
"Jude has really struggled, and that is something we will continue to work on, but it has helped me see how I can advocate for him better," Brianah Dodson said. "Now I know especially where he is struggling."
Despite acknowledging those challenges, the Dodsons' three boys will finish the year online. The two older boys made that decision, in part because they had finally gotten into a routine.
"We just sat them down and asked them," she said. "Both of them said they were fine with doing it this way and wanted to stay virtual. Since then, they've heard some of their friends are going back in person, and they're kind of sad they made that choice because they miss their friends. Our fifth grader is sad that he is going to miss some of the normal fifth grade things. However, they just don't want to be the reason that their grandparents get sick or wind up in the hospital."
TPS students are not the only ones adjusting after 11 months of primarily relying on Zoom to interact with classmates and teachers.
Michael Broyles teaches vocal music at Hale Junior High School and neighboring Hale High School. Along with enforcing masks in class and social distancing as much as possible, he said he will be incorporating additional mitigation efforts this year. Sheet music will stay with the students rather than get reused among sections. There may be more small group numbers this year rather than having the entire choir sing together.
Even with the changes, he said he is eager to see his students face to face rather than via a laptop.
"My room is ready for kids — not 100%, but it is ready for them to be there," he said. "I'm thrilled that they're coming. I'm thrilled that I'll see the kids in person. It'll be difficult to not hug them, and I will have to keep my distance, but I am so excited to get to see them."
---
Featured video: TPS superintendent thinks schools could restart in-person learning
---
More guidance for Oklahomans signing up through the state COVID-19 vaccine portal during Phase 2