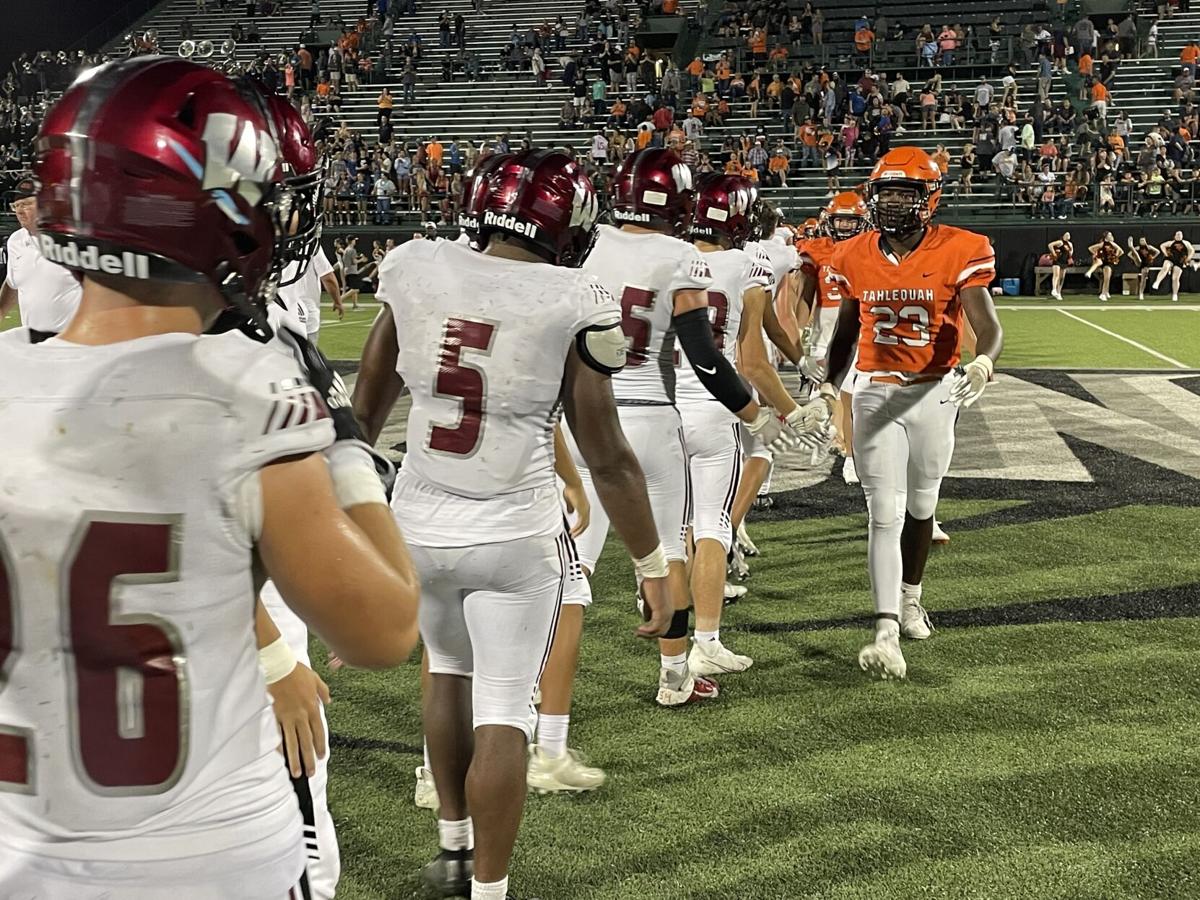 After coming off a blowout 37-13 loss to Coweta in game 1, the Wagoner Bulldogs (1-1) got a much-needed confidence boost defeating the Tahlequah Tigers (1-1) 21-7 at Doc Wadley Stadium.
"I told our guys it would be a shame if we watched the Coweta film and did not learn from it," Wagoner coach Dale Condict said after the game. "I think we did that tonight against Tahlequah."
Condict really wanted his guys to get back to their MO: Be a physical run team and play great defense.
The Bulldogs rushed for a total of 229 yards in Friday's game. All three of Wagoner's touchdowns were on the ground. RB Logan Sterling was the rushing leader with 107 yards, followed by QB Gabe Rodriguez with 82.
"Our D-line put a lot of pressure on them and we had some key interceptions," Condict added. "Tahlequah has some good players. I was really concerned whether or not we were going to hold on."
What started as a host of penalties on both sides quickly tuned into some points for the Bulldogs.
With five minutes left in the first quarter, Rodriguez punched the ball in for a 1-yard touchdown run through the Tigers defense.
As the Tigers tried to generate some offense, Wagoner DE Roman Garcia blew through Tahlequah's offensive line for a sack, resulting in a 4-yard loss on second down with four minutes to go. Tahlequah QB Tyler Joice quickly found out what could happen if he holds on to the ball too long.
The second quarter is one that got the fans loud — on both sides.
With about six minutes left until halftime, Bulldogs freshman OLB Alex Shieldnight strutted his stuff on fourth down and six with a key interception and returned the ball to midfield. Wagoner responded nicely with a solid carry by Rodriguez, and of course, what many fans will remember — a 35-yd touchdown run by Sterling. The score became 14-0 Bulldogs in a matter of minutes.
But the Tigers responded in a big way.
Tahlequah senior WR Parker Lane came through with a 39-yard catch on third down to get the Tigers in great field positioning. With just over two minutes on the clock, Joice ran it in for 2 yards on the goal line. Seven points for Tahlequah.
Wagoner thought they might be able to put something together before the clock winded down, but they could not. In fact, Tigers junior CB Dylan Leep came through with an interception on third down with eight seconds left — just the thing to do to give the Bulldogs a bad taste in their mouth heading into halftime. Wagoner still led the way though, 14-7.
It wasn't until the fourth quarter when the scoreboard changed again. Braylin Roberson showed some life, and punched the ball in for an early quarter score to bring the Bulldogs up by another touchdown.
The Tigers tried with all their might to hang on. As soon as it was their possession, Wagoner junior Brayden Skeen showed up and intercepted the ball with seven minutes to go.
After a few, small yardage plays here and there, the clock dwindled down. That was the ballgame. It was a crucial game for the Bulldogs to get back to their winning ways.
Coach Condict said once his team eliminates all the small mistakes, such as penalties and lining up incorrectly, big things are bound to happen.
"We made several of those little mistakes tonight, especially late in the game. As long as our guys keep showing up and bringing the right attitude, we're going to be fine at the end," Condict said.
Wagoner will host their first home game of the season against Cleveland on Sept. 17 at 7 p.m.