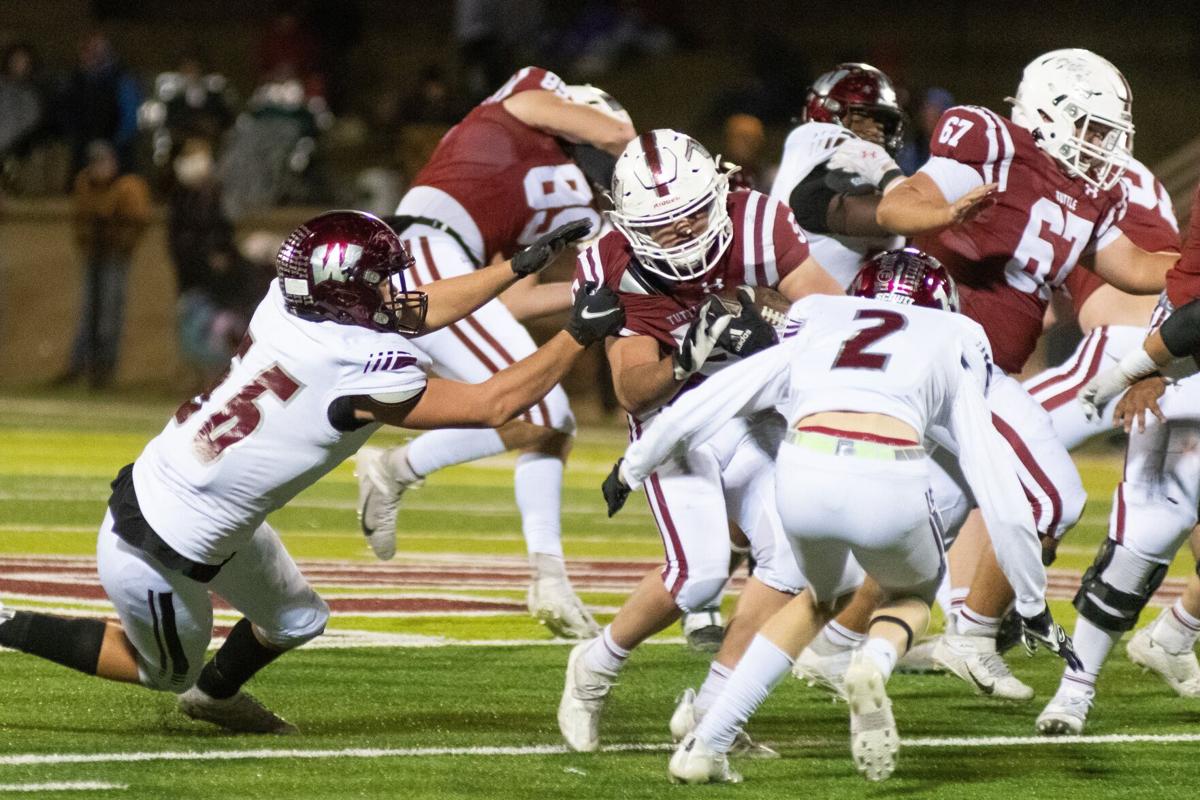 The "Oh no" moment in the game was about three minutes into the second quarter, when Wagoner quarterback Gabe Rodriguez tried finding a hole up the middle, but instead found a brute pair of Tuttle defenders smashing him to the ground.
It was the end of the game for Rodriguez, finishing with -4 yards and ending the season with a team-leading 1,164 yards in passing and rushing.
"Talk about taking the air out of you," Wagoner Coach Dale Condict said after the Bulldogs (9-3) lost 28-0 at Tuttle (11-0) in the Class 4A semifinals. "You hear about this stuff every year. He's (Rodriguez) the center of what you're doing on offense, and all of sudden you are throwing a freshmen in there at quarterback."
It's true. Freshmen Kale Charboneau took the reins at quarterback and actually held his own for jumping in on the whim and not having any practice. It was his first game back after he broke his ankle in the second quarter against Sperry in Week 3.
Charboneau had three completions for 19 yards. He held his own in the run game as well, finding Logan Sterling and Fred Watson on a typical basis. Sterling had 15 rushes for 56 yards and Watson had 5 rushes for 48 yards.
"With no practice and just jumping in, I thought he managed the offense pretty well," Condict said.
The game was essentially all about small runs and defensive stops.
Neither team could capitalize until the second quarter, when Tuttle's senior runningback Canon West found his way to the left hash for a 38-yard touchdown.
Just as the Bulldogs' are gaining momentum to bounce back, Rodriguez took massive hits from the front and back and sits out for the remainder of the game on concussion protocol. In goes Charboneau to lead the offense.
Two minutes later, West, once again, found the end zone for the Tigers' with a 9-yard run up the middle. The Bulldogs' blocked the extra point.
13-0 was the score going into halftime, and the Bulldogs' needed something — a pick six, a long run, Rodriguez coming back in. Anything to stay in the game.
As the second half rolled along, it didn't happen.
Instead, Tuttle's Chance Cobb ran the ball in for a 3-yard touchdown, followed by a successful two point conversion to start the fourth quarter. Then West finished with another small run for a touchdown with seven minutes to go. The Bulldogs' lost their main weapon, and it showed with a final score of 28-0.
Despite the loss, Condict couldn't help but reminisce about the adversity his team faced this year. They're young. His players are inexperienced. They graduated 20 out of 22 starters last year. He can live with going 9-3.
"I can tell you this, Wagoner isn't going anywhere," Condict said. "We've got some great young players. We'll be back."
Wagoner 0, Tuttle 28Wagoner: 0 0 0 0 — 0
TUT — West 38 run (Wong kick), 11:20
TUT — West 9 run, (Wong kick blocked) 7:13
TUT —Cobb 3 run (West 2pt conv.), 11:49
TUT — West 5 run (Wong kick), 7:36
Team statistics First Downs — WAG 6, TUT 18. Rushes-Yards — WAG 30-117, TUT 46-242. Comp-Att-Int — WAG 3-14-0, TUT 5-10-0. Passing Yards — WAG 19, TUT 106. Fumbles-Lost — WAG 1-0, TUT 0-0. Penalty Yards — WAG 6-45, TUT 3-20. Records — WAG 9-3, TUT 12-0. Total Yards — WAG 136, TUT 348. Punts-Avg. — WAG 6-30.5, TUT 4-32.0.