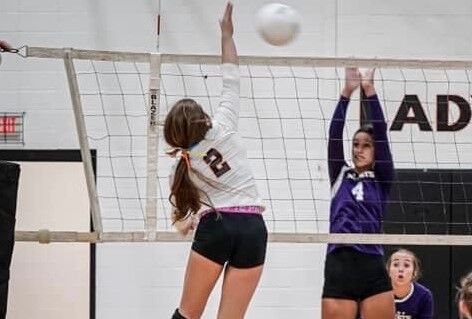 Kinlea Green wanted to have a year where it was her time to shine, and that is exactly what she did on the volleyball court in Okay.
Growing up, she always competed with her sister, Shayni. Kinlea is a year younger than her sister. Shayni earned All-State recognition for Okay High basketball in 2020. Since Shayni moved on to Connors State College, in Warner, Okla., to study and play basketball, Kinlea wanted to use that to her advantage during her senior season at Okay.
Since seventh grade and 14-years-old, Green said she played every sport with Shayni together.
"It was nice to have the spotlight on me for a little bit," Green said.
Green lives in Fort Gibson, but has gone to Okay Public Schools her entire life. She made the ten-minute drive every day from her hometown. She described Okay as "one, big happy family."
"You know everybody, you know their parents, you know their siblings," she said. "You know everything about it. You can't do something and expect to get away with it in Okay."
That family atmosphere translated into sports, as well. In fact, many of the students at Okay played the same sports. Most coaches coached multiple sports. The boys and girls teams were around each other all the time. Green's volleyball coach, Andrea Collins, was also the softball coach. The basketball coach doubled as the baseball coach.
Green was also a standout on the basketball court. She did softball her freshman and sophomore year but called it quits after that so she could focus on volleyball and basketball.
Green said achieving all-state was surprising and exciting at the same time. Plus, the fact there are 3A and 4A girls playing in the small schools, All –State game, was extra surprising to her. So when she got the call from Coach Collins saying she was selected for all the All-State game July 27, her reaction was self –explanatory.
"It was my shining moment. I felt pretty excited about it but kind of nervous at the same time. I'll be playing with people I've never played with before and will be coached by a coach that never coached me before," she said.
According to Green, July 27 will be the last time she ever steps foot on a volleyball court.
She plans to go to Connors State in Muskogee to do her general education requirements and then Indian Capital Technology Center to get certified as a radiology technician. Green said sports will not be on her mind post—July 27. Starting her career as fast as she could is at the top of her priority list.
The small school game between Oklahoma's east and west side schools will be at Bixby High School, July 27 at 6:30 p.m. The large school game will follow at 7: 45 p.m.