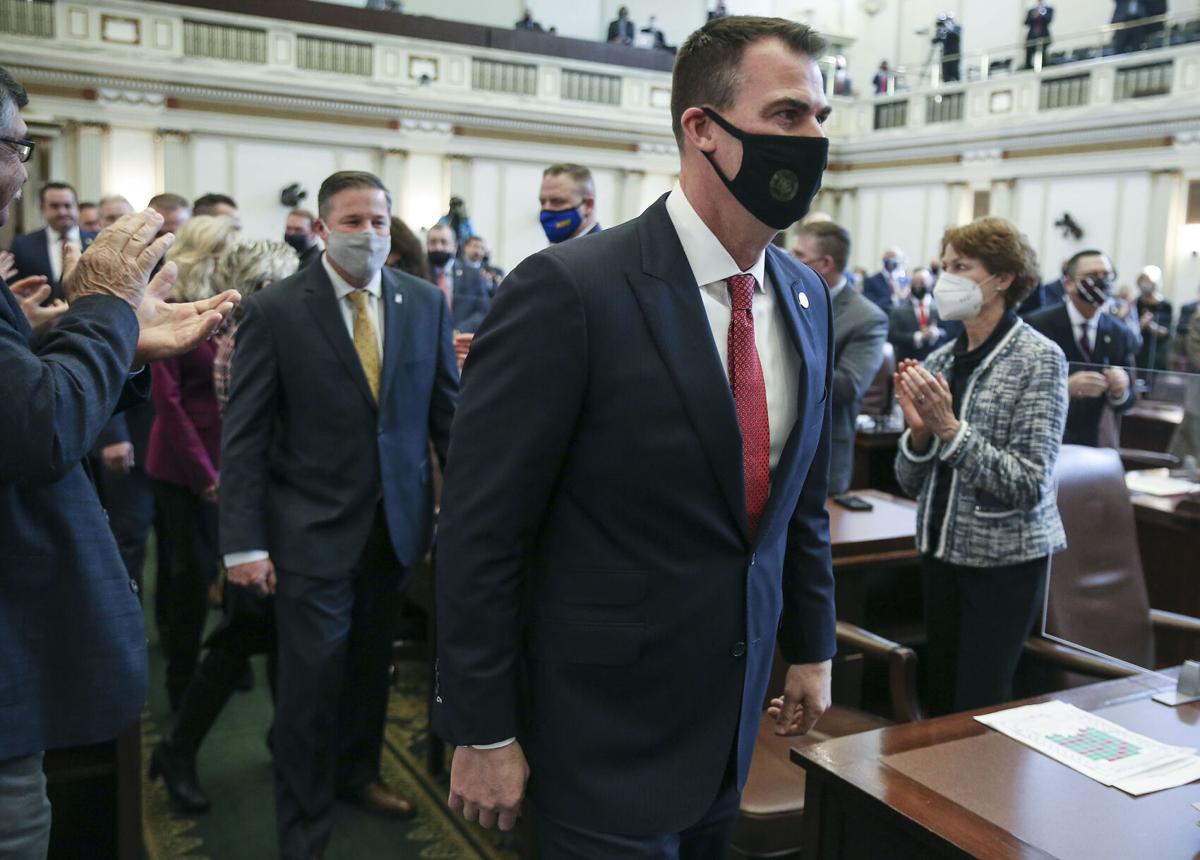 Remember when Gov. Kevin Stitt was going to give Oklahoma the highest average teacher salaries in the region?
That was one of his most common campaign promises when he ran for governor.
The teachers are still waiting.
Public schools are the biggest single item in the governor's proposed budget, accounting for $3.009 billion, an increase of more than $17 million over the current year.
It's a lot of money. It's difficult to figure how much of that $17 million increase would actually turn into bigger paychecks for teachers, but let's suppose for a minute that all of it does.
At last count, there were more than 43,000 certified school teachers in the state. So $17 million would fund a $394 raise, which is more than a lot of people can realistically expect next year, but not very much and certainly not enough to get us to the top of the region.
Stitt took time to lash Tulsa Public Schools at length because it was listening to data and science (and not him) concerning when to reopen in-person instruction.
But there wasn't a word about the still unrealized promise to get teachers to the top of the region.
Stitt's people and the state Department of Education falsely claimed the state was on a course to have the highest teacher pay in 2020, but they arrived at that conclusion through a statistical fantasy. They took the 2017-18 average teacher salaries reported for the seven-state region by the National Education Association, then added Oklahoma's 2019 pay raises but didn't account for pay raises in the other six states, as if our teachers got raises and everyone else stayed in place.
Of course, other states gave their teachers raises, too. We were never in first place in the region. According to the NEA, which has no reason to fudge its figures, the highest we've ever been in recent years is third place, but we've slipped from there.
The NEA's ranking of average teacher salaries for 2019-20 show Oklahoma's average was $54,038, putting us about $3,000 per teacher behind Colorado ($57,269) and Texas ($57,091) and slightly behind New Mexico ($54,256), which relatively recently was in last place in the region. We're ahead of Arkansas ($49,822), Missouri ($50,817) and Kansas ($52,544). The NEA says its numbers represent the mean pre-tax salary for public school teachers. A $3,000 teacher pay raise would cost the state $129.5 million.
The state Department of Education still has an online report that misrepresents the situation. By adding raises for Oklahoma teachers in 2020 to the NEA number, but not adjusting any other states' figures — a trick they never seem to get tired of — they put us in third place. The governor's office has a report that says we were in second place in 2020, but that's not right either.
Thirty-one states and Washington, D.C., have higher teacher salaries than Oklahoma. We're more than $9,000 per teacher below the national average. Teachers in Alabama, Alaska and Wyoming are better paid that ours.
The promise was to be No. 1 in the region. We're in the exact middle, which isn't going to slow the migration of Oklahoma teachers to better-paying opportunities across the Red River.
We don't pay our teachers enough, and, not coincidentally, we don't have enough teachers.
The NEA report shows Oklahoma had 703,650 enrolled students and 43,183 teachers in 2020. That's 16.29 students per teacher, although any Oklahoma classroom teacher will tell you there are a lot more students than that on their rolls.
Still, the regional average is 14.7. In Missouri, it's 11.66.
My math says that the state would need 4,684 more teachers to get to the regional average.
That's not taking into account the hundreds of uncertified teachers the state Board of Education approves every year.
I asked Stitt's spokeswoman if the top average teacher pay in the state was still the governor's priority.
'Yes, Governor Stitt is committed to having the highest teacher pay in the region," Carly Atchison, Stitt's director of strategic communication, responded.
Good, but we don't seem to be making very much progress in that direction.
Word of the week: insouciance — a casual lack of concern, often among the idle wealthy. In a dramatic moment of Alexander McCall Smith's "Sunday Philosophy Club," the amateur sleuth and logician heroine reveals to her sidekick Jamie that she believes she has solved a murder, but she blithely doesn't seem to care about what they should do next.
"Jamie could not conceal his irritation at her insouciance," the book says.