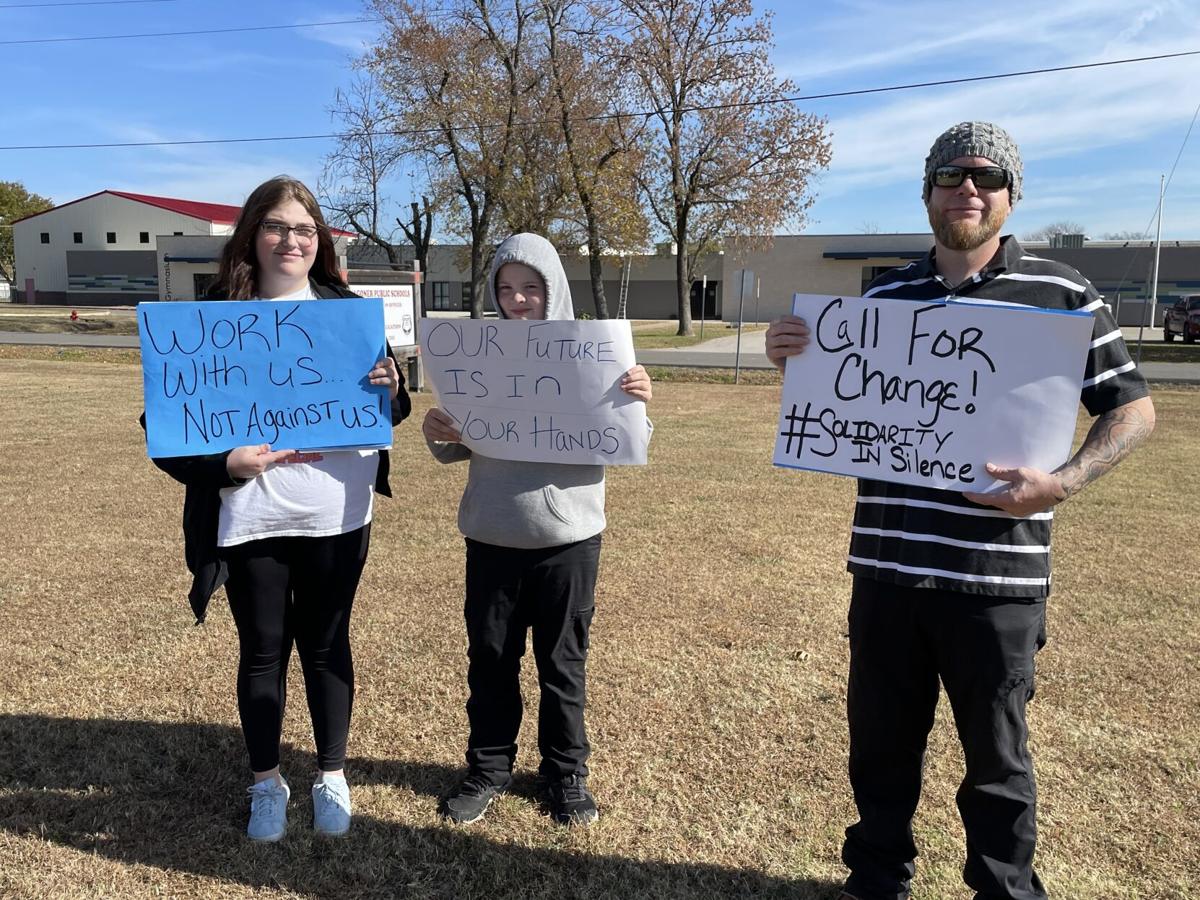 A handful of parents and students stood outside the Wagoner Public Schools Administration building demonstrating their desire for more transparency within the school system on Nov. 16.
The group of five went by the name, #Solidarity in Silence, and held signs that read, "Work with us, not against us," "Call for change!" and "Our future is in your hands."
Joshua Feathers, a step-father to a student claiming to be consistently bullied in school, said issues aren't being properly addressed. The group also had packets printed off of conversations with other Wagoner Public Schools parents claiming to deal with similar issues with their children.
"We're just trying to get answers," Feathers said. "We're trying to get people here so we can make a change for our kids."
The Wagoner County American-Tribune reached out to Wagoner Public Schools Superintendent Randy Harris after the gathering.
Harris said he spoke with two parents in his office, and had never met any of them in-person prior to the meeting.
Harris said he encourages students to come forward to a trusted adult whenever issues arise, whether it's a teacher, parent, principal, or himself. He said administration will always be the ones to conduct an investigation, if warranted, but he said it's important to remember that every issue is on a case-by-case and student-by-student basis.
"We cannot solve 100 percent of the issues we aren't aware of," Harris said. "We want kids to be able to communicate any concerns they have with a trusted adult in our schools."
For instance, if a student misbehaves and a teacher can handle it, that's usually where it stays, he added. But if it becomes a major issue, such as consistent patterns of repeated bullying, then administration will become involved and parents will be notified, he said.
The chain of command typically begins with a teacher, followed by a principal and then the superintendent, Harris added.
There could also be an instance when a student may be bullying multiple kids in a number of different classrooms and teachers aren't catching every incident, he said. It's why if there is bullying, it should be documented to administrators who have the authority to investigate.
"What one student may be doing to a student in first period may be different than what that kid is doing in second period, and that first period teacher doesn't know that. When those types of things go on, the administrators need to be kept in the loop," he said.
Feathers said he would like to see cameras in the classrooms to get a better understanding of what's going on, but Harris said that is not necessary at this point in time.
"The reality is — we continuously desire strong communication between the school and the parent. What that means to one parent might be completely different than what it means to another parent. It's just getting to know the expectations of each one of these different families.
"The most important thing is that kids just communicate to a trusted adult, and the adult will communicate with the school."