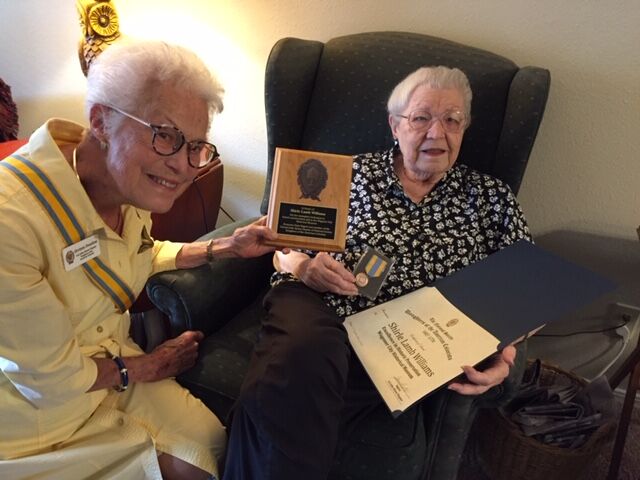 Shirle Williams' great-grandparents were the first settlers of Wagoner.
Think about that for a second.
They arrived in Wagoner when it was nothing but railroads and a little station house that railroad workers occasionally used. It wasn't a town, nor was it considered Oklahoma. It was Indian Territory. It quickly became the first city incorporated in Indian Territory.
Her great-grandparents, William and Sally McAnally, arrived by train from McAlester in 1887. The McAnally's thought they'd be able to spend the night in that little station house but the workmen were still there. Instead, they camped out on the shed porch and were loaned a tent.
Her great-grandfather, William, worked for the Katy Railroad, and thought it would be wise to put another railroad crossing in the exact spot where Wagoner is located.
"He knew this was going to happen," Williams said. "They thought the whole thing over and decided if there was going to be a railroad crossing there, they would need a hotel."
That way, people changing trains had a place to stay. Her great-grandparents eventually built that hotel.
Their daughter, Williams' grandmother, Frank, came with them — and lived in that pocket of Indian Territory — soon to be Wagoner — her whole life thereafter. She married V. Lamb.
Eventually, others followed and soon there were multiple hotels and stores along the railroad.
Upon walking into the Wagoner Historical Museum on 122 S. Main St., guests can experience some of her family's historical artifacts firsthand. In one section, guests can see some of the McAnally's furniture and early possessions. In another section are Frank's possessions, along with their daughter and her husband's possessions. There are also the Williams' possessions toward the front. Every item is marked, and has a story behind it.
Most of those items were kept and documented in Williams' home before they were brought to the museum. There is a two-sided sheet printed at the museum, written by Williams, explaining the significance of Wagoner.
Williams is pleased to see the Wagoner train depot — the same one her family looked at and rode into — back in its (somewhat) original location in the center of Wagoner. She'd like to see it memorialized in some fashion.
"There's a lot of things that can be done with it — maybe display some train memorabilia," Williams said. "I'm not one to say."
At 95 years young, Williams said she could cry when looking at Wagoner today. The large fire that ripped through five downtown businesses in 2017 is especially gut-wrenching to her.
The big bank building, known as American Bank, on the corner at 203 E. Cherokee St., was owned by her grandfather at one time. When she was a child, her parents had a grocery store in it. It was originally built to be a drugstore, she said.
On the south end of Main and Church, there is a two-story building her grandfather built in 1889. When she was in high school, Williams and her family lived in an apartment in that building.
"It's been home to me forever," Williams said.
As a child, Williams said Wagoner was "a thriving town." The railroad played a big part in that. She remembers Wagoner being home to a "roundhouse" – a mechanical operation that could back a train in, and turn it around on another track headed in a different direction.
Williams has since moved into a Tulsa retirement community but is still as sharp as a tack.
She received the Col. John Alston chapter's Medal of Award for historic preservation on Sept. 2. She received a certificate and a medal from National Society Daughters of the American Colonists (DAC) state regent Dr. Orriene Denslow. Williams was state regent of the DAC from 1992-1994, and has been involved with the organization for nearly 40 years. The plaque Williams received will be placed in the Wagoner Historical Museum honoring her.
"It was a complete surprise," she said.
Williams always hoped her family's artifacts would be placed in a museum. She published a book, "Wagoner…in the beginning," stemming from weekly history articles she wrote in the local newspaper. She's collected facts and documents for decades, and wanted to do it before the history got lost.
"I got interested in 'why.' Why would people come to a spot, like Wagoner, in the middle of the prairie, where they couldn't even own the land that they built on? Why in the world would they come here? What kind of people were they?"
She eventually nose-dived into genealogy research, and traveled to places where Wagoner's first inhabitants came from.
"If you start at the front and read it, you'll get a complete picture of what happened in 1887, and up until World War I," she said.
Visitors can experience some of Williams' possessions at the Wagoner Historical Museum on 122 S. Main St. in Wagoner.