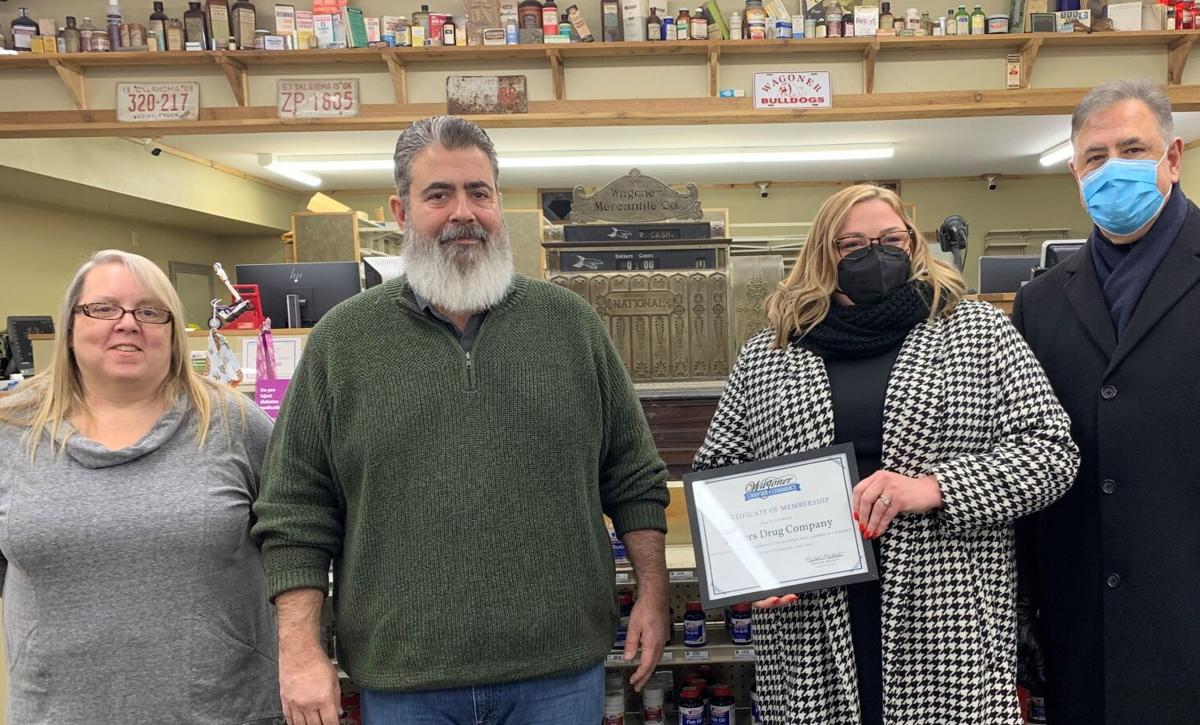 The Wagoner Area Chamber of Commerce welcomed Rogers Drug Company into its membership on Feb. 10 with a certificate presentation to owner Dr. Steve Nicholas.
Nicholas is a 1985 Wagoner High School graduate and a 1991 graduate from Southwestern Oklahoma State School of Pharmacy, where he obtained a Doctor of Pharmacy degree.
He bought the store from his father Ronald in November 2008 and in 2017 completed an extensive remodel, allowing for better workflow and customer service.
Roger's Drug Company has a rich history of being known as Wagoner's first drug store and was originally opened in 1890 on the northeast corner of Main and Cherokee. It was known then as S.S. Cobb & Co. Drugs and owned by Samuel Sylvester Cobb.
When the pharmacy was first opened it also operated as the town's post office. The original building was a simple small, framed structure and the pharmacy quickly outgrew it.
In 1895, Cobb moved the business into his own building that he had built in the same location.
After the move, the pharmacy was bought by the Crew brothers, who are believed to have kept it in the same building until it was purchased by Charles Rogers.
During the Crew ownership period, the name may have been changed to Loeser's Drug Store, which can be seen in many local vintage pictures. In other photos of the time, "J.L. Beardsley Druggist" can also be seen displayed on the side of the store.
Pharmacist Charles Franklin Rogers Sr., worked for the Crew brothers at their Hulbert, Okla., pharmacy and was offered the chance to purchase the store, but stated that he would rather own their Wagoner location.
Deals were made, the dates are vague, but Rogers ended up with both locations. He soon hired Ronald Nicholas, Steve's father, in 1964 after he graduated from Southwestern Oklahoma State University.
In 1972, Rogers suffered a fatal heart attack and Ronald bought the store, eventually moving the store to its current location at 326 E. Cherokee in Wagoner around 1978.
Today, Steve continues on the work of his father by offering Wagoner residents a pharmacy that offers delivery, medication synchronization, convenient refills, medical supplies and more.
For more information, Wagoner residents can call 918-485-2317, find Rogers Drug Company on Facebook, visit on the web at www.rogersdrugcompany.com.
Wagoner residents can also search and download the free Rogers Drug app in the app store to refill and keep track of prescriptions.