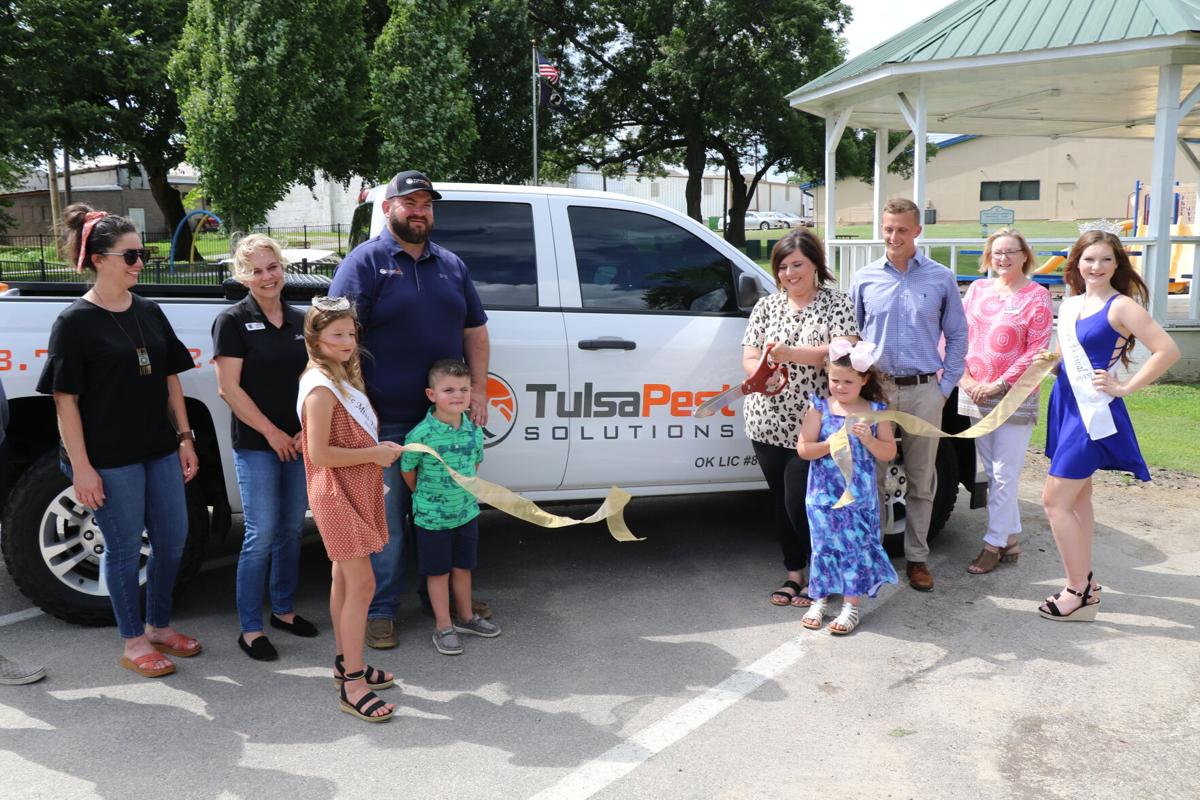 Tulsa Pest Solutions join Coweta Chamber
Bed bugs got you down? Tulsa Pest Solutions will happily turn your frown upside down – and they're officially members of the Coweta Chamber of Commerce.
Owners Corey and Ashley Ballard have been in the pest control business since 2003 but decided to take it full-time in February after the birth of their kids, Emalyn and Emerson, and a high demand for services.
The Ballard's were joined by Coweta Chamber of Commerce Executive Director, Christy Wheeland and other chamber board members for a formal ribbon cutting at Jimmy Lee Campbell Park Thursday, July 15.
"It's amazing how many bugs there are," said Ashley, who's learned more and more about bugs in their 13 years of marriage.
Tulsa Pest Solutions is based out of Coweta at 26909 E 143rd Street South. They service all of northeast Oklahoma and will even go as far as Oklahoma City and Arkansas. However, if you're a Coweta resident, you can expect a discount.
The Ballard's will take on spiders, ants, roaches, fleas, ticks, mosquitos, bedbugs and termites. Basically, whatever it takes to make people feel more happy and comfortable in their home without uninvited guests.
A standard size home with bedbugs could take up to a couple hours to complete, they said. Their confident all it takes is mixing chemicals and doing it the right way.
"Bed bugs, in particular, increased over the last five or six years," she said. "We don't know why. Perhaps people bring them from other parts of the country."
The Ballard's couldn't be happier to be setting their roots in Coweta again. Ashley is originally from Kentucky, and Corey, Sapulpa, but they spent the early years of their marriage in Oklahoma. Ashley's Dad was a former pastor in Coweta.
Before starting Tulsa Pest Solutions, Corey worked for two major, national pest control companies for eight years.
"I always loved Coweta and I had a feeling I was going to end up back here," she said. "My family has been in Oklahoma since 2003 – right around the time I graduated from high school. Now my babies get to grow up here."
Tulsa Pest Solutions is one of four businesses to join the Coweta Chamber of Commerce in the last two months. The Firebrand, Ary Land Company and Tier Level Digital Marketing have all invested into the Chamber, as well.
Chamber Executive Director, and former Wagoner County American-Tribune editor, Christy Wheeland, couldn't be happier with the growth taking place in Coweta.
"We've been trying to build as we go further into 2021 after this pandemic," Wheeland said. "Were glad to have Tulsa Pest Solutions as part of our organization and look forward to promoting them with things they have going on."