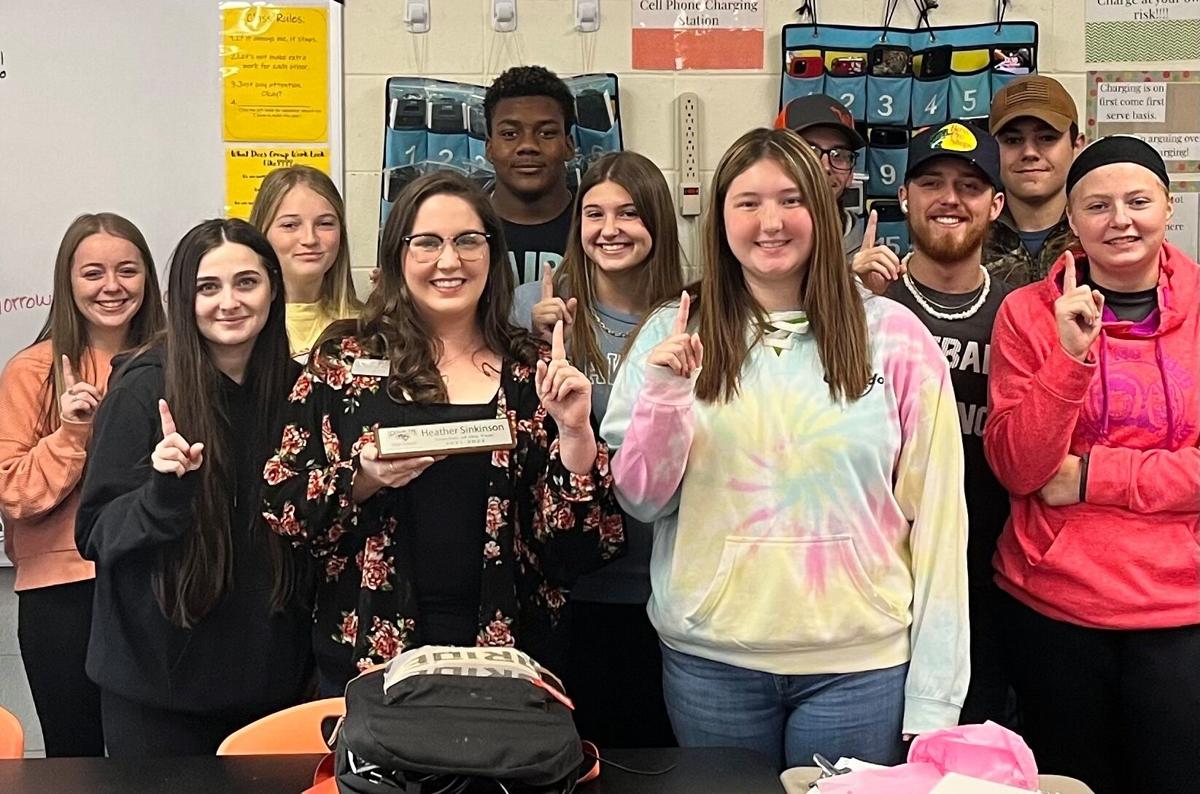 Heather Sinkinson's job never ends, and she wouldn't want it any other way.
The Coweta High School math teacher not only conducts geometry, algebra and intermediate math classes, but she's also dipping her feet at becoming an E-sports coach.
Sinkinson's students clearly see her involvement and presence, and her peers are seeing her dedication. It's why as of Nov. 15, Sinkinson is officially the 2021-2022 Coweta High School Teacher of the Year.
"I thought it was a dream," Sinkinson said.
Sinkinson was also shocked, knowing she was tied in the first voting go-around, to whom she could only describe as another "amazing" teacher.
It was on Tuesday, Nov. 16, when administrative staff came into her classroom at second hour, and handed her a plaque recognizing her as Coweta High School's Teacher of the Year.
"I'm so lucky to have colleagues that would vote for me," Sinkinson said.
It isn't an easy feat to become Coweta High School Teacher of the Year. First, eligible teachers have to meet a certain criteria, such as being with the Coweta Public Schools district for three years. Then, it all comes down to peer votes — who is the best person to represent Coweta High School?
If Sinkinson gets extra lucky, she may have a shot at representing Coweta Public Schools at the state level in the near future. Shelley Self, an art teacher in Coweta, is currently in the running for Oklahoma Teacher of the Year.
If you were to ask Sinkinson if teaching was something she wanted to do her whole life, she'd respond: teaching chose me.
Her teaching career began in Special Education, when she was in a peer tutoring program in high school. She worked as an assistant in the special needs resource room.
She eventually gravitated to Union Public Schools as a Special Education teacher. Sinkinson was a teacher at Union for four years, while also working on her master's degree in education with an emphasis on math.
Even as a Special Education teacher, Sinkinson always emphasized math in the classroom.
"I felt more propelled and called to work in math, rather than just a general education teacher," she said. "I felt like I'd make more of a difference."
Now, Sinkinson is going on her fourth year as a teacher in Coweta. Although she transitioned from a district enrollment of 15,700 students at Union, compared to 3400 students at Coweta, she believes it was for the better.
"Coweta is a great place to work with a sense of community," she said.
It won't be uncommon for students to go up to Sinkinson at the local Walmart and say, "Hey Ms. Sink! I didn't know you shopped at this Walmart!"
That community style, she feels, is also in the school building.
"Even in the math department, all of us are checking in on one another to make sure we're okay. It's a great atmosphere."