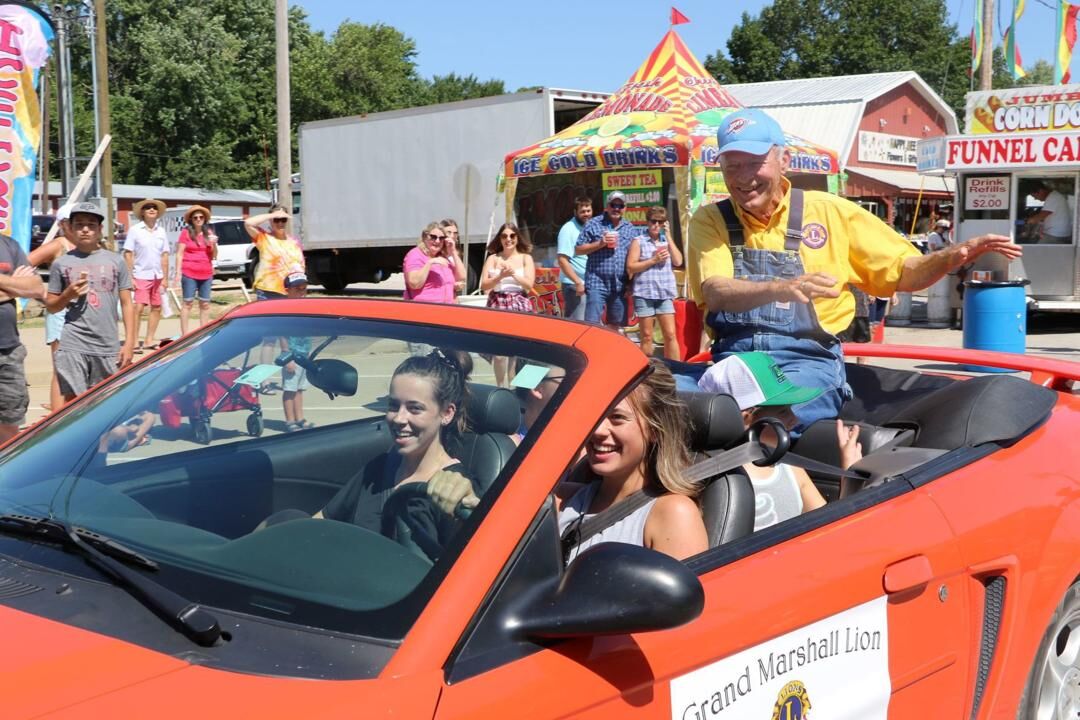 Porter Lions Club President, Melanie Warren, would be the first to say if it wasn't for Roy Essary's leadership for so many years, the 55th Porter Peach Festival would not happen.
"Roy was in charge of so many pieces of the Porter Peach Festival. He did that for a very, long time," Warren said.
Those who knew Porter native, Roy Lee Essary, can picture him wearing his yellow Porter Lions Club shirt and helping with the three-day festival any chance he could. He was the festival chairman for nearly 25 years before handing the baton over to the next generation. Even though he wasn't chairman in his later years, he remained active and supported the festival's success.
Essary, 74, passed away following a courageous battle against Lewy Body Dementia and COVID-19, Dec. 28, 2020. He joined his wife of 51 years, "Nana", who passed away May 10, 2019.
A go-fund me page was created by Essary's children to raise funds to repair, expand and upgrade the grandstand, located in Porter's Tourist Park, to continue showcasing local musicians and host festival activities in the future. Once renovations are complete, it will be renamed the "Roy Essary Memorial Stage," ensuring that his legacy will be remembered for future festivals. According to his children, "We can't think of a better way to honor Roy's legacy than by looking forward to the future of the Peach Festival here in Porter for years to come."
The Porter Lions Club also had its annual, pride peach auction at the current grandstand, Saturday July 17, at noon. Sixteen baskets of Livesay Orchard's finest, prized peaches were donated to individuals and businesses. Those funds will also go toward stage repairs and improvements.
"We need to replace the flooring and expand it. It's not really big enough for when we get large bands up there," Warren said. "We'd also like to put some sound absorption panels in there so it's easier for the musicians."
The grandstand, of course, is not only for the Porter Peach Festival, but for the entire town of Porter to enjoy year-round. Essary loved Porter.
Essary was born in Muskogee in 1946. He began farming with his father and brothers while still in grade school. The Essary family was one of the top watermelon growers in Oklahoma through the 1970s and 1980s, according to his family.
He was a 1964 graduate of Porter High School and graduated from Northeastern State University in 1968. He married his wife, Nana (Johnson) Essary on August 31, 1967 and made their home in Porter.
Essary was later drafted to Vietnam and served as an infantryman from 1969-70. He earned a bronze star and two purple hearts.
Essary eventually returned back to Oklahoma to continue his love for farming. In his long tenure, Essary served as the Porter Lions Club President, Porter Peach Festival Chairman, school board president and volunteer fireman. His family said they will never forget his 100-mile dirt road trek through Route 1, in Porter, as a rural mail carrier.
"When I was growing up, I always remembered him being at the farm," Warren said.
He was also a lifelong member of the Porter Church of Christ, serving as a church elder and deacon.
When he retired from the post office, Essary's hard-working mentality didn't stop. Essary and wife, "Nana," started a near exotic animal farm with miniature ponies, llamas, cats, dogs, Muscovy ducks and their prized pet 22-year old steer, Brownie.
He also worked summers and falls at Livesay Orchards. While there, he made many trips around the region delivering fresh fruits. Friends of his remember that he'd like to spend hours under the retail shed, greeting everyone that walked by. It wouldn't be uncommon to see Essary drive the hay wagon for groups going to the pumpkin patch.
"Farmer Roy" was his nickname, and boy, did it fit.
According to the Porter Lions Club, "the longevity and success of the Porter Peach Festival is attributable to the hard work and dedication of numerous community volunteers over the last six decades, but arguably none more so than Roy Essary."