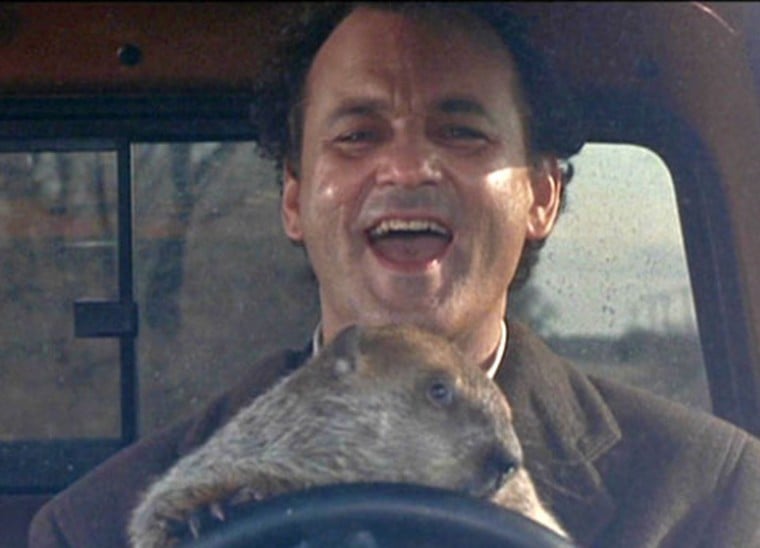 Bill Murray is a strange man.
Depending on who you talk to, he is one of the funniest men who ever lived or one of the biggest jerks ever.
His method of acting would upset those who don't have the patience for him.
His character in Caddyshack was not originally written because Murray only had six days to film the role of Carl Spackler, the groundskeeper.
When he made Meatballs, his first movie, the film crew was uncertain as to if he was even going to show up, which is why he seems to be wearing most of his own clothes in the movie.
Murray improvised his role in Tootsie including the famous line, "That is one nutty hospital."
So, it's very easy to see how a movie like Groundhog Day wouldn't have worked with a different actor.
Murray plays Phil Connors, a meteorologist for a Pittsburgh TV station. He hates his jobs and wants something better.
He's rather a jerk, sarcastically cutting people down. He's got no manners and definitely has little in the way of friendships.
So, when Feb. 2 rolls around, he hops in the station van with his cameraman Larry (Chris Elliott) and the young and naive news producer Rita (Andie MacDowell) and head to Punxsutawney, Pa. so he can get up bright in early to cover the festivities of the day as the mayor and others see if Punxsutawney Phil, a groundhog, sees his shadow.
While trying to leave the town, a blizzard comes in stranding him in the town, which he hates.
He wakes up the next day thinking it is Feb. 3, but it is Feb. 2 again.
And every day after that is Feb. 2.
There are many ways for this movie to fail.
The scenes have to be repeatedly filmed almost the same way with the actors using the same tone to get the dialogue right.
And it takes a good actor like Murray to pull it off.
At first, Phil is distraught over the fact that he must stay in the town day after day, reliving the same events.
But he soon learns he can use it to his advantage as he poses as an old high school friend to a young woman in order to pick her up and make out with her. And since she won't remember him the next day, it doesn't matter.
Phil is also able to use a simple distraction to swipe a money bag from an armored car to give him some cash.
He also learns that if he gets arrested for whatever reason, he'll wake up the next morning in the bed and breakfast at 6 a.m. listening to Sonny and Cher sing "I Got You Babe" on the radio.
However, Phil realizes that any shot he has at hitting off a relationship with Rita doesn't work as she usually ends the night slapping him. There's something funny about the scene where Rita slaps Phil for the last time and he leans over from the force of the slap to open the door for her as she storms off to her motel room.
Depression sinks in as Phil realizes that the day isn't that great after all and he attempts to kill himself and the groundhog. But still wakes up the next morning, regardless of electrocuting himself, walking in front of a big truck to get hit and jumping off a bell tower to his death.
It's at this point he decides to tell Rita the truth as strange as it may seem and she sees that he's telling the truth.
At this part, we see a different side of Murray never seen before in a movie up until then. Murray is acting and doing it very well unlike his failed attempt to go serious in The Razor's Edge.
After Phil and Rita spend some time together, he wakes up the next day realizing that he has a gift to make things right, not just for himself, but for everyone else.
Phil realizes that he can catch a young boy falling out of a tree preventing serious injury; assisting some elderly women when they have a flat tire; and delivering the Heimlich maneuver on the mayor played by Murray's real-life brother (Brian Doyle-Murray) who is choking in a restaurant.
But Phil realizes that he can't play God as he tries several times and fails to save the life of an elderly homeless man.
Still, Phil sees that he of all people has been given a chance to change his life for the better. In the end, he is one of the most well-liked and respected persons in the town and that Rita has fallen in love with him.
Groundhog Day is one of the best movies Murray has ever done, because we get to see him show all his range of emotions.
It's also the best thing director Harold Ramis has done and yes, even better than Caddyshack, because it has as much tenderness as laughter.
It can also be seen as a spiritual movie as Phil gets a chance to atone for his sins and be reborn more or less as a different person when the new day finally comes on Feb. 3.
It should also be noted that the movie doesn't resort to gross-out gags to get laughs.
Ramis and Murray use a lot of slapstick humor and simple jokes to get their laughs.
Murray was big in the early 1980s but following the box office disaster of The Razor's Edge, he walked away from Hollywood for almost four years, before coming back in Scrooged and Ghostbusters II, two movies he didn't like.
The character of Phil is similar to Frank Cross in Scrooged, but here the transformation is believable.
His directorial debut Quick Change was well made, but not the best Murray can do.
And What About Bob? is one of those movies people either love or downright hate.
Groundhog Day was a change for Murray as he began to be cast in more serious movies such as Ed Wood and Rushmore (his best role next to this one).
Despite his ups and downs, Murray has made both his characters and movies memorable.
Rated PG for mild language, mild violence and thematic elements.