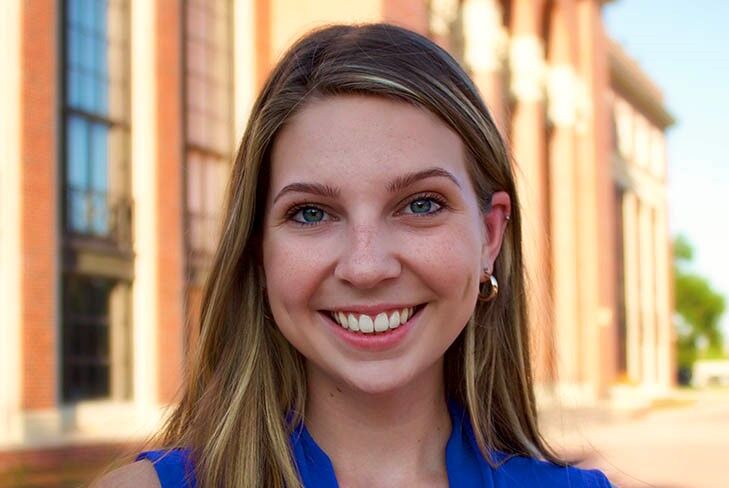 Isabelle Posey knows that public health is all about addressing the root causes and trying to make a better change. Not everyone is given the same tools in life, but with the right resources and guidance, anything is possible.
The Oklahoma State University senior, from Coweta, is utilizing every opportunity in front of her, with hopes it will create positive change. She's driven and willing to learn with the time she has, and she does not plan on stopping anytime soon.
Posey is studying Nutritional Sciences and just completed the Centers for Disease Control (CDC) Undergraduate Public Health Scholars program. The 10-week competitive program, associated with the Kennedy Krieger Institute, was focused on public health nutrition. Through the program, Posey learned about social determinants of health, and how they can play into health inequalities.
"Whenever you address a population, there are some people that may need to be helped differently than others," she said. "Some people may need more attention.
Some people have disadvantages based on the system they are both into, whether or not their parents are educated, or maybe where they were born. It's about looking for a root cause rather than just treating systems."
A previous student discovered that 43 percent of students are food insecure at OSU, and Posey is building on those findings. She's currently leading a qualitative research study examining the under-utilization of food assistance programs on campus, and in the surrounding community. She's talking to students, forming focus groups and finding out what's stopping students from using those programs. Next semester, she'll create an intervention and see if students are using the available resources.
"There's a ton of research out there, but not all of the students know about it," she said. "I want to change that."
Coincidently, finding out what tools and resources are available has been a big focus in her educational life. In fact, she said she started googling about public health and came across the CDC Undergraduate Public Health Scholars program. After an array of essay submissions and a lengthy application, Posey was lucky enough to get accepted. Had she not started searching in the first place, it may not have ever happened.
It's how Posey looks at life: Take advantage of every opportunity and capitalize on it.
It's the advice she'd give to any student her age, or adult who may find themselves stuck in life. More than likely, the perfect resource is out there, you just have to do some research and get after it.
"I'm at a great spot in my life where I have an opportunity to figure out what I want," Posey said. "I have the time. I want to learn and do as much as I can. I'll never know how far my potential can go until I hit a wall."
Posey knows her success is not just attributed to her drive. In particular, Posey's Coweta High School chemistry teacher, Mr. Shultz, played an integral role in her love for science.
"It was in his class that I really found a love for science, especially chemistry, which set me down the path that I am now. The class also really started me to want to push myself as much as I could. It was a hard class, but it was so fulfilling once I had finished," Posey said.
She owes a lot of her success to her family and the OSU faculty for supporting her, as well.
As for what's next in life, Posey knows her opportunities are endless, which is exciting in itself. In the Fall, she'll be pursuing at least a master's degree to become a Registered Dietitian (RD), and quite possibly, a Ph.D. down the road. Counseling and clinical nutrition is appealing to her, but so is taking her skills to the population level.
Like she firmly believes, the opportunities are clearly limitless.