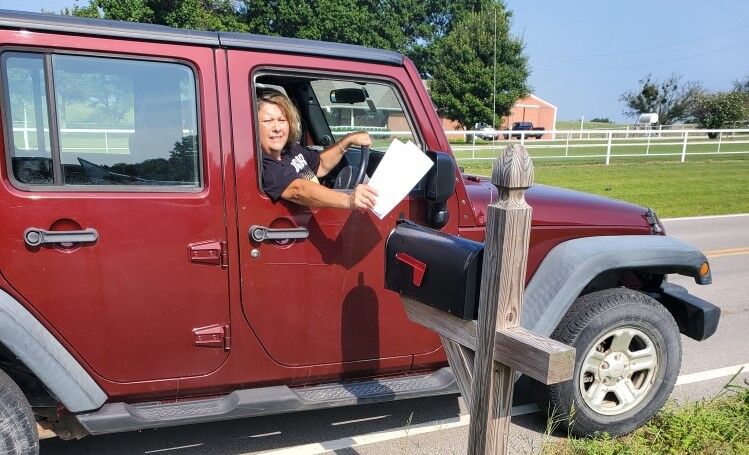 Janet Heller will never forget when the Coweta Post Office gave her an award for driving 1 million miles at work.
"My husband always says that's like two trips to the moon and back," Heller said with a laugh.
Heller, 61 is dubbed as Coweta's famous, rural mail carrier — and she officially retired from the post office, July 30.
Those who are lucky enough to get mail delivered by Heller more than likely live in the rural parts of Coweta city limits. Seen in her personal Jeep Wrangler, Heller said her 65 mile route can be challenging with gravel roads and severe weather.
Heller is proud to say in her 39 years of service, she can only remember mail not arriving to her office three times.
"Deep snow or ice, it didn't matter." Heller said. "There are a lot of things in that office I'm very proud of."
Heller was 22 years old when she started at the Coweta Post Office as a substitute mail carrier. She did 13 years as a "sub," essentially working on Saturdays and whenever she was needed, she said. Eventually, Heller worked her way up to get her own route.
She had three, different routes in her tenure with the Coweta Post Office. Coweta was home for Heller — and she never worked for any other post office.
It also goes to show the unthinkable can happen after a nearly, four-decade long career.
"I worked with a lady, Norma Barnes, on the route I started on subbing — and her grandson subbed with me. Now, he's a regular carrier. So I started subbing for a lady and her grandson is working for the post office fulltime and he subbed for me for a while," she said.
When she first started in 1982, Heller said the Coweta Post Office had two full-time routes and one auxiliary route, which wasn't fulltime. Now the Coweta Post Office has eight routes.
But if there's one thing Heller said she's going to miss more than anything else in her retirement years, it's the people that live along her route.
Her day is often filled with enlightening conversations with people stopping to chit-chat, Heller said. Some days, she'll open a mailbox to see fresh blackberries, tomatoes, or squash sitting there for her to take home. She said people get especially generous around Christmas.
"It's bitter sweet. I'm going to miss all the people and the people I work with. This community is really a good community," Heller said while holding back happy tears.
Heller's route as a rural carrier was longer than the city route employees — so she provides her own vehicle—a ruby, red Jeep Wrangler. It was specially designed in a factory for her mail route duties. The driver's seat and steering wheel are on the right hand side. She chuckles thinking about the time she took a trip with her husband, Nathan, and he was reading a newspaper on the left side.
"Everyone thought he was reading a newspaper while driving," she said.
Heller is a grandmother so she's thrilled about spending her new, free time with her grandchildren. She has one, two-year-old grandson, and two grandbabies on the way. She's also excited to travel alongside her husband. Returning to England and Germany are at the top of her list.