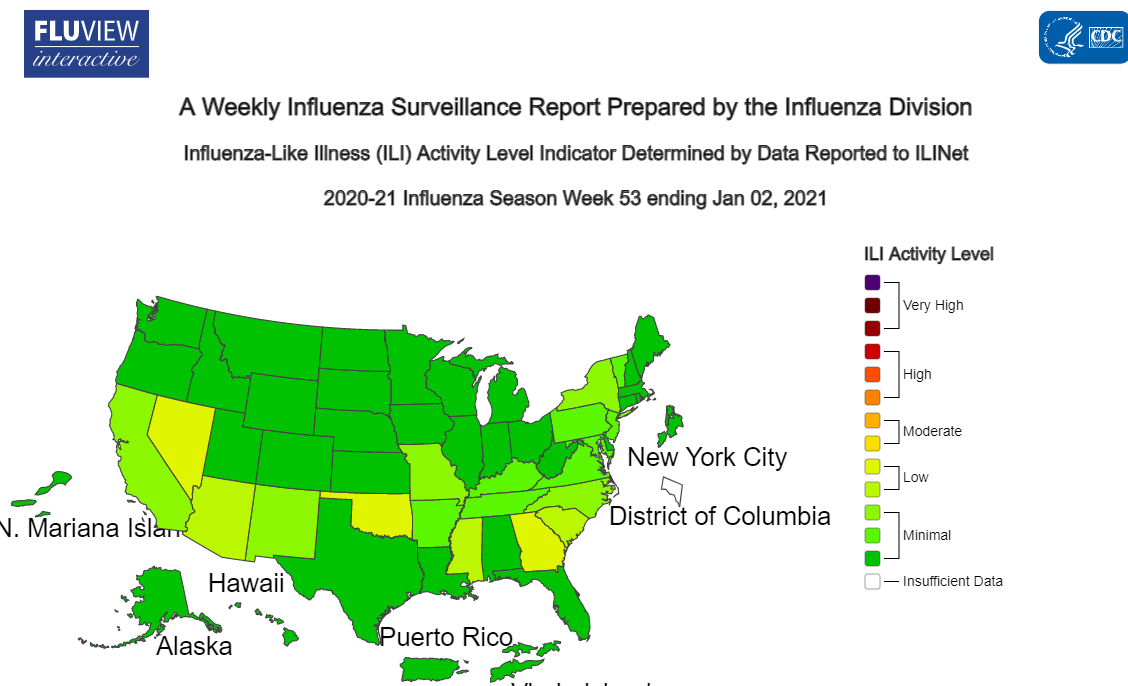 For the upcoming flu season, flu vaccination will be very important to reduce flu because it can help reduce the overall impact of respiratory illnesses on the population and thus lessen the resulting burden on the healthcare system during the COVID-19 pandemic.
Since September 1, 2020, there have been 131 hospitalizations due to influenza in the state of Oklahoma. There have been no influenza related deaths in the state since September 1.
From  January 3-9, 2021 the percentage of outpatient visits meeting the criteria for an influenza-like illness was 2.7%, or 170 out of 6212. This is an increase from the prior period.
3.7%, 92 out of 2513 of rapid influenza tests performed by sentinel sites were positive; 36% were influenza A. The positive test rate has increased while the test results for influenza A have decreased.
0.0%, 0 out of 739, of RSV tests performed by sentinel laboratories were positive.
Public health influenza vaccination clinics are available at county health departments, medical providers and pharmacies throughout the state. The OSDH wants to remind Oklahomans that everyone is at risk for influenza and the flu vaccination is recommended for anyone 6 months of age and older. Clinics at county health departments are stocked with regular flu vaccine and high-dose vaccine for those over the age of 65.
The CDC said, "There are some key differences between flu and COVID-19. COVID-19 seems to spread more easily than flu and causes more serious illnesses in some people. It can also take longer before people show symptoms and people can be contagious for longer. Another important difference is there is a vaccine to protect against flu. There is currently no vaccine to prevent COVID-19. The best way to prevent infection is to avoid being exposed to the virus."
The CDC also said that it is possible to have COVID-19 and the flu at the same time.
Most people have likely had the flu at some point – with symptoms such as a constant cough, sore throat, a runny or stuffy nose, body aches, headaches and fatigue – yet many myths and misperceptions remain. Here are five myths and facts that can help you and your loved ones reduce the risk of catching the flu. Many of the symptoms are similar to that of COVID-19 and the only way to determine the illness is through testing.