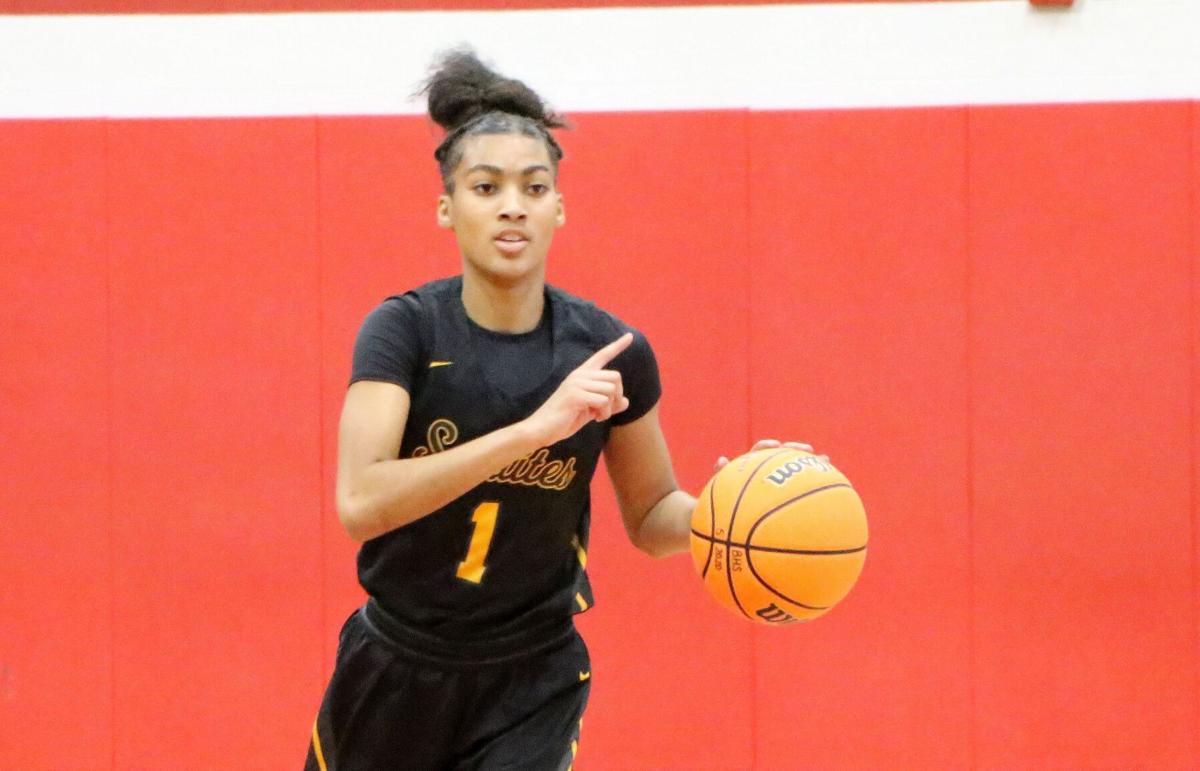 After a tournament victory and day at the beach, the Charles Page High School girls' basketball players didn't get off their plane from Florida to Tulsa until nearly 1 a.m. Tuesday, Jan. 4.
But jet lag and sleep deprivation couldn't keep the Class 6A No. 8 Sandites from a 60-40 win later that night at No. 14 Booker T. Washington's Nathan E. Harris Field House.
The Sandites, who are 8-0 for the first time since 2017, struggled for all of four minutes before finding their offense.
Marcayla Johnson scored on the Hornets' first two possessions while the Sandites missed on their first five field goal attempts, and the home team led 5-0 before Journey Armstead's layup opened Sand Springs' scoring.
Washington took a 10-9 lead into the second quarter after Aunisty Smith's 3-pointer, but the visitors outscored the Hornets 15-4 from there for the halftime advantage.
Washington trailed only 39-27 to start the final quarter, but Taiona and Leyshia Morris combined for three 3s, and the Sandites soon had the game comfortably put away.
The Sandites are on their longest win streak of the Josh Berry era. It also marked Berry's first win against his alma mater since he arrived at Sand Springs.
"It is my alma mater, but it just feels good to get a win here," Berry said. "I knew this was going to be a tough one. Two days of not playing, not practicing, and then getting off the plane at 1 o'clock — so I'm just proud of them.
"They just fought through it and found a way to win."
Armstead led all scorers, with 16 points and six rebounds, Leyshia Morris had 12 points, Hailey Jackson scored 11 points with eight rebounds, and Layne Kirkendoll scored eight points with seven rebounds and four blocks.
The Sandites outperformed the Hornets in every statistical category but free-throw percentage, combining for 29 rebounds, 10 steals and 11 assists while shooting 47% in the field.
"We've got some players that are stepping up and getting better and better each and every game," Berry said. "We just need more players to keep stepping up and staying positive."
Sand Springs' closest margin of victory this season was 17 points in the season opener against Owasso, and the Sandites are winning by an average of 34 points per game.
The Sandites are 3-0 in Frontier Valley Conference action and will return to action Tuesday against No. 12 Broken Arrow (4-3, 2-1).
In the boys game, Washington defeated the Sandites 69-58.
Sand Springs trailed 18-15 after one quarter and 34-30 at the half, but the Hornets opened the second half on a 19-2 run for a lead that the Sandites couldn't overcome.
Jason Clark scored 17 for the Sandites, followed by Ethan Oakley with 13 points and seven rebounds and JD Dickson with 11 points and six rebounds.
Aaron Potter led all scorers, with 21 points, and Kam Parker had 16 for the Hornets.
Sand Springs will host No. 5 Broken Arrow at 8 p.m. Tuesday.
CPHS (8-0): Armstead 16, L. Morris 12, Jackson 11, T. Morris 9, Kirkendoll 8, Wilson 4.
BTW (3-6): Smith 14, Johnson 9, Hill 7, Owens 4, Delouiser 4, Mayberry 2.
Free Throws: CPHS 7-of-12, BTW 9-of-19. Field Goals: CPHS 24-of-51, BTW 14-of-42. Offensive Rebounds: CPHS 7, BTW 6. Defensive Rebounds: CPHS 22, BTW 17. Total Rebounds: CPHS 29, BTW 23. Steals: CPHS 10, BTW 8. Blocks: CPHS 4, BTW 3. Fouls: CPHS 13, BTW 14.
CPHS (3-5): Clark 17, Oakley 13, Dickson 11, Askew 7, Kelly 5, Johnson 5. BTW (5-0): Potter 21, Parker 16, Chambers 9, Boone 8, Johnson 8, Ware 3, Smith 2, Oates 2.
Free Throws: BTW 10-of-13, CPHS 10-of-12. Field Goals: BTW 27-of-75, CPHS 22-of-46. Offensive Rebounds: BTW 17, CPHS 6. Defensive Rebounds: BTW 12, CPHS 29. Total Rebounds: BTW 29, CPHS 35. Steals: BTW 18, CPHS 3. Blocks: BTW 1, CPHS 3. Fouls: BTW 13, CPHS 15.