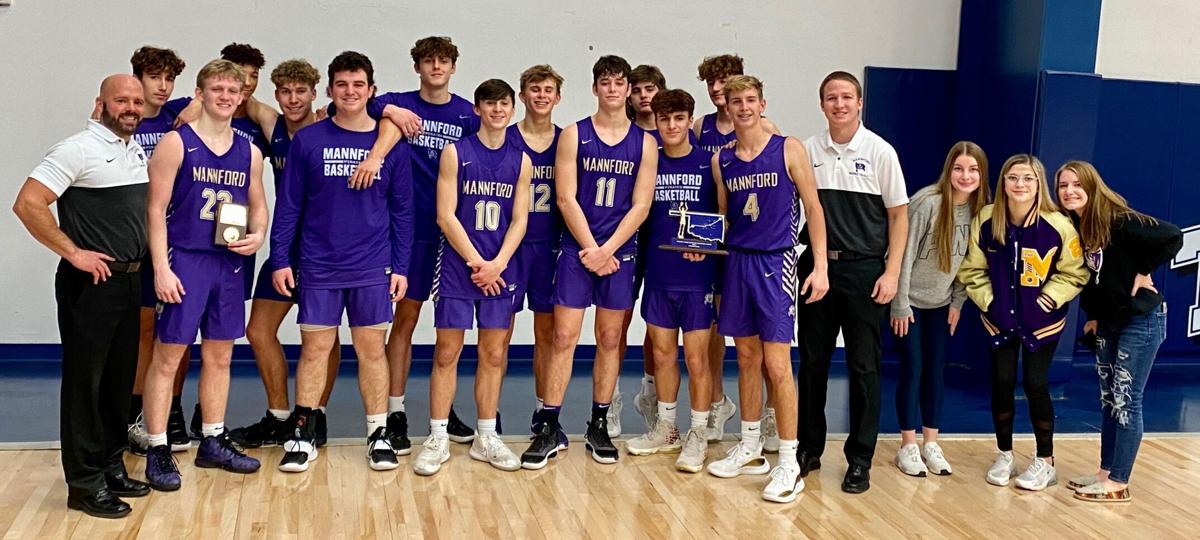 Following a pair of tough losses to begin the 2021 portion of their schedule, the Mannford boys basketball responded with consecutive dominant victories to capture the Stroud Invitational consolation championship last week.
The Pirates moved to 6-3 overall after splitting four games on the week. Tyler Day was named to the all-tournament team after scoring 44 points in Mannford's three games in Stroud.
Below is a summary from the week.
Berryhill 48, Mannford 47: The Pirates blew a 13-point lead on the road Tuesday, Jan. 5 as Berryhill rallied with a 25-point fourth quarter in the rivalry contest.
Day led Mannford with 22 points. Jake Moore added nine points and Tristin Thurman chipped in with six.
"We let this one get away," said Mannford coach Mike Banfield. "We led the majority of the game and just did not play well down the stretch. In the fourth quarter we had too many TO's, gave up too many offensive rebounds and as a team missed too many free throws. We just got outplayed down the stretch of the game after playing well most of the night."
Bethel 50, Mannford 47: Thurman scored 13 points and grabbed eight rebounds while Day added 13 points as well but it was not enough as Bethel edged out the Pirates in a back-and-forth contest Thursday in the first round of the Stroud Invitational.
"We defended well enough to win the game, we just didn't make enough plays down the stretch of the game to win," Banfield said.
Mannford 64, Luther 30: Thurman poured in 15 points, one of four Pirates in double figures, as Mannford bounced back from its first-round loss with a convincing win in Friday's consolation semifinals. Day added 14 points, six rebounds and six steals. Troy Garner chipped in with 12 points and Moore had 11.
Mannford built a 17-9 first quarter lead then extended its cushion to 36-17 by halftime. The Pirates forced 28 turnovers in the rout.
Mannford 57, Cushing 48: The Pirates built a 16-point lead going into the fourth quarter as they rolled past their league rivals in the Stroud Tournament consolation finals on Saturday.
Day led the way with 17 points and five steals. Moore added 13 points and nine rebounds while Thurman scored a dozen points and Garner grabbed seven boards in the win.
"I was proud of our kids for finishing out the week in a strong way against an athletic Cushing team," Banfield said. "I thought we controlled the game from start to finish and had multiple guys play at a high level. It was a good finish to an up and down week."
Mannford is scheduled to hold its home opener Tuesday in a rematch with Cushing, the first of three league home games on the week. The Pirates host Bristow Friday and make-up game against Perkins Saturday.