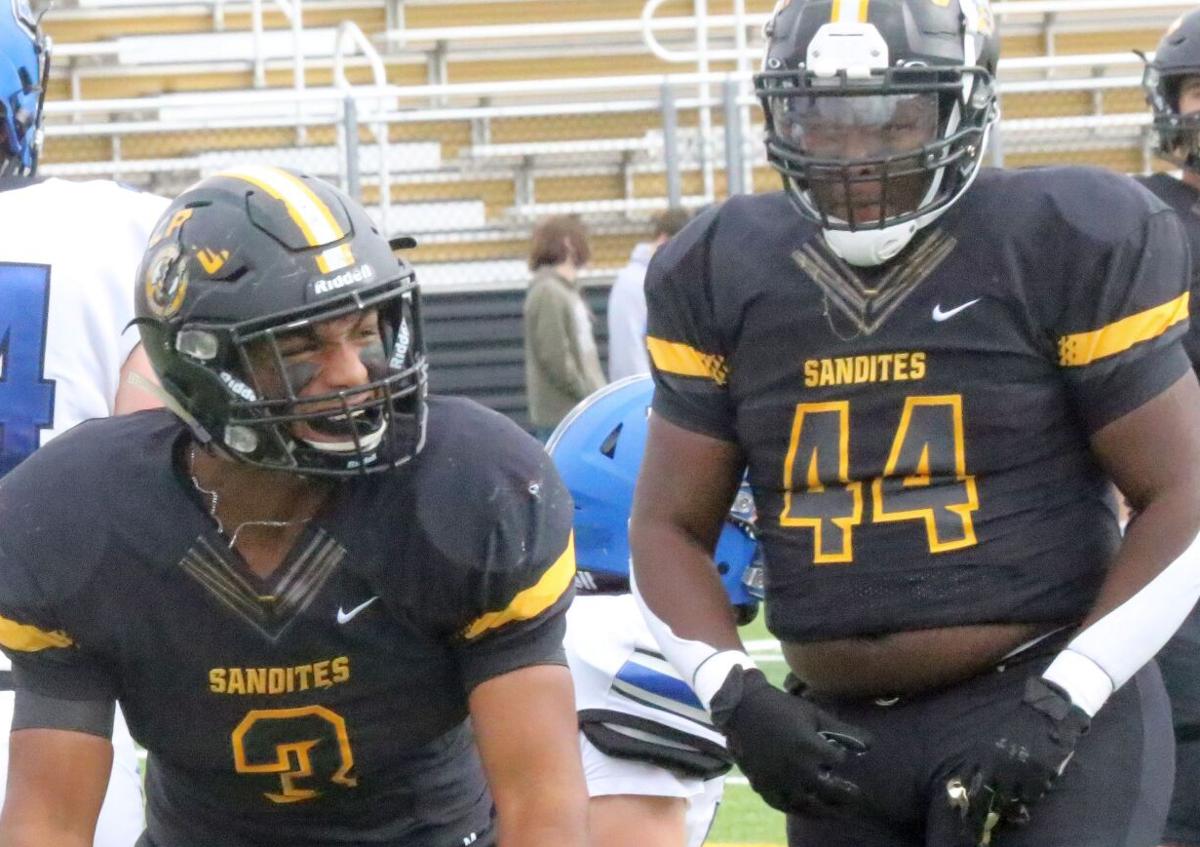 Sand Springs will go into Friday's Class 6AII quarterfinals as a decided underdog when it makes the short trek west to take on Stillwater.
The No. 2-ranked Pioneers, 8-0 on the season, are gunning for their third consecutive state championship game appearance. Led by a dynamic offense and athletic defense, Stillwater has won every game but one by at least 21 points this season.
Friday's game is slated for a 7 p.m. kickoff at Pioneer Stadium.
"We haven't really talked about it with our players," said Charles Page High School coach Bobby Klinck about his team in the underdog role. "The kids already know. The thing we've done is we're going to prepare them to play. It's Week 12 in the football season and you're in the playoffs. I don't think you need any more motivation than that."
At 7-4 on the season, the No. 8-ranked Sandites come in off of a 34-29 win over Edmond Deer Creek in last week's first round. It marked CPHS' fourth win in games decided by seven points or less this season.
Dual-threat junior quarterback Ty Pennington has engineered an offense that has averaged 26.1 points per game. Pennington ran for a career-high 191 yards against Deer Creek and leads the team 692 rushing yards and 13 TDs on the ground. Pennington has thrown 14 touchdowns and more than 2,000 yards with a 51% completion rate.
Keaton Campbell, Jamon Sisco and Jacob Blevins have each surpassed 600 receiving yards and combined for 13 scores.
Klinck said the Stillwater defense has shown multiple looks on film and added his offense will need to capitalize on their chances.
"Their defense is organized chaos," Klinck said. "It looks like they're all over the place but it's very organized. They'll bring a mixture of even and odd fronts. They do a great job pre-snap of disguising what they want to do.
"We've got to handle their pressure. Ty's got to make the quick decision and get the ball out. Their defensive front does a good job of getting pressure. We've just got to execute. When we've got the opportunities to make plays, we've got to do it."
The Stillwater offense has averaged 51 points per game this season, highlighted by dynamic running back Qwontrel Walker. The Pioneer senior, touted as one of the top backs in the state, has tallied more than 1,500 rushing yards in just seven contested games in 2020. Walker has reached the top 10 for career rushing yards in Oklahoma with more than 7,000 yards.
"He's a really good tailback," Klinck said of the 5-foot-9, 200-pounder. "He's really hard to tackle. He's elusive. But he's the prototypical back in that he lines up in the backfield wants to go north and south. Off of that they do a lot of RPOs and they'll take shots from time to time. It's not real complicated but they are very sound in what they do."
CPHS should get a boost with the return of senior defensive linemen Alex Pavela and Lane Webster. They were two of 27 Sandites who were out last week due to quarantine. As of Thursday, Klinck everybody to suit up against Stillwater.
Despite a chaotic season where spring ball, team camp and passing league activities were all canceled due to COVID-19, the Sandites' seven wins in Klinck's first season match the most victories in the program since 2014.
"Coming out of all of that and to get to where we're at, I'm very proud of these kids. I'm very proud of this coaching staff," Klinck said.
Notes on the CPHS-Stillwater series
Stillwater leads the all-time series with CPHS, 30-12. Friday marks the first meeting between the two programs in five years. The two schools met every year but one in football from 1972-2003.
CPHS has won the last three meetings, its longest string of victories in the series with the last a 49-14 victory at Stillwater in the 6AII quarterfinals. The Sandites and Pioneers have met twice in the postseason prior to Friday. Stillwater won 14-13 in the 1977 postseason.
COVID-19 has forced several Oklahoma high school football playoff games to be canceled this season. According to archives, the 1936 Sand Springs-Stillwater game was canceled due to a polio outbreak. That Sand Springs team, which had its last three games canceled for the same reason, finished 7-1 and was coached by Ed Dubie.
Sand Springs and Stillwater actually began their series in 1929, according to the archives, but no known result was recorded. As a result, Sand Springs' 14-6 win in 1934 is recognized as the first meeting.
Be the first to know
Get local news delivered to your inbox!