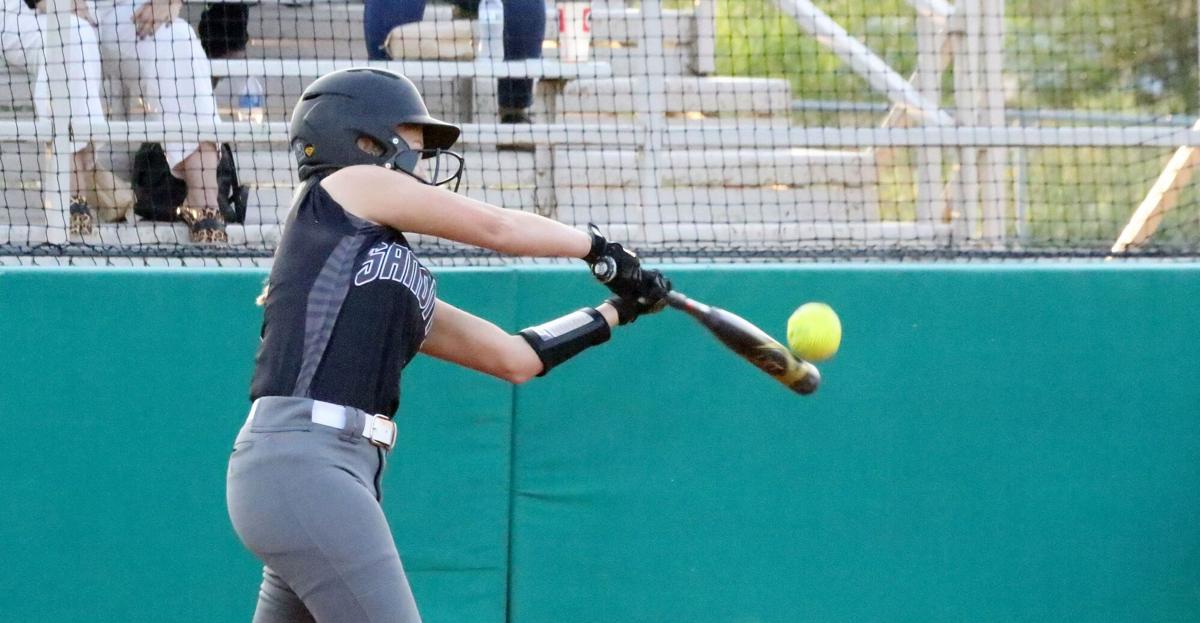 Down one run and riding a four-game losing streak, the Charles Page High School softball team needed a spark in its Bixby tournament opener Friday morning.
In the sixth inning, JoLee McNally smacked a two-run single, bringing in Morgan Rector and Kinzie King to kick off a great weekend for the Sandites (9-7).
After taking down Newcastle 6-5, the Sandites pulled off a 5-4 upset against state title contender Edmond Memorial, then steamrolled Union 17-2 and El Reno 11-2 before falling 4-1 to Broken Arrow in the final game.
"They had an awesome weekend, I thought," Sandites coach Shelli Brown said. "The turnaround from Bartlesville where we left a lot of runner-on-base opportunities, I felt like this weekend they were able to get the runners on and push them across the plate. That was the difference."
Prior to the tournament, the Sandites had a rough stretch of district road games at Stillwater, Jenks, Bixby and Bartlesville.
Thursday was a tough loss, as the Sandites had previously beaten Bartlesville 12-3 at home, and led 5-0 early before the Bruins surged back with seven runs in the third en route to a 7-6 win.
Friday's win over Edmond Memorial (19-4), however, showed that the Sandites are still capable of beating anyone in the state on any given day.
The Bulldogs took a 4-2 lead in the third inning, but the Sandites rallied in the bottom of the third with RBI doubles from Lauren Hammock and Nataley Crawford, and Kelsi Hilton scored on a passed ball for a 5-4 lead.
Crawford got the wins in the pitching circle against Edmond and Newcastle, Hilton got the win against Union, and Addie Hughes got the win against El Reno.
"Team effort for sure on the pitching," Brown said. "We've been kind of double-teaming, so I thought our pitchers did a really good job with that."
The team's bats also came alive during the tournament, with McNally, Hammock, Hilton, and Crawford all hitting over .500. McNally scored eight runs and had four RBIs and Hammock had seven runs and seven RBIs over the five games.
"I'm just happy with them," Brown said. "I told them let's keep moving forward. I felt like we've made the turn a little bit here."
The Sandites are 3-4 in district action, sitting fifth in the standings. They'll be heavily favored in four of their remaining seven district games, and they'll have home-field advantage in their rematches with Jenks, Stillwater, and Bixby.
The Sandites have hosted regionals seven consecutive years but that streak could be in jeopardy if they don't finish strong in district action.
"We need to focus one game at a time, win those games, and get ourselves in a good situation," Brown said. "Whether we host or we go travel, we're going to have to play good teams, and we've just got to be ready.
"I think it's going to be about timing — peaking at the right time. We're starting to get everybody back, starting to get everybody healthy, and starting to have that team chemistry that takes some time to develop. I've seen both districts. Whether you host or you travel, you're going to face some really good teams so I just want us to be ready for that."
Cross countryThe Sandites traveled to the Sapulpa Chieftain meet on Sept. 4.
Chloe Grona led the elementary girls to a second-place finish in the mile, finishing in 5:54 for first place, a full 21 seconds ahead of the runner-up, and Josie Grona placed third in 6:23.The varsity girls didn't have a full team, but Jazmin Lopez placed fifth in the 2-mile run with a time of 13:57.
The varsity boys finished sixth, led by Alejandro Lopez in 11:52 for 25th place, and Dalton Wilcox in 11:55 for 26th.
On Saturday, the high school and junior high teams traveled to Broken Arrow. The junior high boys placed sixth in the 1.5-mile run.
Lopez led the varsity girls in 26th place with a 5K time of 22:22. Noah Hanlon led the boys in 18:56 for 42nd place. Hampton led the junior high girls with a 12:01 1.5-mile run for 33rd, and Wright led the junior high boys in 9:52 for 13th.
VolleyballClass 6A No. 15 CPHS (7-11) is riding a nine-match losing streak after traveling to the prestigious Heather Harkness Invitational in Edmond, one of the toughest tournaments in the state.
The Sandites fell 2-0 to No. 6 Deer Creek, 2-0 to No. 4 Edmond Memorial, 2-0 to OKC Storm, 3-2 to No. 10 Edmond North, and 3-0 to No. 16 Moore.
CPHS will compete at the Owasso tournament this weekend with pool matches against Owasso, Edmond Memorial and Ponca City.